Sebastian Vettel Birthday Special: The Life of a Formula 1 Champion
Born on July 3, 1987, in Heppenheim, Hesse, West Germany, Sebastian Vettel is a German Formula 1 driver who is a four-time world champion. He has previously driven for BMW Sauber, Toro Rosso, Red Bull, and Ferrari and is now with Aston Martin.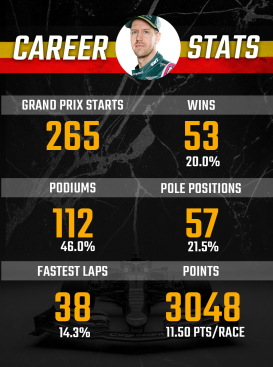 Sebastian Vettel has left a legacy of outstanding performances in Formula 1 behind him. On his 34th birthday, we'll take you through Sebastian Vettel's phenomenal racing journey.
Vettel Proved His Mettle Early On
1995
Sebastian Vettel took up karting in 1995 and proved his mettle very soon. He won numerous junior championships in his early racing days. 
2004 
This year was his big break as a junior driver when he won a whopping 18 of 20 races to bag the championship title of the German Formula BMW Championship.
"Forget the people around you now; remember the little boy who was racing."

- Sebastian Vettel
2005
After his success at Formula BMW, Sebastian Vettel moved up to Formula 3 in 2005-06, where he challenged his British rival Lewis Hamilton. In 2005, he was first given the opportunity to test for the Formula 1 team Williams-BMW and later in 2006 for BMW Sauber.
Vettel grew up idolizing Michael Schumacher and just like his idol, he emerged as a champion and proved to possess extraordinary talent.
2007
Sebastian Vettel made his Formula 1 debut in 2007. At 19, he became the youngest points-scorer in his debut race when he came in as a replacement for the injured Sauber driver Robert Kubica at the 2007 United States Grand Prix. This record was later broken by four other modern-day drivers. 
Sebastian Vettel currently holds numerous records in Formula 1, the most prominent ones being Youngest Polesitter, Youngest World Champion, Youngest Double World Champion, Youngest Triple Word Champion, Youngest Quadruple World Champion and Most consecutive victories in consecutive events.
2008
Vettel's first win came in 2008 Italian GP for Toro Rosso, at age 21, making him the youngest F1 race winner. This was no normal win. This was a win on a rain-soaked track with an inferior race car which promoted him to Red Bull for the 2009 season.
Sebastian Vettel- The Golden Boy of Red Bull
2009
After 2 years (2007-08) at Toro Rosso, Sebastian Vettel took the leap and joined Red Bull in 2009. In his first year itself, Vettel was able to finish second behind the stellar Jenson Button. 
At 23, Sebastian Vettel became the youngest Formula 1 driver to win the championship. The RB top dog, Vettel, clinched four consecutive titles from 2010 to 2013. 
Vettel's Time With Ferrari: A Setback 
2015
The 2013 World Champion held the number 1 car for 2014, but switched to his permanent number 5 in 2015, the year he joined Scuderia Ferrari.
2017
Vettel's most defining years in Ferrari were 2017 and 2018 when he put up a great battle with Lewis Hamilton, finishing second in both seasons. He termed it as a failure as he wasn't able to replicate the title victory of his fellow countryman and idol Schumacher for Ferrari.
When asked about their favorite Formula 1 rivalries ahead of the Imola Grand Prix 2021, Alain Prost vs Ayrton Senna was picked out by Sebastian Vettel, while in Lewis Hamilton's memory, his duels with the four-time world champion, Vettel, in 2017 and 2018, were his favorite.
2019
After no wins for over a year, Sebastian Vettel reclaimed the top grid by winning the Singapore GP in 2019.
Aston Martin's Revival Rambo
2021
In 2021, the German left Ferrari for Aston Martin. The veteran, Sebastian Vettel, was placed alongside Aston Martin's rising star Lance Stroll as his father, renowned businessman Lawrence Stroll, pumped in a £182m investment in Aston Martin to lead the struggling car manufacturer. 
Although he had a rough year at Ferrari in 2020, Sebastian Vettel is now returning to form at Aston Martin. The stalwart driver has his head high and is putting up a challenge to the top drivers once again. 
2021 Formula 1 Season So Far for Sebastian Vettel
The first four races of the 2021 season with Aston Martin were a disappointment for Vettel as he failed to score any points. However, as soon as he got the grip of his Aston Martin AMR21, he has since delivered. His first points finish was in Monaco GP 2021, where he finished 5th.
You can't make everyone happy, you aren't a Sebastian Vettel podium. 
In the Azerbaijan GP, Sebastian Vettel got the first podium of the season, P2 for Aston Martin and had an astounding drive for which he was voted Driver of The Day, a slap on the face of those calling him a spent force. All the motorsport fans celebrated his comeback.
His good performances have proved that he's still got potential.
Aston Martin's birthday boy Sebastian Vettel got P8 in the Qualifying of the Formula 1 Austrian Grand Prix held in the Red Bull Ring on July 3, 2021. 
"I don't care what other people think as long as I am happy. The day I die or retire, I have blown all my chances because I don't have the chance any more to change my image as an Formula 1 driver."

- Sebastian Vettel