Sebastian Vettel's spectacular fall from grace
From him being called 'Baby Schumi' for his resemblance to Michael Schumacher and becoming the youngest World Champion to winning just a single Grand Prix in the 2019 season, Sebastian Vettel's stars have gone downhill.
The German is a product of the Red Bull driver's program but started his F1 career with BMW Sauber in 2007 USA Grand Prix. The then 21-year-old became the youngest pole-sitter and race winner in his first full season with Sauber.
The four-time World champion kept moving ahead in the reckoning and was promoted to Red Bull for the 2009 season, during which he won four races en route to becoming the youngest-ever World Drivers' Championship runner-up.
His eyes were on the ultimate prize and in the very next year, he became the youngest F1 Champion. He in turn also helped Red Bull win their first World Constructors Championship.
A Red Bull juggernaut followed as Vettel left everyone in his wake as he swept World titles in four consecutive years. Plenty of individual records followed as he became the youngest double, triple and quadruple world champion in Formula One history.
Vettel soon followed in his hero, Michael Schumacher's footsteps as he was hand-picked to return Grand Prix racing's oldest team to its former glory. A marvellous rivalry intensified as Vettel and Lewis Hamilton went neck and neck not just for more world titles, but to be hailed the best of their generation.
Weight of expectation was too much to handle and Vettel couldn't live up to the billing. In his first year with the Prancing Horse, he managed to win three races and was the closest competitor to Hamilton and Mercedes. 
2016 got even worse as Ferrari and Vettel didn't manage to win even a single race. The Ferrari was just wasn't rapid enough to compete with the Mercedes and the Red Bull. 
2017 and 2018 is where things got a little better for the German as he managed to win ten races in total, only behind Hamilton in terms of success.
The whole scenario in the Maranello changed as a fourteen races old Charles Leclerc was promoted to race for Ferrari. Vettel went into the season as the natural number one at Ferrari and the team made clear he would get preference in 50/50 situations.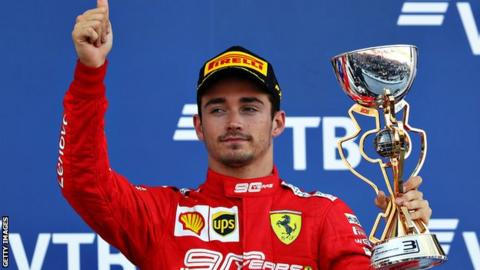 Leclerc was the newcomer with not much to lose, whereas, Vettel was his ten years senior and there was added responsibility of becoming a World Champion on his shoulder as well. The power dynamic was always going to be in Leclerc's favour.
Leclerc's victories in Belgium and Italy plus his seven pole positions tilted the bar in his favour and Vettel started to get rattled or it seemed like it. The events at Interlagos symbolised the relationship between the two drivers as both the Ferraris collided with each other, taking both of them out of the race.
There is a change of guard at Ferrari as Leclerc looks set to finish his first year at Ferrari with more points, wins and pole positions than his four-time world champion teammate.
Vettel, who is paid £30 m a season by Ferrari still has  one year remaining on his contract but calls from the team's tifosi to axe the four-time world champion have been growing. 
'Baby Schumi' look to be delusional after the arrival of Leclerc and is clearly not in his elements. When on song, Vettel is pure entertainment as he names his cars and makes donuts after his win. Formula one could do well with a character such as Vettel in their rank. 
Let's just hope that he gets back on track and show the world that he still has a lot to contribute to the Formula 1 world. With the arrival of new car regulations in 2021, we can see the Prancing Horse with Vettel at its helm back to its very best.