Serge Gnabry: A star is Reborn
As the Bundesliga is set to resume this weekend, its always good to jog up fans' memories right before a global pandemic took the world by storm and along with it- football. 
One particular player that comes to mind while focusing on "pre-COVID" highlights is Serge Gnabry. As Germany was preparing to battle France and Portugal in their Euro 2020 (now 2021) "Group of Death" and Bayern prepare to take on Union Berlin on Sunday with one foot on the league title, Bundestrainer Joachim Low and München coach Hans-Dieter Flick will have one overriding wish going forward this year: that front-running virtuoso Serge Gnabry suffers no further injuries after an Achilles problem just before Christmas last year.
Over the last 14 months or so, the 24 year old Bayern Munich forward has morphed into a national team tailsman, not only becoming the team's top scorer in the European Championship qualifiers with eight goals but also supplying much of the team's attacking explosiveness and craft. 
While the Stuttgart-born normally operates on the right wing for Bayern, Low likes to unleash him in several different ways for Die Mannschaft- sometimes out wide, sometimes as the leader of the line and occasionally as a second striker. In a German side in transition following a debacle in Russia 2018, he is now a gold-plated reference point both as a game changer and as a tone-setter. 
The son of an Ivorian father and German mother, Gnabry is the complete weapons-grade package. Short, squat and powerful, he leaves defenders breathing dust with is pace and tricks. With two good feet, being sharp and clever on the counter attack, Gnabry boasts a fine football brain. Often the quickest players have the worst on-field instincts, but he stands for the best of both worlds. 
His recent highlights have also shown his natural ability to finish. A four goal blitz in Bayern's 7-2 Champions League win away at Spurs in October, his hat-trick as Germany crushed Northern Ireland 6-1 in a Euro 2020 qualifier and his brilliant solo strike in the 3-2 victory against the Netherlands in the same elimination group, cutting in from the left, leaving possibly the current best centre-back in world football Virgil Van Dijk inside out and firing a right-foot effort into the top corner. 
Just 13 games into his international career, he averages a goal a game. And of all German greats, only Fuchs, Muller, Klaus and Fischer had more goals after 13 caps. In comparison, even Germany's all-time leading marksman Miroslav Klose had "only" 11 at the same point. 
In club football, Gnabry, in his 18 months with Bayern has racked up 24 goals in 64 competitive games by the start of 2020 and become one of only three Bundesliga players to hit double figures for three German top-flight clubs- with Werder Bremen, Hoffenheim and Bayern in consecutive seasons. 
Through and through Gnabry has proven to be an asset for the national team and national coach Low makes no bones about it. In a press conference in Estonia, the head coach said -"He has been very strong in several matches for us recently. I like the way that he moves and how dangerous he is in front of goal." 
"He is fortunate to have the chance to play at the very highest level. We need to encourage that and support him. Based on his performances over the past nine months, he needs to be on the pitch for us if he's fit and able to play."
What went wrong at Arsenal? 
Even as an 18 year old youngster, Gnabry managed to turn more than a few heads. Early in 2014 there was much talk of Gnabry, who at the time was in his third season of a five-year stint with Arsenal, being on a plane to Brazil for the World Cup. 
Gunners manager Arsene Wenger backed the youngster to be part of Low's plans and his german international teammates at the club- Mesut Özil and Per Mertesacker said to be raving about the youngster's "super-speed".  The then Assistant coach Hansi Flick even expressed his desire to incorporate Gnabry in the team publicly. However, fate had other plans.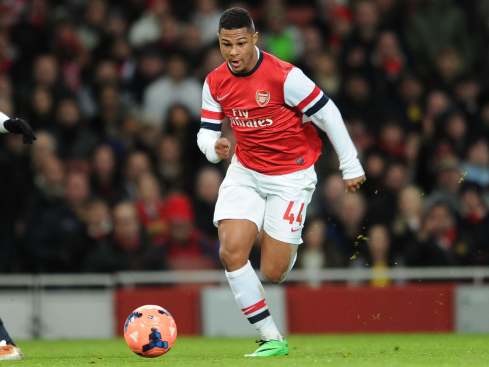 Tragically for the teenager, two months before the start of the World Cup, he was forced to the sidelines by an inflamed knee and for approximately six months the condition kept him confined to the stands. 
Essentially, this was the beginning of the end for him at Arsenal. In the 2014-15 season, he did not feature in the first team at all and even after moving to West Brom on loan in August 2015, he spent another six months on the sidelines, only gracing the field for a total of 137 minutes. West Brom's manager at the time- Tony Pulis, one might say was a conservative football thinker. He viewed the young loanee as a wasted transaction, neither fit nor experienced enough for a relegation dogfight.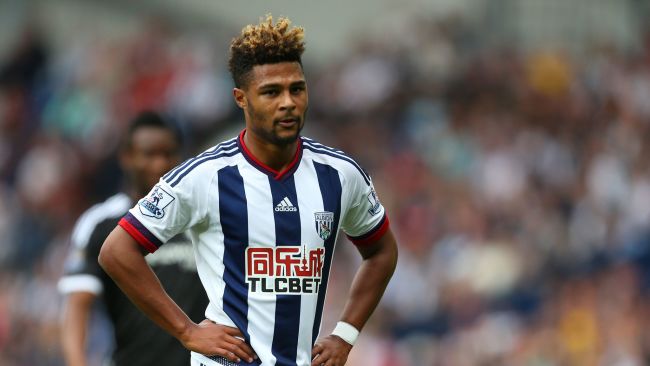 By the summer of 2016, shortly after starring for Germany at the Olympic Games, Gnabry decided to say goodbye to his English adventure and insisted on leaving North London to join German side Werder Bremen in a £4.25 million deal. 
He had definitely matured and progressed as a player at Arsenal, successfully making the transition from the U-18 side to the first-team fringes while receiving thorough grounding in top-quality attacking football.
Unfortunately, the bottom line was that he was desperately short of minutes. He only got nine starts under Wenger and West brom had already labelled him a dud so something had to give. And with players like prime Alexis Sanchez, Özil, Alex Oxalade Chamberlain, Alex Iwobi and Santi Cazorla, Arsenal were not struggling with squad depth in attack. 
What went right in Germany?
The answer to this question is- apart from a few injury setbacks...literally everything. 
Returning to Germany in 2016 to play for Bremen proved to be the best possible outcome for the youngster. A classic case of taking a step back prior to the great leap forward. Bremen was only a mid-table side, but what mattered the most was his vastly increased workload. He played every week for the club, scoring 11 times in 27 games thrilling fans with his incredible sprints, energy and moments of footballing wizardry.
While at Bremen, he earned his first cap for the national team, marking the occasion with a hat-trick in the 8-0 bashing of San Marino. The last instance of a German scoring a hat-trick in their debut was in 1976 when Cologne's Dieter Muller managed three strikes against a Yugoslavian side in the Euro semi-finals. Apart from his goals on his debut, Gnabry was easily the best player on the pitch that night, dribbling past defenders as and when he willed it and showing his ecstatic speed once again with and without the ball.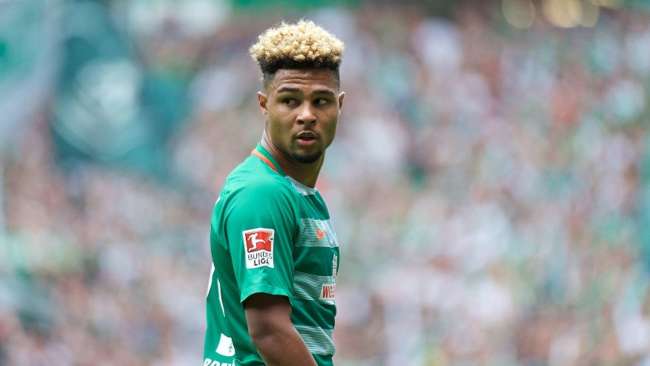 Always looking out for the best talent in the country, Bayern came rushing in to sign him in the summer of 2017. They were looking for a replacement for ageing Dutch winger Arjen Robben and found that though those are huge boots to fill, they just might be hitting the jackpot. 
Although Die Roten didn't need him immediately, they triggered his mere €8 million release clause and sent him on a 12-month secondment to Hoffenheim where he would again boast great numbers with 10 goals and as many assists in 22 Bundesliga outings.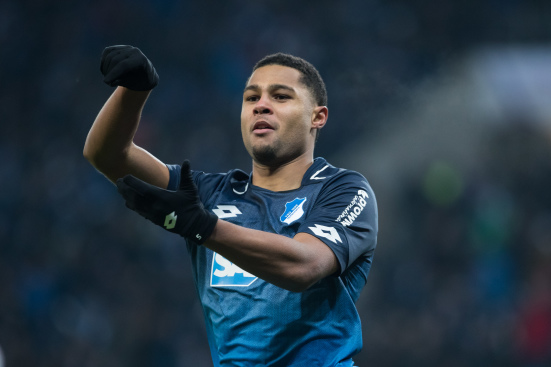 He was especially influential in the second half of the season where he played a key role in Hoffenheim's excellent third-place finish in the Bundesliga earning them their first ever Champions League ticket. After such a successful stint, the club obviously wanted Bayern to extend the deal but an inevitable big fat "nein" was the response. 
Injuries calling
Even though Gnabry had successful spells both in Bremen and Hoffenheim, he was far from injury-free. Former Hoffenheim coach and current RB Leipzig manager, Julian Nagelsmann, in a TV interview offered some insider view on Gnarby's "China Doll" tendencies.
"As a youngster he had a relatively high number of injuries." said the head coach. "Unfortunately he did not play a lot for us up until Christmas. You can only come up to scratch on a matchday if you've gone all out in training in the preceding days."
"We've found a good method to keep him injury free in the second half of the season. This has played a big part in his development."
Unfortunately, Nagelsmann spoke too soon as just a fortnight later, Gnabry was making his way to the infirmary having been seriously injured in a game against Hanover. The result of tests was a badly damaged adductor and his Russia 2018 dream was over before it even began. 
Without the malfunctioning knee he suffered at Arsenal, he might have already been a world champion with Germany in 2014 and now he also had to forgo the 2018 edition due to a nasty adductor tear. 
It says much for the competence of Bayern's medical team as well as the strength and conditioning staff that Gnabry had until recently been injury free in his first 18 months at the Allianz Arena. Hence his core role in the side's attacking potency, contributing 24 goals and 17 assists. However, the Achilles-tendon injury sustained during Bayern's winter-break training camp in Doha is a sign that no one can rest on their laurels forever. 
Skip to right before COVID-19 stopped the whole world, Gnabry was a regular box office hit and given certain figures in the Bayern hierarchy, it was surprising to see him settle in so quickly. Every time Gnabry plays for Bayern he looks totally energised by the challenge and responsibility. He clearly loves operating at the top of the mountain. 
Rebirth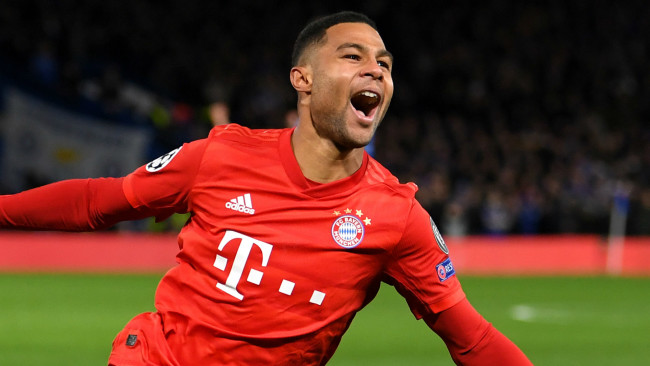 Gnabry's career can be separated into two distinct periods: pre and post the 2016 Rio Olympics. He was searching for his path during the Olympiad and started to fulfil his potential right after. 
Renowned from the earliest of ages for his rare footballing ability, for his speed off the mark and prodigious dribbling, he played as a kid for south western clubs Weissach, Ditzingen, Hemmingen, Feuerbach and Stuttgarter Kickers. He was only 10 when Bayern offered him a place at the academy. Yet much to his dismay, his father refused and was adamant that he wanted to carry on coaching his son himself.
Two years later, the kid would join VfB Stuttgart. At Die Schwaben, he rose through the ranks alongside an adolescent by the name of Joshua Kimmich who, like his best friend Gnabry, would go on to shine for both Bayern and Germany. 
Their partnership lasted a couple of years until it temporarily broke when in 2011, the 15 year old Gnabry left Stuttgart to join Arsenal. Some might say it happened too soon for him which caused his downfall in England but Gnabry insisted, in an interview for Bayern's magazine that it was too good an offer to turn down. 
It might not have worked out for him at Arsenal, but what matters is where he sits now and that is on top of the table. Champions have no use for regrets.
Cover image credits: Daily Mail