Stokes & Curran shine as England beat Pakistan to win 2nd T20 World Cup
Brilliant performances from Ben Stokes, Sam Curran, Chris Jordan, and Adil Rashid ensured that England beat Pakistan by 5 wickets to win the 2022 T20 World Cup. England also becomes the first team to concurrently possess the 50-overs and 20-overs championship titles. 
Pakistan showed great grit and determination in defending 137 runs, but that total was never enough to contain England's depth batting line-up. Shaheen Afridi, Haris Rauf, and Shadab Khan tried their level best but England had other plans and put the 1992 theory to rest.
England won the toss and chose to bowl. As Mohammad Rizwan and Babar Azam entered a jam-packed MCG, the crowd erupted and the first ball was underway. England struck first as Sam Curran takes the wicket of Mohammad Rizwan who drags it onto the stumps. The number 2 ranked T20I batsman ends a below-average T20 World Cup campaign on a low.
Mohammad Harris comes to the crease. He and Babar Azam take the charge against England, but Adil Rashid breaks the partnership, getting Harris out for 8. Shan Masood comes next and constructs a 39-run partnership with Babar Azam. They take the charge against Chris Jordan and Liam Livingston and look to change gears. But before that could happen, Adil Rashid spins a web and breaks another the partnership, getting the important wicket of the Pakistan captain.
Iftikhar Ahmed comes and goes and Pakistan are in deep trouble. Outcomes Pakistan's star all-rounder, Shadab Khan. Shadab Khan faced a familiar situation in this T20 World Cup against South Africa and scored a 20-ball fifty. He looks to repeat the same heroics in the finals. The 24-year-old strikes boundaries against Adil Rashid and Ben Stokes but couldn't get himself going as he finds Chris Woakes at mid-off. 
Pakistan end their innings with a below-par total of 137 in 20 overs. England bowled brilliantly as Sam Curran, Adil Rashid and Chris Jordan were the picks of the bowlers. A target of 137 felt easily chased able against England's powerful batting line-up but if there was any bowling attack that could defend a low target against England, it is Pakistan.
Pakistan's golden arm, Shaheen Afridi strikes in the very first over, getting the dangerous Alex Hales out. Jos Buttler and Phillip Salt take the charge against Pakistan as they hit 3 boundaries and against Naseem Shah. Haris Rauf was quick to break the partnership, getting the wicket of Phillip Salt as he pulls it straight to mid-wicket.
Out comes Ben Stokes and he is troubled by Naseem Shah's swing and pace. Jos Buttler decides to counterattack but he edges it to Mohammad Rizwan. Haris Rauf Strikes again as England loses three wickets. It is game on for Pakistan.
After the fall of 3 quick wickets, Harry Brook and Ben Stokes stitch a partnership of 39 runs. They played the role of the anchors, constantly rotating strike and hitting the bad balls for boundaries. Harry Brook hits it too long on and is caught by Shaheen Afridi. Brook departs and Shaheen Afridi walks off the field, worrying signs for Pakistan.
Shaheen Afridi comes back to bowl but cannot continue for Pakistan after bowling a ball. Iftikhar Ahmed continues the over but gets smacked for 13 runs. After that, it was England's game. Moeen Ali comes in and smashes 3 boundaries of Mohammad Wasim Jr. 
In the second last over, England need 6 runs to win from 12 deliveries. Ben Stokes hits the inning deliveries and England wins their second T20 World Cup! How fitting that Ben Stokes who was smacked by Carlos Brathwaite in the 2016 T20 World Cup final, finds redemption and guides England to victory in the 2022 T20 World Cup!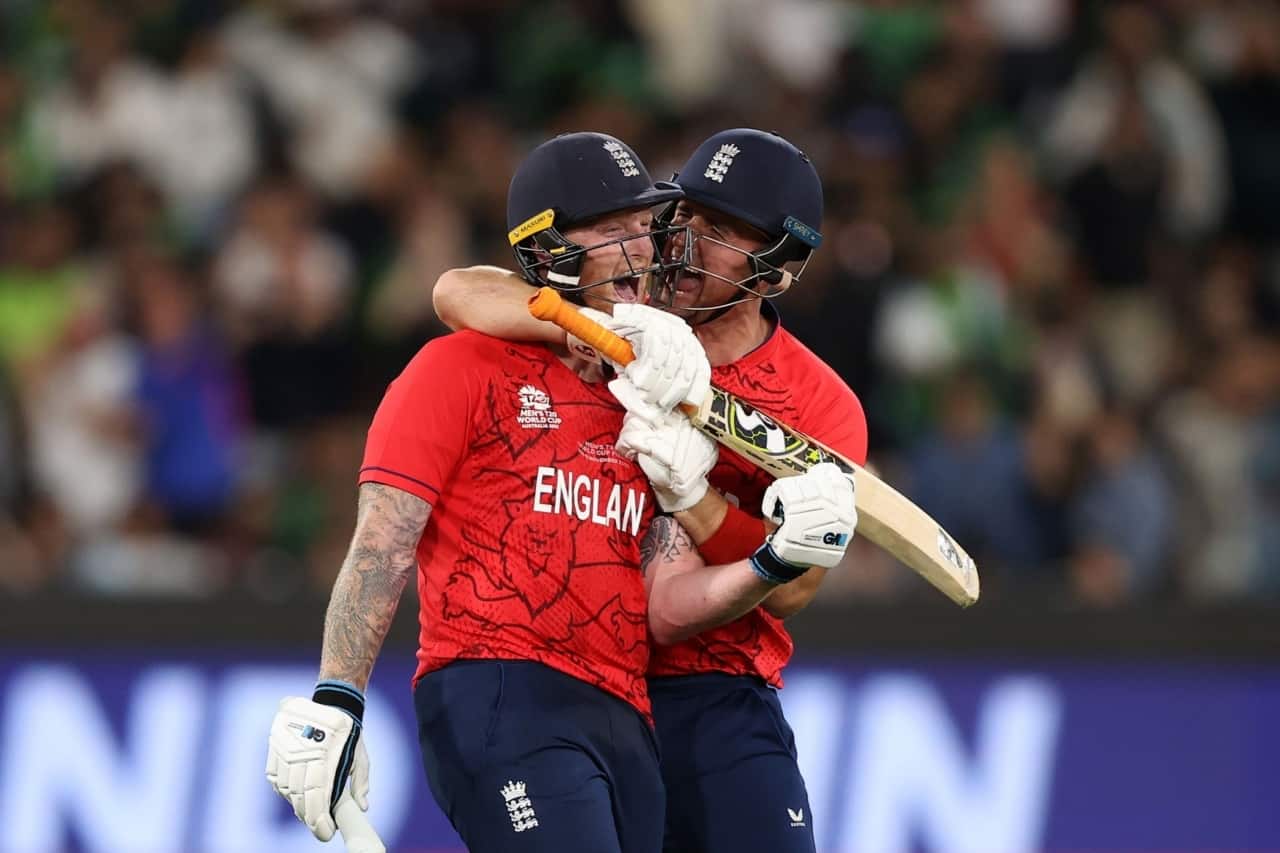 Sam Curran was adjourned the man of the match and man of the tournament. The white ball giants collect their medals and lift the trophy. England have redeemed themselves as a white ball team, winning two white ball World Cups out of three and they are a far cry from the team they once were when they got knocked out by Bangladesh in the 2015 50 overs World Cup.
Subscribe to Sportco for more content.