UEFA Champions League round up Matchday 3
Here are the latest score updates of the first half of the UEFA Champions League football on the 25th of October 2023.
Manchester United vs FC Copenhagen 
Final Score line: 1-0
Scorers: Harry Maguire (72') assisted by Christan Eriksen
Match Facts: Not the margin expected but Manchester United carved out a win against Danish champions FC Copenhagen. Christian Erikson provided the assist from the right to an unlikely started yet scorer Harry Maguire to win the game. The game went late with 4 minutes being added and due to time-wasting, it went till the 97' minute when Copenhagen was given a penalty due to a high raised boot by Scott McTominay. O nana became the hero by saving the kuch from the spot to earn three vital points.
Lens vs PSV
Final Score line: 1-1
Scorers: Johan Bakayoko (54') assisted by Malik Tillman
               Elye Wahi (65') assisted by Przemyslaw Frankowski
Match Facts: RC Lens and PSV shared points among each other in the Champions League Matchday 3 as the game ended in a draw in France. Elyse Wahi scored the equalizer when Johan Bakayoko gave PSV the lead in the 54-minute. As the current points tally stands PSV are bottom of Group - B while Lens stays at the second position right behind the Gunners to keep their bid for the qualification for the round of 16 alive.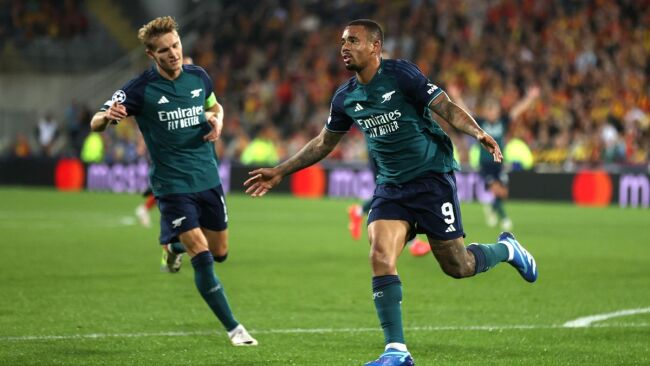 Sevilla vs Arsenal 
Final Score line: 1-2
Scorers: Gabriel Martinelli (48') assisted by Gabriel Jesus
                Gabriel Jesus (53') assisted by Declan Rice
                Nemanja Gudelj (58') assisted by Ivan Rakitic 
Match Facts: Possibly the highest intensity game for Matchday 3 of the Champions League by far as seven-time Europa League winner Sevilla was unable to prevent a defeat against Arsenal. The match ended with a score line 2-1 in which both Brazilian Martinelli and Gabriel Jesus scored with Nemanja Gudelj grabbing a consolation goal for the hosting team. A point of worry for the Gunners would be Gabriel Jesus who went off pulling his hamstring in the latter minutes of the game.
1.FC Union Berlin vs Napoli 
Final Score line: 0-1
Scorers: Giacomo Raspadori (65') assisted by Khvicha Kvaratskhelia
Match Facts: Union Berlin fought till the very end but lost to a Napoli side who felt the absence of their star man Victor Osimhen. His replacement Giacomo Raspadori scored in the 65' minute but the Italian Champions were no less than lacking a proven finisher in their team. Likewise, Union Berlin's Aaronson had the best chance to show his worth after his first chance in a month but couldn't manage to do much.
Braga vs Real Madrid 
Final Score line: 1-2
Scorers: Rodrygo (16')
                Jude Bellingham (61') assisted by Vinicius Jn
                Alvaro Djalo assisted (63') by Simon Banza
Match Facts: Yet another game for English talent Jude Bellingham, and yet another goal to his name. Not just Laliga, he is taking the Champions League by storm as well. SC Braga came from behind through the in-form Alvaro Djalo to cancel out the Englishman's goal but weren't able to cancel out Rodrygo's opener which resulted in a 2-1 win at the end.
Benfica vs Real Sociedad 
Final Score line: 0-1
Scorers: Brais Mendez assisted (63') by Barrenetxea
Match Facts: Brais Mendez has been making a name for himself since his transfer to his current employers. A transformer much-attacking player made the difference in what resulted as a win for the away side. SL Benfica missed the absence of their star Uruguayan striker Santiago Giminez as Peter Musa and Arthur Cabral couldn't affect the game with their attacking prowess.
Feyenoord vs Lazio 
Final Score line: 3-1
Scorers: Santiago Giminez (31') assisted by M. Wieffer
                R. Zerrouki (45+2') assisted by C. Stengs
                Santiago Giminez (74')
                Pedro (83') Penalty
Match Facts: Feyenoord keep their top form going in the Champions League with returning striker Santiago Giminez proving to be the main difference among the side as he scored twice to win the game for the Dutch side 3-1. The other goal for Feyenoord was scored by R. Zerrouki in the additional time of the first half. A prime example of players still being exceptional in the latter stages of their career is forgotten Pedro who scored a consolation goal for the Italian side when a penalty was awarded in the 83' minute. Lazio currently sits in the third position in Group - E.
Barcelona vs Shakhtar Donetsk
Final Score line: 2-1
Scorers: Ferran Torres (28')
                Fermin Lopez (36') assisted by Ferran Torres
                H. Sudakov (62') assisted by I. Azarovi
Match Facts: A pretty much lackluster performance by the Spanish giants, they were able to avoid a scare by Ukrainian powerhouse Shakhtar Donetsk in the Champions League Matchday 3. The match ended in a 2-1 win in favour of the red and blue where Ferran Torres capitalized the opportunity to depute in place of the injured Robert Lewandowski with a goal and an assist to his name. Shakhtar Donetsk came up with a goal late in the game but couldn't score anymore with just 2 shots on Target.
Cover Credits: UEFAchampionnsleagueofficial