UEFA Nations League: Leagues C & D: Fixtures, Head to Head and latest news
As the 2020-21 UEFA Nations League is all set to kick off on September 3, we continue our look at the Matchday 1 fixtures involving the 6 groups of League C(4 groups) & league D(two groups).
Group Stage Matchday 1: September 3- September 5
League C: Group 1: Montenegro, Cyprus, Luxembourg, and Azerbaijan
September 5
Cyprus v Montenegro; Venue: GSP, Nicosia
Montenegro would like to put a disappointing Euro 2020 qualifying campaign behind as they start their Nations League campaign with a trip to Cyprus. 
The Cypriots are always tough to beat at home but this time it will be different as without vocal home support due to COVID 19 restrictions, both teams will start on equal footing but Loukas Hadjiloukas' team would look to start the new campaign with a home win.
Head to Head: Cyprus- 0 win, Montenegro- 0 win, Drawn- 3
Azerbaijan v Luxembourg; Venue: Olimpiya Stadionu, Baku
An improved Luxembourg would like to continue with their good Nations League form having been promoted to league C from the last edition but a poor Euro qualifying sees Luc Holtz's side searching for a confidence-building result in Baku against Azerbaijan. Giani De Biasi's side is tricky at home and having promoted to League C would like to start strong ahead of further challenges.
Head to Head: Azerbaijan- 1 win, Luxembourg- 0 win, Drawn- 2
League C: Group 2: Georgia, North Macedonia, Estonia and Armenia
September 5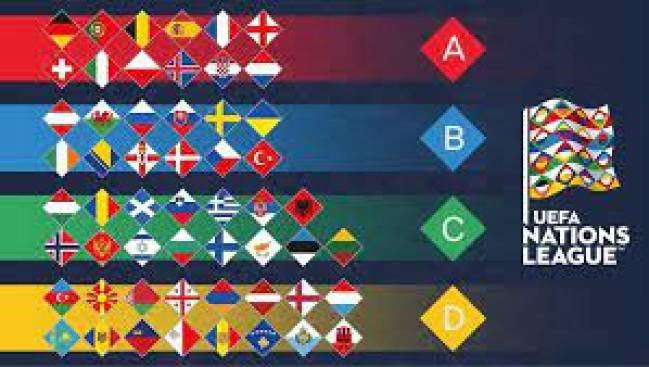 North Macedonia v Armenia, Venue: National Arena Todor Proeski, Skopje
Both North Macedonia and Armenia were promoted from League D having been paired together in the last edition with the former gaining a golden chance to qualify for the delayed Euro 2020 with a play-off semi final against Kosovo to look forward to in October. The Armenians led by the imperious Henrikh Mkhitaryan reached a low point in Euro 2020 qualifying as they lost 9-1 to Italy and new coach Joaquin Caparros will be striving to start a new successful phase in Armenian football history in the Macedonian capital Skopje.
Head to Head: North Macedonia- 3 wins, Armenia- 3 wins, Drawn- 2
Estonia v Georgia, Venue: A.Le Coq Arena, Tallinn
Promoted Georgia travel to Tallinn to face Estonia in a match that could lack entertainment as both sides would like to have a safe start to the UEFA Nations League. Georgia have a high voltage Euro play off semi-final to look forward to in October against Belarus and the two Nations League doubleheaders would give Vladimir Weiss' boys a useful workout. Georgia faces North Macedonia at home in Tbilisi on September 8.
Head to Head: Estonia- 2 wins, Georgia- 3 wins, Drawn- 1
League C: Group 3: Greece, Kosovo, Slovenia and Moldova
September 3
Moldova v Kosovo, Venue: Stadio Ennio Tardini, Parma(Italy)
This is the first-ever clash between the two tiny nations. Minnows Moldova entertains a high flying Kosovo on neutral soil. Bernard Challandes' free-flowing side surprised many by getting promoted to League C and even had a fairy tale Euro 2020 qualifying campaign getting ever so close to the Finals. 
Yet Kosovo will get another chance in October as they face neighbours North Macedonia in a Balkan derby in a Euro semi-final playoff. 
Head to Head: The teams will be facing each other for the very first time. 
Slovenia v Greece, Venue: Stadion Stozice, Ljubljana
This will be a close match as the Greeks would like to continue with a late surge of form in Euro qualifying against a disciplined and pacy Slovenian side. Matjaz Kek's side will be looking to register their first win against Greece since the country's independence from Yugoslavia.
Head to Head: Slovenia- 0 win, Greece- 3 wins, Drawn- 2
League C: Group 4: Albania, Belarus, Lithuania, and Kazakhstan
September 4
Lithuania v Kazakhstan, Venue: LFF Stadionas, Vilnius
The Nations League's main agenda is to give the lesser nations a chance to shine against equal looking opponents. Both Lithuania and Kazakhstan will meet only for the second time in their histories. Their only meeting produced a 1-1 stale draw.
Head to Head: Lithuania- 0 win, Kazakhstan- 0 win, Drawn- 1
Belarus v Albania, Venue: Dinamo National Olympic Stadium, Minsk
Albania would start the game as group favourites but Belarus, with one eye on October's Euro play-off semi-final, remain positive about creating momentum at home but without the presence of passionate home fans.
Head to Head: Belarus- 2 wins, Albania- 1 win, Drawn- 2
League D: Group 1: Faroe Islands, Latvia, Andorra and Malta
September 3
Latvia v Andorra, Venue: Daugava, Riga
Latvia are expected to win this group and get promoted to League C. Dainis Kazakevics' side has not lost to Andorra in seven meetings having scored 14 goals on the way. Again, opportunities are in plenty for the so-called minnows of European football to make a mark and improve their overall game.
Head to Head: Latvia- 5 wins, Andorra- 0 win, Drawn- 2
Faroe Islands v Malta, Venue: Torsvollur, Torshavn
The uniqueness of this group of minnows is that all four teams have new managers and would be confident of getting positive results. This makes the group unpredictably close.
Head to Head: Faroe Islands- 5 wins, Malta- 2 wins, Drawn- 1
League D: Group 2: Gibraltar, Leichtenstein, San Marino
September 5
Gibraltar v San Marino, Venue: Victoria Stadium, Gibraltar
The two sides will meet for the very first time in their football history and both sides will be up for the game hoping for a positive start. Liechtenstein is the other team to complete the group.
Head to Head: The teams are meeting for the first time.
Cover image credits: