VAR thwarts Manchester City again as they share points with Tottenham
In the 2018-19 Champions League quarterfinal second leg on April 17, 2018, with the scores at 4-3, Tottenham were set to progress over Manchester City on away goals. Two and a half minutes into stoppage time, Raheem Sterling juked a Tottenham defender in Spurs' goal and then found the net. Man City's ecstatic celebrations, however, were spurned as VAR disallowed the goal.
Roughly four months later, City had to undergo a similar feeling as Gabriel Jesus' injury-time strike was disallowed by VAR. A slight accidental handball by Aymeric Laporte in the run-up to Jesus' strike prevented the scoreline from reading 3-2 in the hosts' favor.
Mauricio Pochettino and his team will be pleased to be earning a point at the Etihad considering Manchester City was the better team throughout. For Pep Guardiola, the solitary point earned against title rivals would be like a sharp thorn.
The hosts started off strong with Sterling coming close in the early stages. His shot off a Kyle Walker cross in the seventh minute was deflected away by Davinson Sanchez.
13 minutes later, the English forward found the net, heading in a terrific cross from Kevin De Bruyne. This was Sterling's fourth goal in two Premier League games, having scored a hat-trick against West Ham in the season opener.
The Citizens' lead, however, was short-lived as Erik Lamela curled one in from outside the box in the 23rd minute. A poorly-positioned Ederson was not helped by the fact that Lamela's strike came through traffic.
Guardiola's men reclaimed their lead 12 minutes later as Sergio Aguero turned in a De Bruyne cross into the goal.
The rest of the first half saw little action. In the second-half, Tottenham leveled the scores again via substitute, Lucas Moura. The Brazilian headed in from a corner a mere 19 seconds from his introduction.
Manchester City upped their gears for the remainder of the game but were unable to find the net. Jesus had a brain-freeze moment when he should have passed to an open Bernardo Silva but went for goal himself to put it out wide.
All in all, City were an infinitely better team than Tottenham but fortune favored the visitors who'll be glad that they were able to eke out a point in such a tough fixture.
Talking Points
Man City's dominance does not bring the desired result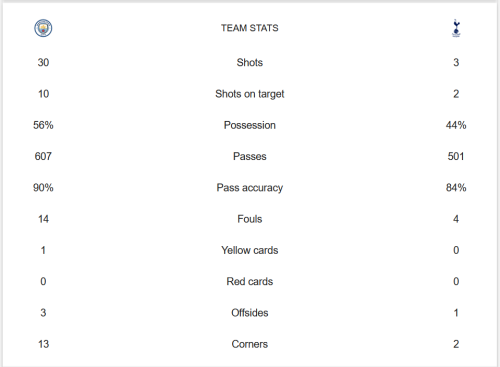 The hosts had 30 attempts on goal as compared to Tottenham's three.
City had 10 shots on target as opposed to Tottenham's two.
Guardiola's cohorts completed 106 more passes than Tottenham and also had greater possession.
All that dominance counted for only a point. Manchester City's lack of ruthlessness in front of goal coupled with some questionable decisions from Jesus contributed to this. As mentioned previously, Tottenham got off lightly in this game considering they looked helpless in the match.
For Guardiola, the key takeaway is to improve on his players' decision-making up front. Pochettino, meanwhile, has to instill confidence in his players so that they do not wilt against top teams like City and Liverpool.
Blame the rules, not VAR
Jesus' goal was correctly ruled out by VAR. The ball did touch Laporte's hand in the run-up to the goal and as per the new Premier League rules, it was not a goal.
The subject of fans' ire here should not be VAR. In fact, it should be a set of rules whose interpretation and implementation can differ from referee to referee. VAR did well to point out a handball that was not even noticed by the players on the pitch.
Did Laporte's accidental handball have a great role to play in Jesus' strike? Not at all. Looking at the whole situation, it is the rule of goals being disallowed if a handball (accidental or not) occurs that should be scrutinized. The technology is there to assist the referee and it is doing a good job of it so far in the league.
Man of the Match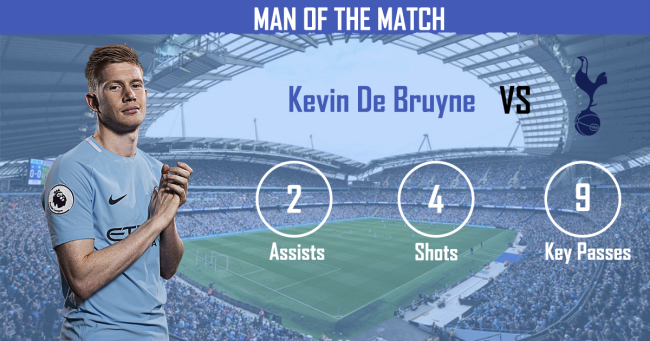 Kevin De Bruyne is deservedly the Man of the Match considering his superlative performance in midfield.
The Belgian was at his best, creating chances, tracking back and making Manchester City's midfield tick with his metronomic passing.
His one-touch cross to find Sterling for the opener was a fabulous piece of football. Equally impressive was his grounded cross to Aguero for City's second goal.
De Bruyne's playmaking was on full display in this game as he assisted two and delivered nine key passes.
For a player who missed out on a large chunk of the 2018-19 season due to injury, this performance would do well to restore his confidence.
Cover image credits: BBC