Virat Kohli adds yet another feather to his cap as Test captain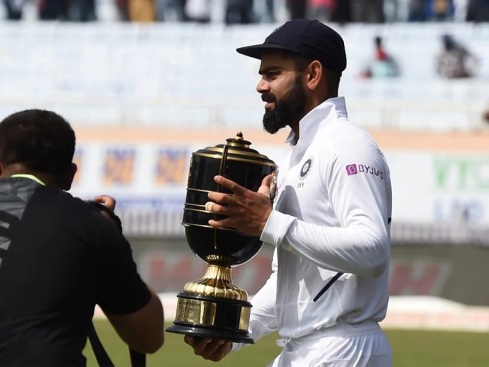 It was just a matter of two overs as Shahbaz Nadeem took two wickets in two balls on the fourth day to complete a memorable whitewash for India against South Africa at Ranchi. 
India won the third Test match by an innings and 202 runs. Most of the players in the team have contributed well to what has been a historic series victory for India.  
It has been historic on two counts, firstly India has now won 11 consecutive home Test series which is a world record and secondly, this is the first time an Indian team has managed to whitewash South Africa in a Test series and Virat Kohli is the first captain to achieve the feat. 
As a result, Kohli has added yet another feather to his cap as Test captain. You could argue that Kohli is at the helm of a strong team plus they are playing in home conditions but his contribution to these wins can't be ignored. 
There is no need to talk about Kohli the batsman, as he has always been there scoring bucket load of runs. But Virat Kohli, the captain has managed to achieve very important transformations in the team. The Men in Blue are one of the fittest team going around. 
This is a result of the environment that Kohli has been able to create in the team. Each player has taken their fitness to the next level and as a result, some players are performing way beyond expectations. In addition to this, the Indian fast bowlers are bowling like never before. 
As Indian cricket fans, we have always seen Indian batsmen getting bounced or getting beaten for pace. But, we are now at the opposite end of it. Fast bowlers such as Umesh Yadav and Mohammad Shami are making the batsmen dance to their tune. 
Two Indian fast bowlers were running through a South African batting lineup who have grown up playing high-quality fast bowling. On top of this, India's premier fast bowler, Jasprit Bumrah wasn't even in the squad. It was a moment worth cherishing.
The Indian captain definitely deserves a lot of credit for the transformation of these fast bowlers. MS Dhoni always had the mantra of spin to win which worked quite successfully in home conditions but Kohli loves the pace and that's why India can take 20 wickets regularly even outside the subcontinent.
The real joy will be when India starts winning consistently even in away conditions but for the moment, we should take our time and appreciate the achievement of Virat Kohli and his team. 

Cover image credits: NDTV Sports