Virgil van Dijk reveals the toughest player he's faced in his career
Liverpool star Virgil Van Dijk labeled Barcelona great Lionel Messi as his toughest opponent till date. Van Dijk and Messi were head-to-head twice last season over the two legs of the Champions League semi-finals, where Liverpool produced a completely unexpected comeback at Anfield beating Barcelona 4-3 on aggregate.
The Netherlands international paid tribute to Messi, who is also regarded as one of the greatest players of all-time. When Van Dijk was questioned on Twitter about the toughest opponent he's faced, he said,
 "There are some difficult strikers out there, but probably Lionel Messi." 
The defender when asked to answer on who is the toughest to mark, said "Aguero". Van Dijk also expressed his concern over the Premier League which is currently suspended because of the coronavirus outbreak and told that he is "feeling fine" and ready to resume when everything gets back to normal.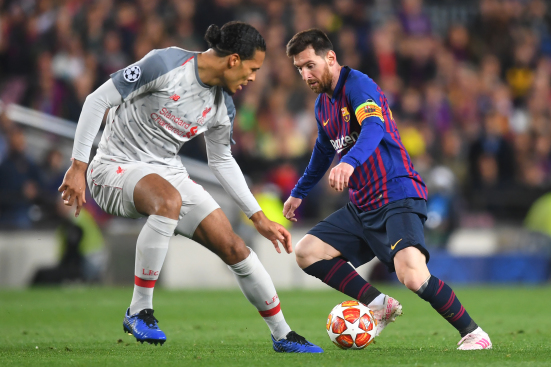 Liverpool currently have a 25-point lead atop the table and the Reds are eager to get their hands on the title. However, many pundits feel that the season should be considered void. If that happens, Liverpool would miss their chance of winning their maiden Premier League title and Liverpool fans all around the world would definitely not like it.
After a shocking, but a deserved loss at Anfield against Diego Simeone's Atletico Madrid, Champions League is out of the equation as well and that means Liverpool's only chance of winning a silverware this season is in danger too.
The FA Cup did not go the way they wanted too after a dominant Chelsea performance led the Reds to cancel out one more trophy possibility. However, Klopp and company would be looking to get back stronger after they lost the chance to become the new "invincibles". 
featured image credits- Yahoo Sports