Arsene Wenger's All-Time XI: Henry, Vieira and more
22 years. 1,235 games. 716 wins. 2,298 goals. There is and will only be one Arsène Wenger. The Frenchman was the driver behind making Arsenal a wildly successful club with global appeal. There's no doubt that Wenger's departure, while necessary, will be hard to get used to come next season.
Since Le Professuer took charge of the Gunners in 1996, he's managed countless players and made bonafide stars out of a lot of them. Wenger had the ability to scout raw talent and mould them into world-class performers. At the same time, the Frenchman also displayed the knack to get the best out of veterans in the squad. In his time as Arsenal manager, Wenger has presided over teams with differing fortunes. Out here, we will be building a team comprising the finest talents Wenger coached in his 22 years at the helm.
Individual impact on the club was the biggest factor we took into consideration. This includes a combination of personal stats as well as trophies won. Along with that, we also considered the tenure of players. A guy who stayed longer at the club, while being a part of the first team, rightfully gets the advantage here. Lastly, performance under Wenger was an equally important factor. Players who played their best football under the Frenchman got the longer end of the stick in this case.
Believe me, there were quite a lot of gifted players to choose from, and a handful of them had to be left out. After all, there can only be 11 to make the team. But, here's a set of players who were extremely close to making it to the XI.
Jens Lehmann
Lee Dixon
Gilberto Silva
Ian Wright
Nacho Monreal
Aaron Ramsey
Robin Van Persie
Ray Parlour
Our final XI lines up in a classic 4-4-2 formation. No slight variations of any kind. A simple but effective formation, considering the quality at hand. Unsurprisingly, the 'Invincibles' era is most well-represented in the lineup. Then we also have a few from the years post the move to the Emirates.
Goalkeeper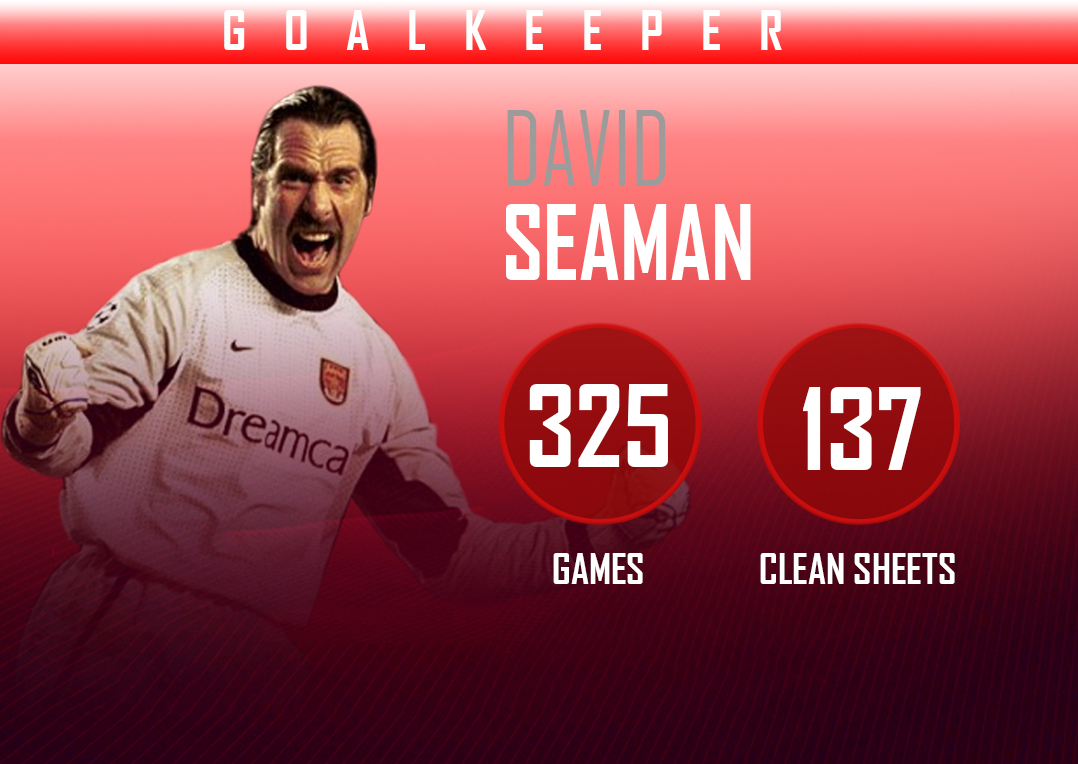 In international football circles, David Seaman is most known for that howler against Ronaldinho. For the Gunners faithful, however, Seaman was a shot-stopper with a penchant for saving penalties. 
With 325 appearances to his name, the Englishman is second on Arsenal's list of most Premier League appearances for a player. Having played at Highbury for 13 years, Seaman is a double Premier League champion as well as a winner of four FA Cups.
With the Englishman between the sticks, Wenger won his first Premier League title in the 1997-98 season. Seaman was solid in goal, amassing 13 clean sheets in the league. In addition to that, his performances also helped in Arsenal winning the FA Cup and becoming only the second side to complete two 'Doubles'.
Known for his mobility and incredible reactions, Seaman held fort in the Arsenal goal until 2003. He won his final Premier League title in the 2001-02 season, keeping 10 clean sheets. Seaman's most memorable moment in an Arsenal shirt, however, came next season in the FA Cup. 
Arsenal were defending a one-goal lead against Sheffield United in the FA Cup semi-finals. The Blades took a corner in the 80th minute and Paul Peschisolido tried to head in from close range. Amazingly, Seaman leapt to his right and scooped the ball past Peschisolido and the other Sheffield players to safety. Peter Schmeichel called it one of the greatest saves in history.
Defenders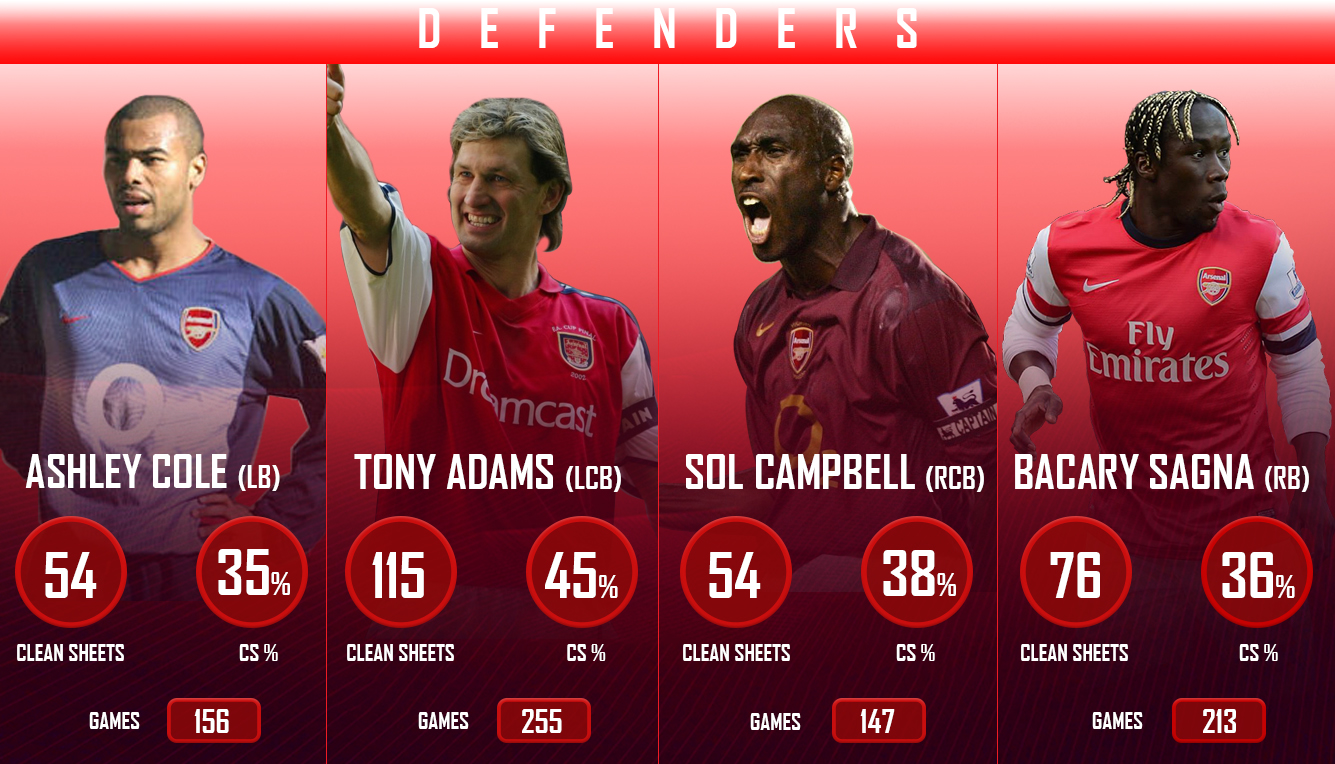 Wenger's finest defensive teams were surely in his first decade as Arsenal manager. The Frenchman had inherited a formidable back-line from the George Graham years. In fact, our team captain is none other than Tony Adams, who was a product of the Graham regime. 
But, Mr. Arsenal is here in Wenger's best XI because he was the Frenchman's first successful re-invention. Adams was infamous for his alcohol addiction and it was Wenger's faith him that brought about a successful rehabilitation. The French manager's then-revolutionary dietary and training methods revitalized the ageing defender, who led Arsenal to two Premier League-FA Cup doubles. A born leader, Adams is one of the finest defenders to have played in the Premier League, as evidenced by his clean sheet percentage. He was a rock at the back for the Gunners during Wenger's early years and paved the way for more success to follow. Oh, and he also scored this beauty:
While Adams is from the old-guard, the other defenders on the list are also indicative of Wenger's keen eye for youth talent as well as incredible deals.
His controversial move to Chelsea notwithstanding, Ashley Cole is the finest left-back to have donned a Gunners shirt. Arguably, the finest left-back in Premier League history. An Arsenal youth academy product, Cole was promoted to the first team in 2000, after serving a season on loan at Crystal Palace. Cole superseded Sylvinho as the starting left-back after the Brazilian's injury in 2000 and made the position his own, even after the Brazilian's return to fitness. At Arsenal, Cole was an attacking full-back, linking up with Robert Pirès on the left. This strategy was critical for the Gunners, especially in the 2003-04 season where they went undefeated. Cole stayed at Arsenal for seven years before departing to West London in acrimonious circumstances.
Cole's Invincible teammate, Sol Campbell partners Adams in the centre. The English centre-back came to Arsenal from their traditional rivals, Tottenham, on a free transfer of all things. Campbell came at the peak of his powers and won a Premier League-FA Cup double in his first season itself. A physically strong defender, Campbell also possessed a knack for positioning himself in the right places. The English defender would also go on to form an almost impenetrable partnership with Kolo Toure in 2003-04 as Arsenal went undefeated in the league. Campbell's last Arsenal appearance was in the 2006 UEFA Champions League final where he scored the Gunners' only goal in a 2-1 loss to FC Barcelona.
Rounding up our defensive line is a relatively recent player. Interestingly, he's the only non-Englishman in the back four. Bacary Sagna joined Arsenal from Auxerre in the 2007-08 season and became a mainstay for Wenger at right-back for seven years. Even though Sagna played during the trophy-less years, he carved out his own niche at Arsenal. The French defender was named to the PFA Team of the Year two times, as he was recognized for his ability to impact the game on both ends of the field. In addition to his defensive stats mentioned, Sagna also stacked 15 assists while playing for the Gunners. He isn't mentioned in the same breath as other Arsenal luminaries, but Bacary Sagna's contribution to Arsenal deserves recognition.
Midfielders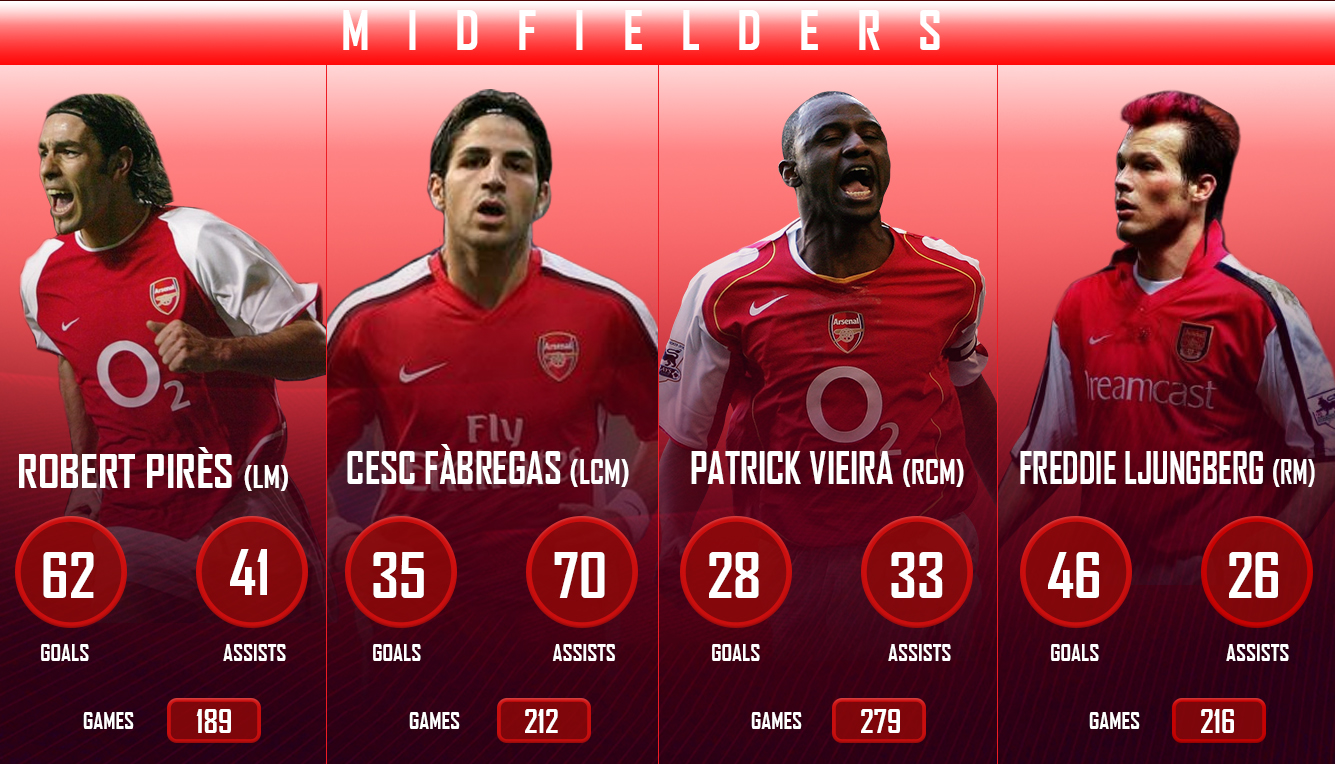 Former Arsenal captain Patrick Vieira was the first name to put in the midfield four. The French legend joined Arsenal in 1995 and spent nine fruitful years at Highbury. Vieira was a force of nature who changed the way box-to-box midfielders were seen in the Premier League. A dynamic player, Vieira was blessed with a mix of strength and pace which he used to devastating effect. The Frenchman's long strides were a regular sight in England. He coupled his physical attributes with accurate passing which made him a world-beater. Vieira won three Premier League titles and captained Arsenal during their unbeaten season. A vociferous midfielder, Vieira's rivalry with Roy Keane is legendary. Both were leaders of their respective clubs and their feud was a microcosm of the Premier League's power struggle in the late 90s and early 2000s.
Our choice for Vieira's midfield partner was a bit tough. We had thought about going with Gilberto Silva, but on re-assessment, we placed Cesc Fàbregas instead. While Silva will always be an important figure in Arsenal's history, Fàbregas had far more quality than the Brazilian. The Spaniard became the youngest ever Arsenal player to play a senior game in 2003. The same year he also became the Gunners' youngest ever goal-scorer. 
His talent came to the fore after Vieira's departure in 2006 and Wenger then made him the centre-piece of a new-look side at the Emirates Stadium. Fàbregas was the poster boy of Arsenal's possession-based approach to the game post the Emirates Stadium move. In a team devoid of world-class talent that Gooners were so accustomed to, Fàbregas stepped up with quality performances. The Spaniard has given the second-most assists in Premier League history, and 70 of the 111 came in an Arsenal shirt. Fàbregas was another football superstar that Wenger fostered in his 22-year career at the North London club.
On the wings, we have the 'Invincible' pairing of Robert Pirès and Fredrik Ljungberg. Both wide men were crucial to Arsenal's success in the early millennium with their distinct playing styles fitting hand in glove with Wenger's philosophy.
On the left wing, Pirès represented the flair and technique-based game that Arsenal were, and still are synonymous with. The Frenchman moved from Marseille in 2000 and after a slow start, nailed down his place in the side. The winger was comfortable in taking on players one on one and then linking up with Henry to devastating effect. He also had an eye for goal, scoring 62 times in Arsenal's colours. Eight of them, to the delight of Gooners, came against Tottenham. The 2001-02 season was Pirès' finest as he scored nine goals and assisted 15, helping Arsenal to a Premier League title. Pirès was also voted as FWA Player of the Year and Arsenal's Player of the Year that season.
Ljungberg, on the other hand, hurt teams with his direct runs that confused opposing defenders. The Swede was a tireless runner with a penchant for scoring important goals. He marked his debut with a goal in a 3-0 win over Manchester United. Like Pirès, Ljungberg played an equally important role for Arsenal on the right wing. He was an integral part of the 2001-02 Double winning side as well as the 2003-04 Invincibles. His positional awareness and attacking instinct made him a nightmare to mark and Ljungberg made his name capitalizing on defensive errors from opponents. Even though Ljungberg suffered from persistent injuries in his career, his efficacy while on the pitch rarely dropped. And who can forget his trademark pink hair.
Strikers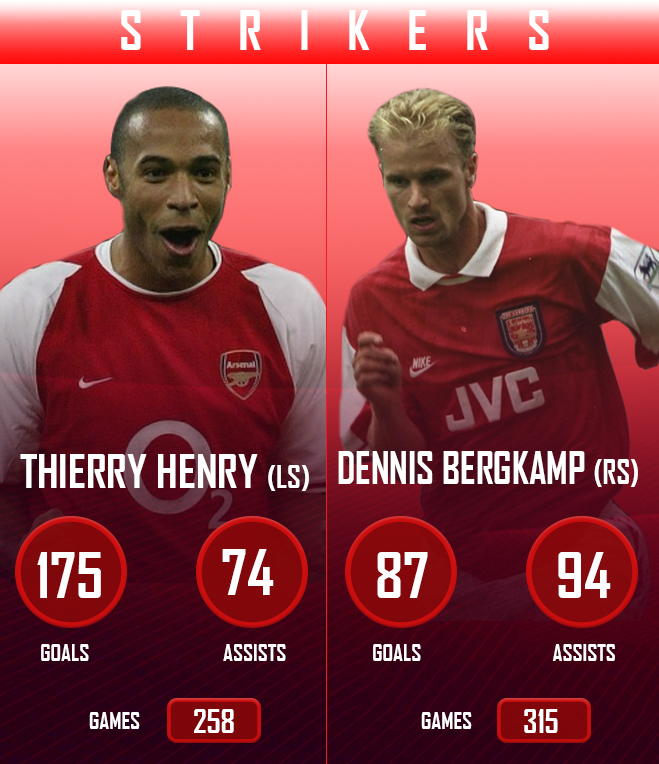 Well, if I'd chosen anyone else, it would have been sacrilege. Right?
Also, if I chose anyone else, then it would have been one of the daftest choices ever.
While Arsenal has produced fine strikers in the Wenger era, none can match the impact and legacy of Dennis Bergkamp and Thierry Henry.
The Dutchman was the first star of the 90s to move to Arsenal and was instrumental in transforming the club. Bergkamp's creative approach to the game was the perfect building block for Wenger who built his early teams around the Dutchman's versatility. Bergkamp was Arsenal's best player in the 1997-98 campaign, also being voted the PFA Players' Player of the Year that season. Th 'Non-Flying' Dutchman was more comfortable as a creator, than a goalscorer however. This tendency would end up in establishing a tandem that would terrorize defences for years to come.
Bergkamp's creative genius combined well with the likes of Ian Wright and Nicolas Anelka. It was Thierry Henry's arrival, however, that changed the whole landscape for Arsenal. Titi had a slow start to his career, but when he got going there was no stopping him. Henry was the perfect partner for Bergkamp's playmaking. The French striker was a lethal finisher, as his goal-scoring record shows. Drifting in from the left, Henry specialized in leaving defenders behind with his blistering pace and gazelle-esque strides. His finesse shot was one of the best, if not the best in the business.
After Bergkamp's departure, Henry transitioned into a lone striker and still remained as deadly as ever. Despite being a forward, Henry also holds the single season assists record in the Premier League, with 20 in the 2002-03 season. The 1998 World Cup Winner is also the only player to have scored and assisted 20 goals in a single season. He is the highest goal-scorer in Arsenal's history and the fifth-highest in PL history.
Both Bergkamp and Henry were forwards who defined the Premier League. Bergkamp was the first to bring and succeed with a continental playing style. Henry, on the other hand, changed the perception of what a striker could do in the game. Where the Dutchman brought in the concept of a creative forward in the Premier League, Henry became the blueprint for a modern forward. The French striker was comfortable dropping deep and linking up with his midfielders. He was equally comfortable being a traditional target man. Traits that are crucial in a modern striker. 
All of this was possible because of the genius of Arsène Wenger, whose playing style and philosophy allowed these generational talents to blossom into world-beaters.
Wenger's Best XI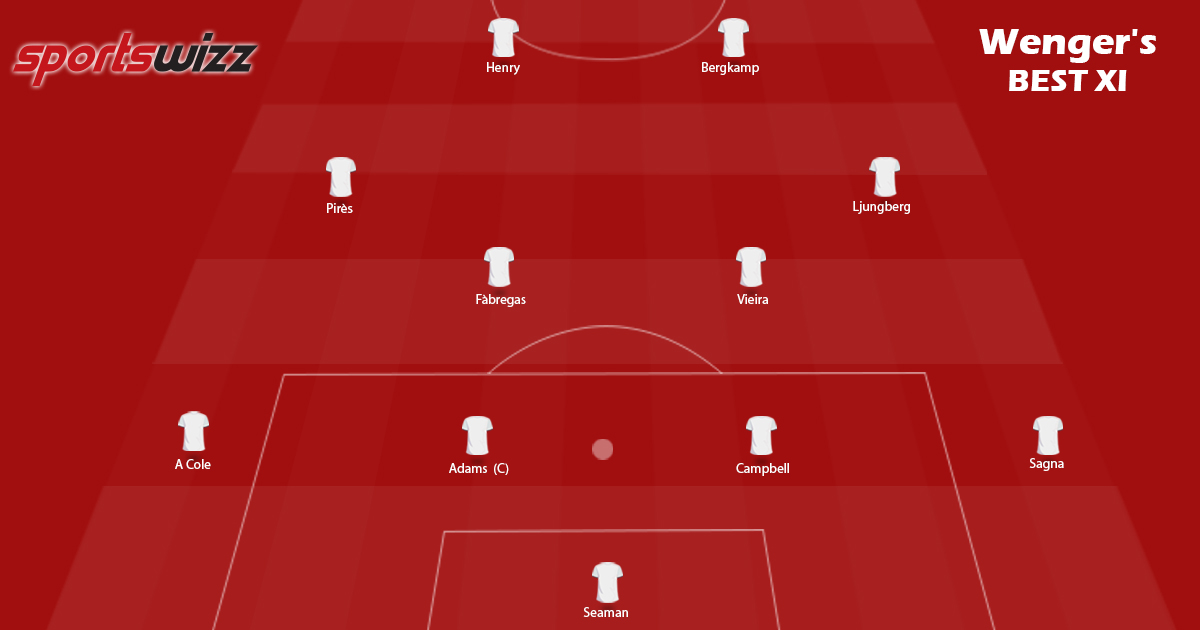 All stats are as per www.premierleague.com unless otherwise mentioned.
Due to lack of availability of comprehensive statistics for other competitions, we have only displayed statistics from the Premier League.