Which are the favorite cars of Indian Cricketers?
If you ask someone what was their favorite toy in the childhood, the answer most probably is going to be toy cars. And this does not change even when you become an adult, it's just that the toys get bigger and more expensive as you get older.
Every child dreams of buying the best car one day in his life and one has to put extra efforts in work for a long time to achieve that goal. The mere thought of having an expensive luxury car motivates one to work more arduously in life and once that dream is realized, every second of work done seems worth it. Because of all hard work is done, the car bought is extremely cherished and there is a deep attachment to that car.
There is always a proud feeling when one sits in their personal car and takes a ride. Just a look at it fills one with a sense of accomplishment. That is why luxury cars are not just any vehicles, they are a result of lifelong hard work.
There is no one in the world who does not like super expensive luxury cars and same is the case with the legends of the Indian cricket. According to Aaj Tak's YouTube channel 'Sports Tak', these are the favourite car of Indian cricketers.
Virat Kohli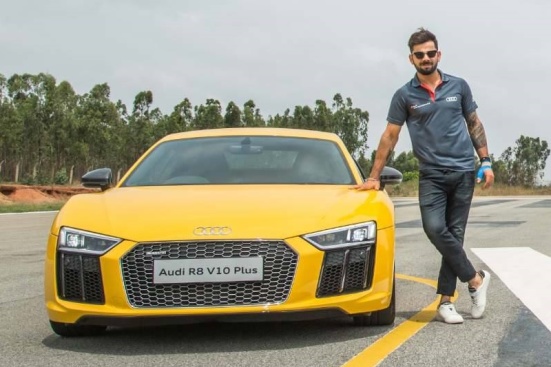 The current Indian cricket team captain, Virat Kohli is the proud owner of the limited edition Audi R8 LMX. One of the only 99 such cars ever manufactured, which makes this vehicle even more special. Just like his batting records, he does not settle for anything good, he wants the best of everything.
Kohli, the brand ambassador of Audi in India, bought the car for an exorbitant price of Rs 3 crores. Just like the price, its features are also super impressive. It comes with a V10 engine of 5.2 lt. capacity and the engine generates a power of 570 BHP.
The car is currently the fastest Audi R8 which can accelerate from 0 to 100 km/hr in just 3.4 seconds and can reach a top speed of 320 km/hr. The limited-edition Audi R8 LMX is the first car in India to come with laser high beam lighting.
MS Dhoni
Everybody knows about Dhoni's love for bikes, but few people know that he adores his cars as much as his two wheelers.
Among Dhoni's collection of cars, his favourite is the SUV Hummer H2. He is often seen driving his beloved car in his hometown, Ranchi.  The Hummer H2 is a huge car that was marketed by Hummer and was built by AM General. The car also nominated for the North American Truck of the Year award in 2003.
The former Indian captain bought the beast in 2009 for the price of around Rs 75 lakhs. It is powered by a massive 6.2-litre V8 petrol engine that generates a maximum power of 393 BHP. It can also accelerate from 0 to 100 km/hr in less than 10 seconds and can reach a maximum speed of about 200km/hr.