WHICH NBA PLAYERS MAKE THE MOST ON INSTAGRAM?
The list is topped by Lebron James, Stephen Curry, and Rusell Westbrook are the top three most influential NBA players on social media.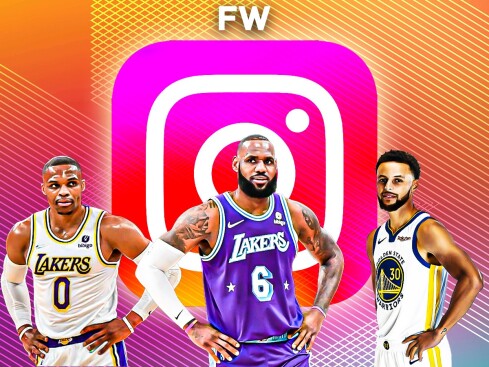 Lebron James
Lebron James became the first NBA Player to reach 100 million followers late last year, It highlighted further global outreach of the NBA with many of his followers being across the globe.
Lebron James earns around $310,673 per sponsored post on his Instagram.
Lebron James was the biggest earner on the list due to the huge following on Instagram which combined with his 1.4% engagement rate. The main reason is Lebron's follower's counties more than double anyone else on the list, highlighting his global influence.
Stephen Curry
Next on the list, we have Stephen Curry with 52.4 M followers and an engagement rate of 1.42% meaning he could earn around $109,212 per sponsored Instagram post. Stephen Curry's brand partnership with Underarmour has also been seen as the most influential thing on Social Media.
Whereas Russell Westbrook comes in third place in the list with a follower count of 22.5 M and an engagement rate of 0.93% meaning he could receive around $51,251 for every sponsored Instagram post.
While Kyrie Irving has 19.1 M followers on Instagram means he could earn $56,501 per post for every sponsored post.
Surprisingly we have Lonzo Ball in the 5th Rank who has 17.2 M followers he could earn around $47,538 per post.
The first four names on the list are superstars in the league and are all some of the biggest names in sports. Lonzo Ball hasn't had the same on-court impact as the others but realized the power of social media before he even got drafted. 
Kevin Durant
Phoenix Suns Star Kevin Durant also makes the top ten, His 13.3 M followers and a 5.04% engagement rate and he could earn around $33,967 for every sponsored Instagram post, KD also had the highest engagement rate on the list with 5.04% and known for his frequent social media use among other NBA stars.
Not to forget standing in seventh place is Giannis Antetokounmpo with 15.1 M followers and a 3.01 % engagement rate meaning the Greek star could see earning around $32,807 for every sponsored Instagram Post.
The list goes on with big Names like James Harden, Klay Thompson, and Chris Paul.
With all the sources of income, NBA Athletes have their social media app being able to generate money through deals that may include 1post which is extremely beneficial.