5 best ODI knocks by Indians against Australia down under
The Indian team, under the tutelage of Ravi Shastri and leadership of Virat Kohli, has made the entire country proud by being the only subcontinent outfit to register a Test series triumph in Australia. Team India will be looking to replicate their Test performance in the ODI series too. India has incidentally not won a bilateral ODI series against Australia down under. However, the current team has the capability to rewrite that too in its bid, which will go underway later this month. 
Let us take a look at the five best ODI knocks by Indians against the Aussies down under:
5. VVS Laxman (103*, VB Series, Brisbane, 2004)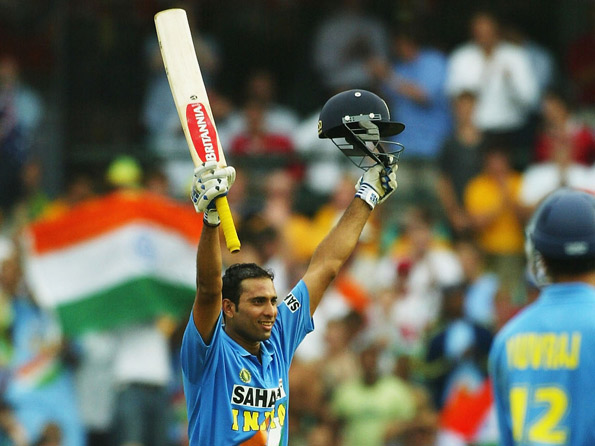 The ODI match between India and Australia on January 18, 2004, at the Gabba saw India electing to bat first on a warm sunny day. Laxman came in to bat one down and was desperate to cement his place in the ODI team. He joined Sachin Tendulkar who was made to play second fiddle, as VVS kept on picking the gaps and ticking the scoreboard.
He started accelerating towards the end as bowlers like Brett Lee and Ian Harvey were not spared. Laxman reached his century off the last ball of the innings and steered India to 303/4. His 103 proved to be the difference as Australia could muster only 284, and was adjudged the Man of the Match.
4. Rohit Sharma (138, Carlton Mid Tri-series, Melbourne, 2015)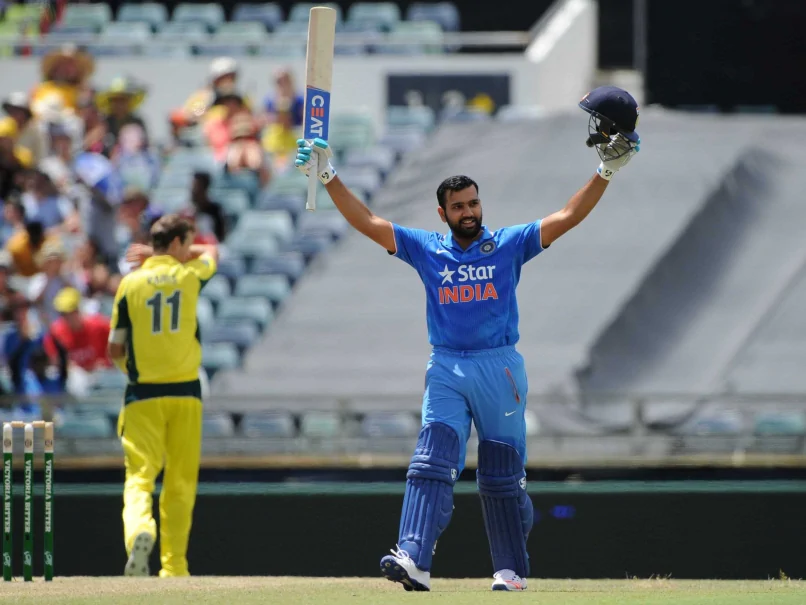 The opener from Mumbai is a sight to behold when he gets going, especially in colored clothing. His Test career might be in shambles, but Rohit Sharma is one of the premier batsmen in ODI cricket. His hitting pedigree came to the fore at the Melbourne Cricket Ground on a day when India's decision to bat first on a tricky MCG pitch was seeming to backfire. After India lost three early wickets, Sharma came in to bat and started in his typical slow fashion.
After a few minutes of consolidation, Rohit started smashing the Aussie pacers away and then resorted to targeting Glenn Maxwell. His timing and hitting ability took India to a respectable total of 267, wherein he had made more than half the runs, scoring 138 runs. Australia won the match by four wickets though.
3. Yuvraj Singh (139, VB Series, Sydney, 2004)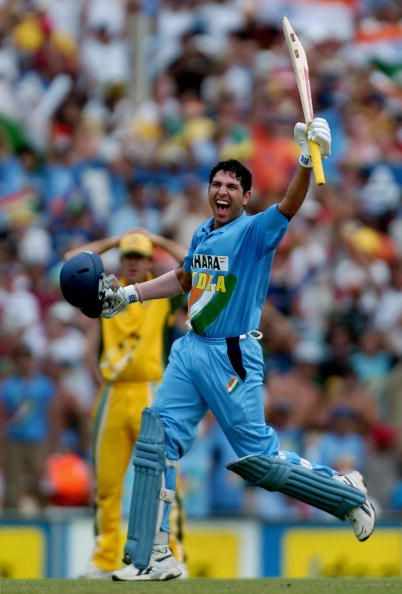 The quintessential firebrand cricketer, Yuvraj Singh is as talented as it gets. The southpaw possesses great flair and a variety of shots. The match in question was at the SCG in which India were reeling a bit at 80/3 when the man from Punjab joined Laxman at the crease. Yuvi had shown his true potential when he helped India chase down a massive total of 325 at Lord's against England in the Natwest Trophy final. India needed a similar effort and boy, didn't they get something better!
Yuvraj was in no mood to relent as the Aussie mid-over bowlers like Ian Harvey and Andrew Symonds were frustrated to no end. Ponting delegated his trusted bowlers, Jason Gillespie, and Brett Lee, to prise out his wicket, but that did not materialize either, as Yuvraj went on to score a massive 139 off 122 balls and powered India to a very good total of 296. However, Australia won the match by 2 wickets, and Yuvraj was declared the Man of the Match.
2. Manish Pandey (104, VB Series, Sydney, 2016)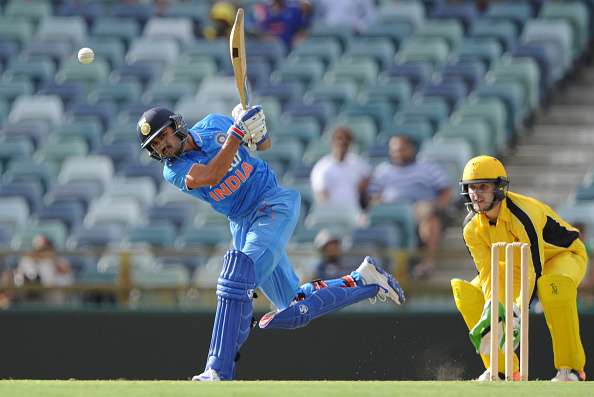 The middle-order batsman from Karnataka is a bit of a paradox. Though incredibly talented, Manish Pandey has not really justified his inclusion when he has turned up in Indian colors. However, his dazzling century at the SCG in the last ODI of the 2016 series influenced India's win and served as a consolation to Team India, as a loss would have meant Australia would have had a series whitewash.
In his fourth ODI, Pandey showed remarkable confidence and awareness as he joined Rohit Sharma in India's pursuit of a mammoth Australian total of 330. Pandey was playing the support role till Rohit got out, and slowly took up the mantle when the asking rate went above 6. In the wake of MS Dhoni not being able to rotate strike frequently, he had to hurry things up, and he did exactly that. Dhoni came to the party finally, and by the time he made his way back, Manish Pandey was left with 6 to score off the last four balls. He comfortably guided India home in the next couple of deliveries which saw him complete his ton as well.
1. Sachin Tendulkar (117*, CB Series, Sydney, 2008)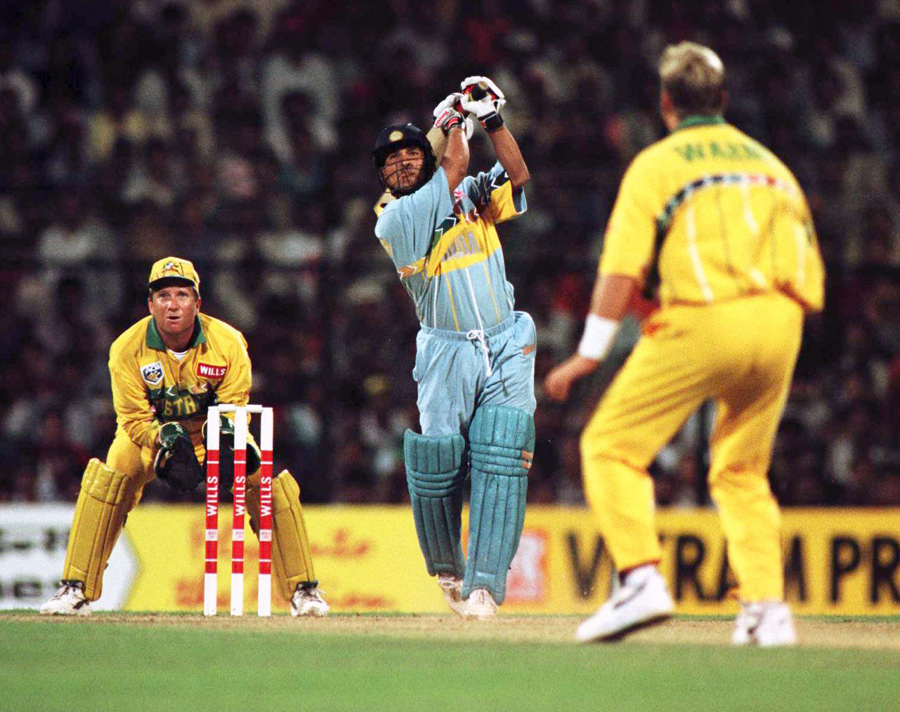 Arguably one of the greatest ever cricketers to wield the willow, Sachin Tendulkar scored a memorable knock in the first final of the Commonwealth Bank Tri Series at Sydney. Australia were the first to bat and India did immensely well to restrict them to a small total of 239/8. But the pressure of the final was telling as the Indian openers, Robin Uthappa and Tendulkar, made their way to the crease. India soon found themselves struggling at 87/3 with the game in the balance.
He soon found support in fellow Mumbaikar, Rohit Sharma. The youngster played a fearless knock that took the pressure off the Master Blaster and allowed him to score freely with some incredibly beautiful shots. Sachin soon brought up his 42nd ODI ton and helped India win the match by 6 wickets with four overs to spare. His 117 gave India a crucial 1-0 lead in the Tri-Series final, which they went on to win 2-0, again courtesy Sachin's 91 at Brisbane.
Cover picture credits: India Today