Sportco Premier League Legends Series: Alan Shearer
After a successful player analysis series of some of the top Premier League players, Sportco brings you another series but this time with the legends the Premier League has witnessed over the years.
Fortunately, the Premier League's Hall of Fame was also announced recently so we hope to bring a detailed analysis of why a player is included or not. Note: Our analysis may have players that are legendary players but not incorporated in the Hall of Fame for off-field reasons. Let's do this!
Our first and opening star or legend of this series, whatever you may like, is Premier League's highest goalscorer to date, ex-Southampton, Blackburn Rovers, and Newcastle United forward Alan Shearer.
Alan Shearer is widely regarded as one of the best strikers to have ever graced the pitch. But do you know how his journey began?
How it Began
For this entire career, Alan Shearer played in the top levels of English football. His professional career embarked in 1988 with Southampton and after four years, in 1992 Shearer moved to Blackburn Rovers.
It was then that he grabbed everyone's attention and ascertained himself as one of the most prolific goalscorers. Another four years passed by, and history was made when Shearer joined his hometown club, the Magpies Newcastle United for a then-record fee of £15m.
International Career
After proudly representing all the clubs he played for, Alan Shearer also became a renowned member of the England squad. Shearer made 63 appearances for England and scored 30 goals. 
The Newcastle United striker was an influential figure in the UEFA Euro 1996 when England reached the semi-finals. He then retired from the sport after representing England in the Euro 2000.
Alan Shearer Statistics 
During his tenure with the Saints, Alan Shearer scored a total of 43 goals in 158 appearances. After recognizing his true potential, Shearer exploded when he played for Blackburn Rovers, scoring 130 goals in just 171 displays, unprecedented growth. 
| Clubs | Matches | Goals | Goals/Game |
| --- | --- | --- | --- |
| Southampton | 158 | 43 | 0.27 |
| Blackburn Rovers | 171 | 130 | 0.76 |
| Newcastle United | 260 | 206 | 0.80 |
However, he spent most of his time at Newcastle United, where he scored 206 goals, and also became Premier League's record goalscorer with 260 Premier League goals, an undisputed record till today.
Alan Shearer: Playing Style
Alan Shearer wouldn't have been the goal scorer he turned out to be if he continued at Southampton or maybe if he didn't realize it just in time. 
For the Saints, he was more of a creative player but when he moved to Blackburn Rovers and lost his fierce ball-carrying abilities due to his age, Shearer's actual game became visible to the world.
A tenacious centre-forward who used his physicality in the best possible way, headed the ball, made some extraordinary runs and was an incessant threat for the central defenders. All this impacted his numbers severely. 
The defenders were often very reluctant to thwart his runs as the Newcastle talisman was often seen using his elbow to great extent. He was also the first-choice penalty-taker for his club and country, meaning that he was reliable from the spot as well.
Career as a Manager
Alan Shearer got multiple openings to get into managing clubs and was also offered to become England's boss but because of his connections and commitments with other firms, Shearer had to refuse the offer. 
He was also offered assistant roles at St. James' Park but he rejected the offers until he served as a coach under Glenn Roeder for the last three games of the 2008 season. Finally, in April 2009, Alan Shearer was appointed as the Newcastle United manager.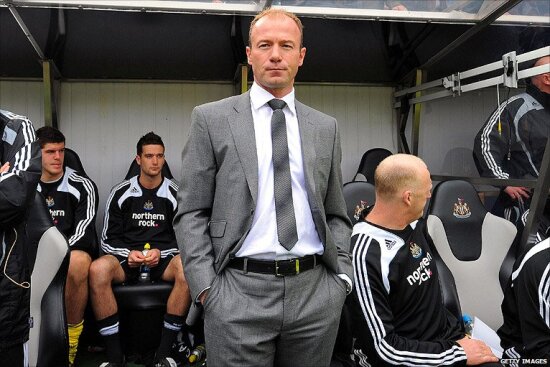 Alan Shearer started with managing his club for the remaining eight games of the 2008-2009 season, primarily because of Joe Kinnear's heart surgery and the time he required to recover.
Shearer's Newcastle United eventually got relegated on the ultimate day of the season and Alan Shearer managed to claim just five points out of a possible 24. This also ended Newcastle United's 16-year run of contesting in the Premier League.
Alan Shearer Major Honors
✦ Premier League: 1994–95 (Blackburn Rovers)
✦ UEFA European Championship bronze medal: 1996
✦ UEFA European Championship Golden Boot: 1996
✦ UEFA European Championship Team of the Tournament: 1996
✦ FIFA World Player of the Year – Bronze award: 1996
✦ Ballon d'Or – Third place: 1996
✦ Premier League Golden Boot: 1994–95, 1995–96, 1996–97
✦ PFA Players' Player of the Year: 1994–95, 1996–97
✦ FWA Footballer of the Year: 1993–94
✦ Premier League Player of the Year: 1994–95
✦ English Football Hall of Fame: 2004
✦ Premier League 10 Seasons Awards (1992–93 to 2001–02)
✦ Premier League 20 Seasons Awards (1992–93 to 2011–12)
✦ PFA Team of the Century (1907–2007)
✦ Premier League Hall of Fame: 2021
Alan Shearer Records
✦ Most goals in Premier League history: 260 goals
✦ Most Premier League goals in a 42-game season: 34
✦ Most Premier League penalties scored: 56
✦ Most Premier League goals scored from inside the box: 227
✦ Most Premier League goals in a single match: 5 
✦ Fewest matches to score 100 Premier League goals: 124 matches
✦ Top goalscorer in Newcastle United history: 206
✦ Most European goals scored for Newcastle United: 30