Alexander Zverev: Playing Style | Stats | Analysis | H2H Record | Australian Open 2021
Alexander Zverev is one of the highly-talented youngsters in tennis today. In his career so far, he has won a couple of ATP Masters 1000 titles and also reached the finals of the US Open in 2020. 
Having beaten each member of the big 3 (Roger Federer, Rafael Nadal, and Novak Djokovic) a combined 8 times, he is touted to break new records in the sport in the future.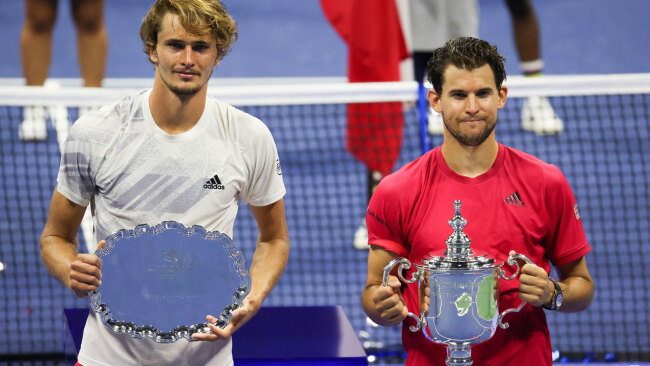 Alexander Zverev: Game Analysis 
Alexander Zverev is an aggressive baseliner and is heavily dependent on his first serve which he uses to get a lot of free points. His topspin heavy forehand and flat backhand along with his piercing groundstrokes can put pressure on the opponents. 
But, sometimes when he is off-color, his forehand can be inconsistent. The German's volleying skills are not also up to the mark as he struggles to take points at the net.  
A look at how Alexander Zverev has fared in the Australian Open over the years
| | |
| --- | --- |
| Player Name | Alexander Zverev |
| 2016 | 1st Round |
| 2017 | 3rd Round |
| 2018 | 3rd Round |
| 2019 | 4th Round |
| 2020 | Semifinal |
Zverev's win-loss record in the major tournaments in his career
| Player  | Alexander Zverev |
| --- | --- |
| Australian Open | 12-5 |
| French Open | 13-5 |
| Wimbledon | 8-5 |
| US Open | 13-6 |
| ATP Masters 1000 | 69-35 |
Zverev's head to head (Win-Loss) record against the top players in his career
| Player Name | Alexander Zverev |
| --- | --- |
| Novak Djokovic | 2-5 |
| Rafael Nadal | 2-5 |
| Dominic Thiem | 2-8 |
| Daniil Medvedev | 5-4 |
| Roger Federer | 4-3 |
| Stefanos Tsitsipas  | 1-5 |
| Andrey Rublev | 4-0 |
| Diego Schwartzman | 3-2 |
| Matteo Berrettini | 2-1 |
| Gael Monfils | 0-3 |
Having won 13 titles in his career so far, Alexander Zverev has still a long way to go. He split with his coach, David Ferrer at the start of the 2021 season. 
He must reduce the count of his double faults and improve his record in five-setters to better his record in the grand slams. 2021 will be a big year for Sascha as he aims to win a first grand slam. Zverev has a bright chance at the Australian Open and the US Open. 
"I have got to do a better job of keeping my focus until the end of a match, playing on the ATP Tour, you only play great matches, once you lose your focus, it does not matter how many titles you won, you have still got to play until the end otherwise it can go the other way very quickly," said Zverev last year in the Cologne Open.
While there is no skepticism regarding his technique, Alexander Zverev can work a bit on his mental strength as he has lost several matches from winning positions. He is still 23 and has time on his side to make a big turnaround in his career. Consistency is another aspect that Zverev should concentrate on. 
Alexander Zverev: Australian Open 2021 journey so far
Currently, Alexander Zverev has reached the quarterfinals of the 2021 Australian Open and will face Djokovic or Milos Raonic for a spot in the semifinals. Zverev has a 2-5 head to head record against Djokovic. He has lost 4 matches in a row to the Serb. Winning against the defending champion is a very tough task for Zverev if Novak is 100% fit.
Alexander Zverev is tied 2-2 in the head to head record against Raonic. Zverev and Raonic have faced off in the Australian Open before in 2019 when Raonic beat the German in straight sets in the pre-quarterfinals. An ace slugfest can be expected between the players with Zverev (65 aces) and Raonic (56 aces) in the tournament so far. 
If Zverev's first-serve starts firing from the start, he can win the match in straight sets or else it could be a nailbiter that ends in the fifth set.
So what are your views about Alexander Zverev and how far can he go in the Australian Open 2021? Will he manage to clinch his first grand slam this year or will the wait continue? Do lets us know in the comments below.
Featured Image Credits - Getty Images