Among Us Tasks List: Complete guide to all the tasks in the Skeld Map
In this article, we provide all the details for Among Us Tasks List which needs to be completed in the Skeld Map.
In the social deduction game Among Us, by InnerSloth, you play as crewmates or imposters. Crewmates in Among Us are given a list of tasks to complete, while the impostors have to sabotage them. In this article, we will explore the tasks in Skeld Map in Among Us.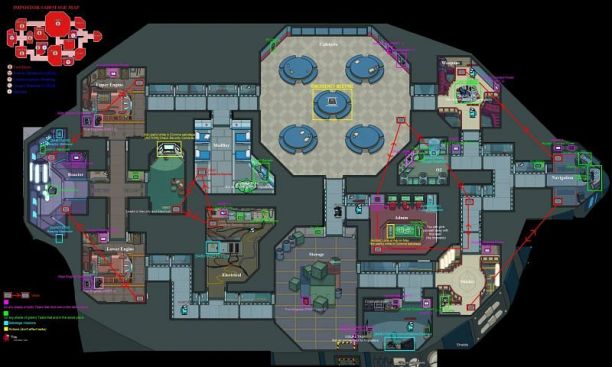 Among Us is the most downloaded game for 2020. The game consists of 3 maps, namely, Polus, MIRA HQ & Skeld. The game is essentially deduction with a murder mystery twist, and lately, Skeld has become the most popular map in the game. 
The players are divided into crewmates & imposters. In Among Us, the crewmates are given a list of tasks to perform, which includes fixing things around the map. The imposter's job is to sabotage the work done by the cremates or kill all of them before they finish their tasks. 
The tasks themselves are divided into short, common, or long tasks, depending on how long it takes to complete them. This article will outlay all the tasks list in Skeld Map of Among Us & the categories they fall into.
Among Us Task List: Skeld Map
There are a total of 14 rooms in Skeld Map in Among Us. It is the mid-sized map in the game, which is why its pretty popular among all type of lobbies. Every single room on the map has at least 1 task. So, let us look at the tasks list.
Admin: Swipe Card
Cafeteria: Upload Data, Empty garbage
Communications: Upload data, Divert power to communications
Electrical: Upload data, Fix wiring, Calibrate distributor
Engines: Align engine output, Divert Power to Upper engine, Divert power to lower engine
MedBay: Submit Scan, Inspect sample
Navigation: Chart course, Upload data, Divert power to Navigation, Stabilize steering
O2: Empty chute, Divert power to O2, Clean O2 filter
Reactor: Start reactor, Unlock manifolds
Security: Divert Power to security
Shields: Prime Shields, Divert power to shields
Storage: Fuel engines
Weapons: Clear Asteroids, Upload data, Divert Power to Weapons
Among Us Tasks List: Short Tasks in Skeld Map 
Short tasks do not take a long time to complete. However, this also depends on the speed at which the player is able to do them. Usually, they have only a single stage.
Align Engine Output
Calibrate Distributor
Clean 02 Filter
Clear Asteroids
Prime Shields
Stabilize steering
Unlock Manifolds
Among Us Tasks List: Common Tasks in Skeld Map
These are a set of tasks that are assigned to all crewmates. This is a good way to weed out imposters in the game.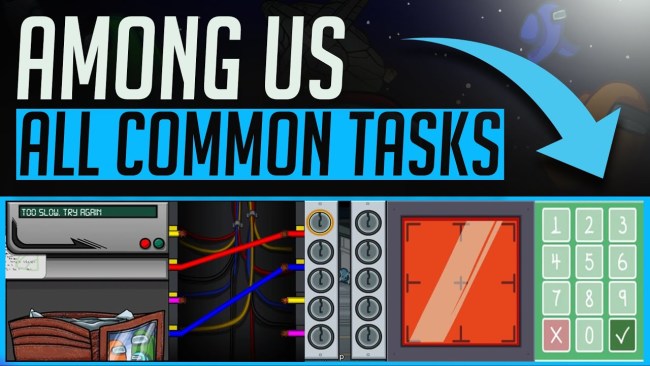 Among Us Tasks List: Long Tasks
The common tasks force players to wait around for a few seconds or minutes to make sure that the job has been completed successfully. 
Upload data
Submit Scan
Start Reactor
Inspect sample
Fuel engines
Featured Image Credits: sbnation.com