Atletico Madrid vs Real Madrid: La Liga Preview and Prediction
Atletico Madrid are all set to host Real Madrid in the latest installment of the Madrid Derby at Wanda Metropolitano, tonight. This is an important fixture for the two sides as the result of this match will decide, which team will stay at the top of La Liga table.
Currently, Los Blancos are La Liga leader with 14 points from six games, while Los Rojiblancos are on the second position with 13 points. Also, Real Madrid and Athletic Bilbao are the two sides who haven't lost a single game in the ongoing La Liga.
In the last La Liga fixture, Atletico defeated newly promoted RCD Mallorca 2-0 in an away fixture, while Los Blancos defeated Osasuna 2-0 at Santiago Bernabeu.
Interestingly, four out of the last five fixtures between Real and Atletico have ended in a draw with Real winning the remaining fixture 3-1 at Wanda Metropolitano in 2018-19 campaign. Atletico's last home La Liga win against Los Blancos came back in 2015 when they defeated their city rivals 4-0.
Also, in the overall head-to-head Real Madrid have got better of Atletico winning 87 La Liga fixtures in comparison to Atletico's 39 wins. Los Rojiblancos, however, are undefeated in their last 10 home games in La Liga.
Team News
Sime Vrsaljko is going to be absent from Atletico's squad due to an injury, while Alvaro Morata is suspended after receiving two yellow cards in the last fixture against RCD Mallorca.
From Real Madrid, on the other hand, Ferland Mendy, Marcelo, and Marco Asensio are sidelined due to an injury. Luka Modric and Isco are doubtful as both are not fully-fit to start in this match.
Key Battles
Joao Felix vs Sergio Ramos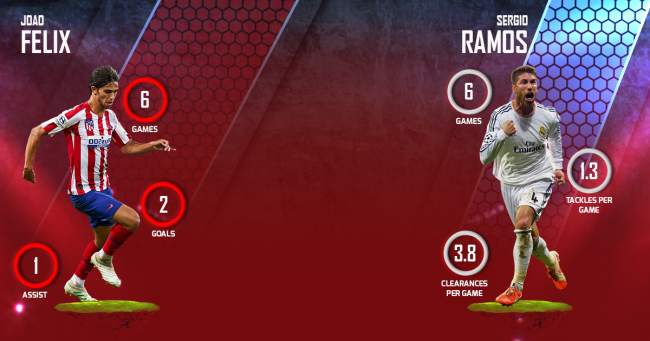 There are many hopes from Joao Felix and one thing that everybody wants him to do is justify his €126,00 million price tag. The Portuguese had a slow start to his new journey. Felix has scored two goals and provided one assist in his six La Liga appearances for Atletico.
The 19-year-old striker will have a lot of pressure on his shoulders as he walks onto the pitch for the first crucial La Liga fixture. This will be Felix's second match against Real Madrid as he already faced them during the pre-season. The Atletico striker made a lot impact on that game as he scored one goal and provided one assist in Los Rojiblancos' 7-3 victory over city rivals.
Once again, Sergio Ramos will be standing tall in front of the young striker. The Real captain had a decent start to the new season as he registered 1.3 tackles per game along with 3.8 clearances in his six La Liga appearances.
Ramos will use his experience to stop Felix, tonight. The defender has stopped many great strikers in the past and this shouldn't be a difficult task for him. The one place where the Spaniard might face problem is the pace of Felix. The striker is quick with his feet and it will be difficult for the aging defender to keep up with the youngster's pace.
Stefan Savic vs Karim Benzema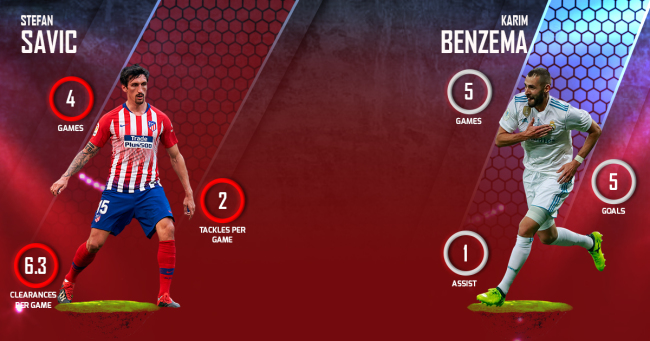 This is going to be a neck to neck battle as both Stefan Savic and Karim Benzema are in the top form currently. The two players have performed brilliantly so far and will have a great impact on this game. The performance of Savic and Benzema will decide the result of this match.
Savic has made two tackles per game along with 6.3 clearances in his four La Liga appearances. Benzema, on the other hand, is the leading goal scorer for his side. The Frenchman has scored five goals and provided one assist in five matches so far.
Benzema might face a bit of difficulty here as Savic has a great defending partnership with Jose Gimenez. The two defenders act as a wall in the Atletico's defensive line. It won't be easy for the Frenchman to get past them, however, if both Eden Hazard and Gareth Bale step up in this game. Then we might see Real scoring few goals in this fixture.
Prediction
Real Madrid did get better of Atletico in most of the games, however, the current Los Rojiblancos' side is in phenomenal form and it is never easy to defeat them at Wanda Metropolitano.
Zidane does have a better squad than Diego Simeone, but it all depends on, which side is willing to give their everything on the pitch to win the three points. Los Blancos need their new signing Hazard to make an impact in this game as he can be a game-changer for them.
Simeone, on the other hand, would want his strikers to play together and create issues for Real's defense. In recent times, Los Blancos' defensive line has been poor, and Atletico will surely try to hurt them.
I'm expecting that Atletico will play more offensive game than Real; however, I don't see any of them getting better of each other. I believe that both sides will succeed in finding the back of the net.
Predicted score: Atletico Madrid 1 – 1 Real Madrid