Top five batsmen fastest to reach 8000 runs in ODI Cricket history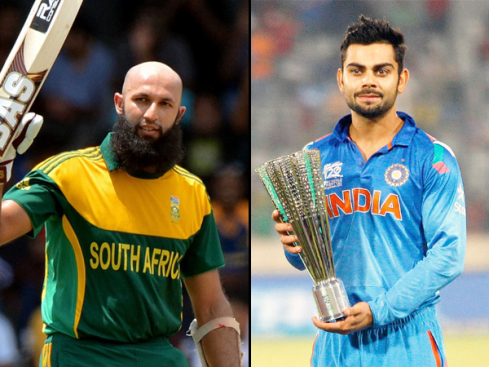 ODI cricket has evolved a lot over the past few years. The advent of T-20 Internationals has made life considerably difficult for the bowlers. In modern day cricket, the rule of two new balls from two ends has also taken the reverse swing out of the game. 
All of this has resulted in batsmen scoring freely without any inhibition in 50-over cricket. The average score in ODI's have also gone up over the years with, not even 350 being safe these days.
Even with all the above mentioned changes to the ODI format, it still takes a remarkable amount of talent and hard-work to score 8000 runs. Only a select few possess the consistency in their game to score runs across conditions and against world class bowlers. 
On 9th of November 2002, Sourav Ganguly broke Sachin Tendulkar's record by reaching the 8000 runs milestone in just 200 innings. The prince of Kolkata's record stood for a remarkable 13 years, before AB de Villiers got to the mark in 182 innings. Notably, AB de Villiers is the only middle order batsman in this list, which is dominated by openers.
Let us take a look at the top five fastest batsmen to the 8000 run mark.
#5 Rohit Sharma
After a sedate start to his ODI career, The Hitman has turned into one of the greatest ODI openers of all time. Rohit is one of the first names on the team sheet these days and is always amongst the top-3 batsmen in ODI cricket. Rohit reached the landmark of 8000 ODI runs during the home series against Australia this year.
The stylish batsman from Mumbai took 200 innings to cross 8000 runs in ODIs. Rohit currently has 8686 runs to his name in ODI cricket. With age still on his side, Rohit would look to finish with more than 12000 ODI runs and an ODI World Cup to his name.
#4 Sourav Ganguly
​Sourav Ganguly was the mainstay of Indian batting during the late 1990's and the early 2000's. He went on to forge a formidable opening partnership with Sachin Tendulkar. 'Dada', as he is fondly called, crossed 8000 runs in just 200 innings.
The former Indian captain went on to surpass 11000 runs in ODI cricket, eventually finishing up with 11363 runs. Ganguly took over when Indian cricket was going through a turmoil and laid the foundation for a strong Indian team over the years. He decided to quit in 2008 after a home Test series against Australia.
#3 AB de Villiers
The 'Mr.360 degree' of world cricket, is third on the list and crossed 8k ODI runs in just 182 innings. The South African great was a joy to watch in ODI's and holds the record for the fastest ODI hundred of just 31 deliveries.
In a shocking turn of events, AB decided to hang his boots on 23rd May 2018, just one year ahead of the 2019 World Cup. AB could not surpass the magical mark of 10k ODI runs, eventually finishing up with 9577 ODI runs to his name with an exceptional average of 53.5. His absence was severely felt by the South African team who performed way below par at the World Cup.
#2 Hashim Amla
​'The Monk' has been South Africa's most dependable player during the last decade. Amla has amassed runs with ridiculous ease in ODI cricket. Amla crossed the 8k run barrier in just 176 ODI innings.
Amla had a quiet 2019 World Cup as South Africa failed to cross the league stages. Amla averages a shade under 50 and has 27 hundreds to his name in ODI cricket. He announced his retirement from all forms of cricket on 8th August 2019. Along with Jacques Kallis and AB de Villiers, Amla formed the spine of South Africa's batting line up over the past decade.
#1 Virat Kohli
Virat Kohli tops the list of the fastest batsmen to 8000 ODI runs, crossing the landmark in just 175 ODI innings, one less than Hashim Amla. He is arguably the greatest batsman in the history of ODI cricket as his achievements are unparalleled at the moment. The batting maestro from India has 43 ODI hundreds and averages more than 60 in ODI cricket.
Kohli already has 11520 runs in ODI's and looks set to break Sachin Tendulkar's record of most runs in ODI cricket. His freakish fitness allows him to dictate the tempo of a game through singles and doubles. The Indian captain already has one World Cup title in his kitty and would be looking to add to that tally when India host the 2023 ODI World Cup. He is also the fastest to score 9000, 10000 and 11000 runs in ODI's.