Australian Open 2021: Day 1 and Day 2: Unique Statistics
Australian Open 2021: Day 1 and Day 2
After months and months of speculation, tournament postponement, and quarantine restrictions for players, The Australian Open is finally underway on February 8th in Melbourne. 
Surely in these pandemic times, the tournament might look a little different but still promises to be an action-packed entertainer. Here are all the peculiar numbers of this year's edition.
109
The Australian Open, which is the youngest of the four grand slams, was founded in the year 1905. The current season of the grand tournament marks the 109th edition overall and 53rd in the Open Era. Due to the present COVID hit circumstance, the tournament was postponed three weeks to February.
20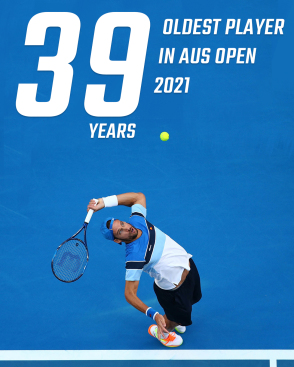 Feliciano Lopez became the oldest player at age 39 playing in the Australian Open 2021 courtesy of Roger Federer who is 43 days older, not taking part in the competition. The youngest player title goes to Jannik Sinner from Italy who is aged just 19 years old.
24
Bringing in an even starker difference, Cori Gauff aged just 16 years old is set to battle it out at the Australian Open 2021 while her opposite number, Venus William aged 40 is the oldest women's player in the competition.
16
When the men's and women's singles draw for the Australian Open was released, There were 16 women's singles grand slam champions in the draw at Australian Open 2021. This does suggest that every 8th player in the 128 player draw is a grand slam champion.
While in comparison to the number of men's singles grand slam champions there were only 5.
1255    
Day 2 of Australian Open 2021 saw most ace's in the men's singles with 716 aces scored compared to 539 in Day 1. The highest number of aces hit was 56, between Alexander Bublik and Aljaz Bedene, In which Bublik ran out his opponent, 3-1.
359
The WTA clashes too saw a good number of aces as we have a combined total of 359 for Day 1 and Day 2. The most aces served in a match was by the Czech sensation- Karolina Pliskova. 
The 28-year old managed to serve 11 aces in the match against Heather Watson and ended up winning in straight sets.
4,915
Egor Gerasimov fought valiantly against Benoit Paire, as the former won the game 3-1. This match recorded 143 receiver points, the most between a pair. 
Day 1 recorded a total of 2658 receiver points compared to Day 2 which had a total of 2257 receiver points. Adding to a total of staggering 4,915 receiver points being won.
3,805
A closely fought match between Wang Yafan and Donna Vekic, with Wang ending on the losing side. This match recorded the highest receiver points (100) won in a game in the women's singles in this edition of the Australian Open. With Day 1 having the count of 1771 and Day 2 the count of 2034 receiver points.
13
Dominic Thiem hit 12 points in a row on Day 1 while two players Andrej Martin and Hubert Hurkacz hit 13 continuous points in their respective games, with only A. Martin coming out as the victor.
20
Women's singles saw an exhilarating 20 points won in a row by Yulia Putintseva on Day 2, while 14 points were the maximum continuous points on Day 1.
100
The 39-year-old Serena Willams played her unprecedented 100th match of the tournament, looking ever ready and smashing Laura Siegemund on Day one of the Australian Open 2021 as she set out for her quest for a record-equalling 24th Grand Slam title.
15
World No.3 Naomi Osaka who won the title 2 years ago in Melbourne, Played her first match against Anatasia Pavlyuchenkova, and easily breezed past her to the next round. Naomi Osaka currently has a winning streak of 15 since her title win at the US Open 2020.
3
Day 1 saw Alexandre Muller hit a bagel as he won his match 3-1 against Juan Ignacio Londero while Day 2 also saw only 1 in the match between Roberto Bautista Agut vs Radu Albot which Bautista ran out 3-1 victor. 
4
It was in the women's singles that saw 3 bagels on Day 1 and 4 bagels on Day 2 and 1 double Bagel by Australian local Ashleigh Barty on Day 2. The 24-year old Ashleigh Barty is also the top-seeded local player in the tournament.
7
Simona Halep ranked No.2 in the world, Celebrated seven years at the top 10 women's rankings in 2021 marking a remarkable milestone that puts her on the list of all-time greats. It is a mark that ranks as the 8th best streak in WTA history. This is the longest active run among women in tennis.
43
When Evonne Goolagong beat Helen Gourlay 2-0 in 1977 was the last time an Australian won the Australian Open. It has been 43 years ever since an Australian has won the title on their home soil. This year Ashleigh Barty, An Australian local has set her sights to break the curse and bring the title home.
Here. concludes our interesting stats for Day 1 and 2 of Australian Open 2021. Let us know which numbers stand out for you the most. With the majority of the tournament still to be played out, we are sure some interesting numbers will be catching our eyes.