Best moments in ICC Cricket World Cup
Cricket's marquee event occurs every once every four years and the 13th edition is set to take place at October this year. It is the most prestigious prize in cricket history and every team can't wait to too add that trophy to their cabinet.
As it is cricket's marquee event, their have been many exciting moments taking place at the Cricket World Cup. Their have been thrillers, upsets, jaw dropping and heart breaking moments which have made the Cricket World Cup the most anticipated event in cricket history. With that being said, here are the
Best moments in the Cricket World Cup.
1. West Indies win back-to-back World Cups
After dominating test cricket in the previous years and winning the inaugural Cricket World Cup, West Indies entered the 1979 as favourite's and they lived up to the expectations. At the final, England's bowler restricted West Indies to 120-4 and were looking in danger. But Sir Vivian Richards stood up to the occasion and scored a brilliant 139 and took the game away from England. West Indies won the match by 92 runs and continued their dominance for another 6 years.
 2. India upset West Indies
Going into the 1983 World Cup, India was given the label as 'under-dogs' and no one had expected them to win the tournament, let alone qualify for the semi-finals. However, India proved all the doubters wrong and overcame overwhelming favourite's West Indies.
At the end of the first innings, West Indies bowled India for 183 and that target looked like a cakewalk for the calypso kings. At one stage, West Indies were 50-1 and were looking in-charge. However, Sir Vivian Richards skied a ball which was caught by the Indian captain Kapil Dev. After that, the West Indies batting attack fell like a pack of cards and India win their maiden World Cup and this victory began the rise and popularity of cricket in India.
3. Mike Gatting's reverse sweep costs England the World Cup
At the final of the 1987 Cricket World Cup, England were cruising their way to their maiden World Cup win, batting at 135-2 chasing 254. Unfortunately, Mike Gatting played an irresponsible reverse sweep which knocked the top edge and was caught by the keeper. This triggered England's batting collapse and the inventors of cricket had to wait over 3 decades to win their first World Cup.
 4. Imran Khan guides Pakistan to their maiden World Cup
After losing 3 matches in the group stage of the 1992 World Cup, Pakistan was set to get knocked out from the World Cup. But a Gritty Imran Khan led Pakistan and they qualified for the knock outs by winning their remaining matches and luck going their way.
Pakistan set a target of 249, courtesy of Imran Khan contributing valuable runs at the death. England batsman had no answer to Pakistan's strong bowling attack. Pakistan won the match by 22 runs and win their maiden World Cup.
 5. Arjuna Ranatunga guides spirited Sri Lanka to their maiden World Cup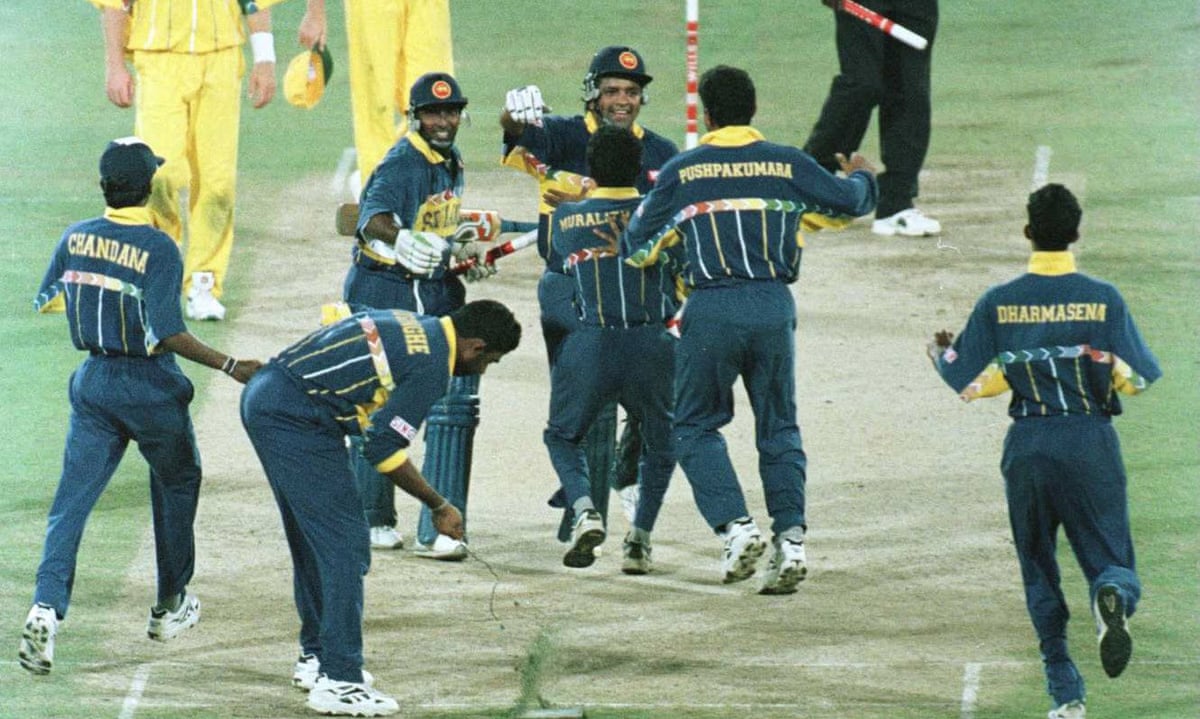 Sri Lanka were coming to the 1996 World Cup with a bucket load of controversies. Muttiah Muralitharan was accused of chucking and the Australian umpires called a no-ball whenever the Sri Lankan bowled a delivery. Sri Lankan captain Arjuna Ranatunga took a stand for his team and stood against the decisions of the Australian umpires, threating to walk off from the match.
With a statement to make, Arjuna Ranatunga guided a young Sri Lankan team to their maiden World Cup against a strong Australian line-up which consisted of the Waugh brothers, Glenn McGrath, Shane Warne, Mark Taylor. 
Australia posted a par total of 242 and Sri Lanka was in danger, batting at 23-2. Arvinda De Silva stood up to the occasion and scored a sublime century as Sri Lanka win their maiden Cricket world Cup.
6. South Africa throw it away
The 1999 semi-final between South Africa and Australia has been labelled as the "greatest ODI of all time". Chasing 213, South Africa needed 1 run in 14 balls and they had 1 wicket in hand. Lance Klusener ran a suicidal run and got run out as South Africa lost the match. This was the 4th semi-final for South Africa and they hadn't reached the finals of the World Cup. After this loss in the semi-final, South Africa were given the label 'chokers' but fans, pundits and cricketing experts.
 7. Ireland shock England
This match is the perfect example of a David vs Goliath fight. England, one of the top nations in cricket, were set to face Ireland, an upcoming minnow. England set a huge total of 327 for Ireland to chase and the latter was reduced to 115-5. Kevin O'Brian batted out of his skin, scoring a brilliant 113 of 63 deliveries, guiding Ireland to score a huge upset over England.
8. Dhoni finishes off in style
"Dhoni finishes off in style. A magnificent strike into the ground, India lift the World Cup after 28 years and it is our Indian captain who has been absolutely magnificent at the night of the final".
These words echoed at every household as India won their second World Cup. Sachin Tendulkar's dream of winning the World Cup was fulfilled, courtesy of the brilliant knocks of MS Dhoni and Gautam Gambhir. 
9. Bangladesh knock England out of the 2015 World Cup
A do-or-die match for both teams, Bangladesh and England had to win this match to qualify for the quarter-finals. Bangladesh posted a total of 275 with Mahmudullah and Mushfiqur Rahman scoring 103 and 89 respectively. In shocking fashion, England got all out for 260 and suffered an embarrassing loss against Bangladesh. However, the most embarrassing moment in England Cricket turned out to be the most important moment as this was the start of something big.
10. England win maiden World Cup in a thriller of a final
600 balls could not decide the winner of the 2019 World Cup and the game had to go to the super over. The super over was also tied and the winner was decided by boundary count. Whatever the rules and circumstances of the game, England's comeback to win the World Cup after the disappointment in 2015 has been a story of the ages.
Eoin Morgan changed and revolutionized white ball cricket in England and led England to their first World Cup victory. This was the best final in cricket history and perhaps the best match in cricket history. 
Leave you feedback in the comments below and stay tuned to Sportco for more content. Don't forget to follow our social media handles for more updates.
Cover Credit - ICC