Best tennis matches played in 2020 - Top 5 List
With the tennis season having officially ended this year, Sportco takes a look at some thrilling matches which kept the fans on the edge
1) Novak Djokovic vs Dominic Thiem - Australian Open Finals 
Thiem was leading by two sets to one and looked set to win his maiden grand slam. However, Djokovic fought back hard to take the fourth and fifth sets to bag his record eighth Australian Open title. 
Thiem had suffered a hat-trick of grand slam final losses. Despite the defeat, Thiem had shown tremendous transition from a clay-court grinder to a hard court specialist showcasing a new yardstick of consistency.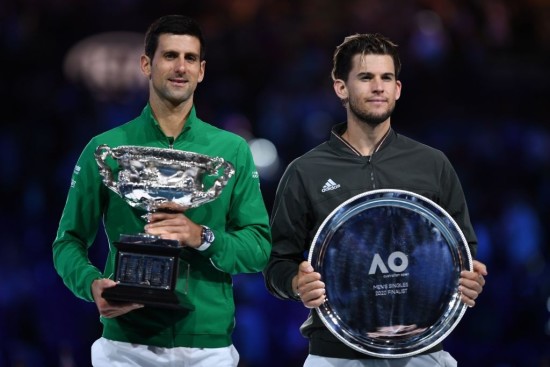 2) Dominic Thiem vs Alexander Zverev - US Open Finals
Zverev was cruising with a two-set lead but Thiem bounced back to take the remaining three sets to win his maiden grand slam in his fourth final. It was Zverev's first grand slam final and he just could not win the big points. 
It was a treat to watch for the fans as two consistent youngsters gave it their all till the very end in a keenly contested final. While Thiem had consistent power and pace, Zverev used his patience and experience.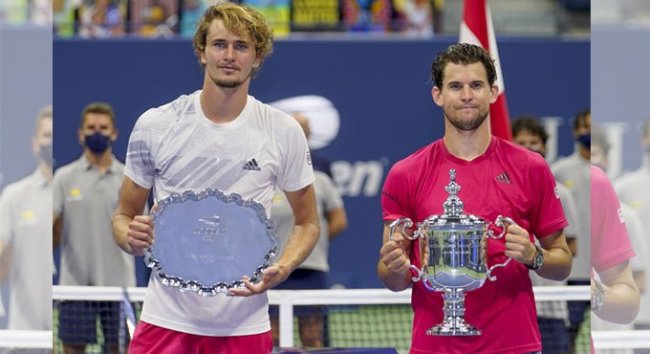 3) Novak Djokovic vs Dominic Thiem - Nitto ATP Finals - Semifinals
After their close Australian Open final, the two players set up a rematch in the semifinals of the ATP Finals. Thiem was leading by a set but failed to convert four match points in the second set with Djokovic playing his best level of clutch tennis. 
The Serb was up 4-0 in the tiebreaker of the deciding set before Thiem took six points in a row to close out the match 7-5 6-7(10) 7-6 (5). Thiem used his deep and powerful groundstrokes along with his quick movement to outwit the Serb's strong defense and superior return of serve. 
4) Dominic Thiem vs Daniil Medvedev - Nitto ATP Finals - Final
Thiem was leading 6-2 before Medvedev scripted a spectacular comeback winning the second and third sets 7-6 (7) and 7-6 (5) to win the biggest title of his career. It was heartbreak again for Austrian as he finished as runner-up for the second year in a row after losing in last year's tournament to Stefanos Tsitsipas. 
Medvedev beat the top three players, Djokovic, Rafael Nadal, and Thiem to become only the fourth player to do it in a single event. He extended his winning streak to 10 matches and won two titles in a row. He took advantage of the slower pace of play by frequently moving forward. 
5) Novak Djokovic vs Stefanos Tsitsipas - French Open - Semifinals
Djokovic was ahead by two sets before Tsitsipas displayed his fighting spirit to level the match. However, the Serb displayed his composure under pressure and grabbed the decisive fifth set 6-1 to storm into the finals. Tsitsipas had an injury in the fifth set and found it difficult to play smoothly.
Despite the shortened season due to the coronavirus pandemic, we had some memorable matches where there was little to separate between the players. 2021 promises to be bigger and better for the glorious sport of tennis. 
Featured Image Credits - Getty Images