Chelsea vs Liverpool: Premier League Preview and Prediction
Liverpool are all set to travel to Stamford Bridge in search of sixth consecutive win of the ongoing Premier League. Will the Reds succeed in increasing their lead over the second-placed, Manchester City?
Well, looking at Liverpool's current Premier League form, one would surely suggest that they are going to have an upper hand in this fixture. Also, Chelsea have gone through a lot of changes recently and are finding it hard to get back to their standards.
In the last Premier League fixture, Liverpool registered a comfortable 3-1 win against Newcastle United. While Chelsea thrashed Wolves 5-2 in an away fixture.
The two sides, however, ended on the losing side in the mid-week Champions League fixture. Liverpool suffered a 0-2 defeat against Napoli in an away fixture, while Chelsea lost 1-0 against Valencia at Stamford Bridge.
Nevertheless, Liverpool are the better side of papers. Also, they have won their last 14 games in the Premier League and have scored at least two goals in all of them. Chelsea, on the other hand, are undefeated in their last 11 home games in the Premier League but have conceded at least two goals in their last three league fixtures.
Key Battles:
Tammy Abraham vs Virgil Van Dijk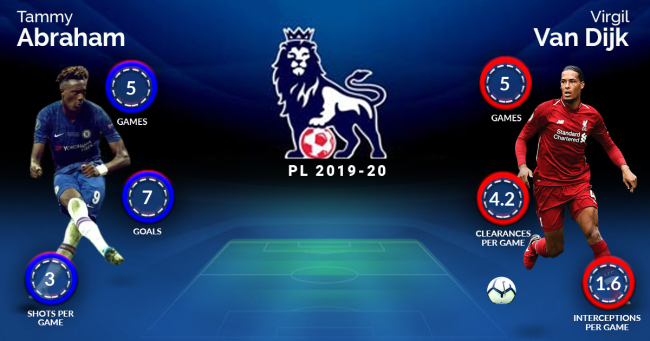 Many Chelsea fans were worried about their team's performance as they were banned from making any summer deals. This, however, was a blessing in disguise for the Blues as this ban made them move to their youngsters, who have brilliantly performed in the current season.
The new number nine, Tammy Abraham is one of the youngsters who snatched this opportunity perfectly. The Englishman has already scored seven goals in his five appearances for the club and is the second-highest goalscorer in the league currently.
The striker, however, has a big task ahead of him here as Virgil Van Dijk is going to be a barrier between him and the goal. The Dutchman has been a key for Liverpool's greatness in recent times and getting past him is going to be a huge task.
The Liverpool defender has made 1.6 interceptions per game along with 4.2 clearances in his five league appearances so far. These stats itself are enough to tell you that how difficult it's going to be for Abraham to breach Liverpool's defensive line.
Cesar Azpilicueta vs Sadio Mane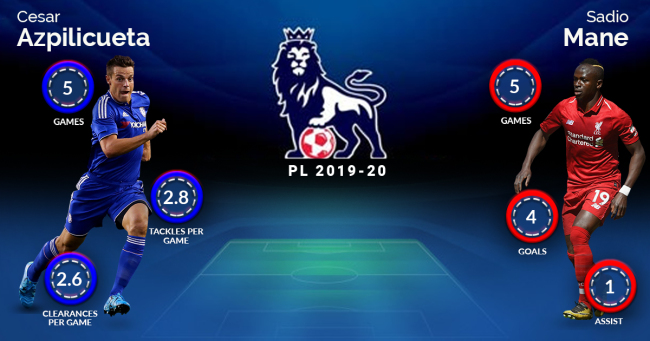 This is going to be an interesting battle as the two players have given quite good performances for their respective sides. Sadio Mane, however, is going to have an upper hand in this battle as he is in the tremendous form currently.
The winger has scored four goals and provided one assist in his five league appearances so far. Cesar Azpilicueta, on the other hand, has made 2.8 tackles per game along with 2.6 clearances in his five appearances in the ongoing Premier League.
Mane will try to cut back into the box and will use his pace to get past Azpilicueta. The defender, on the other hand, will try to push the winger towards the edge of the field as it will cut down his space.
Chelsea have already conceded 11 goals in their five games so far, which tell us how poor they have been at the back. And with the Liverpool trio up against them, tonight. It is not going to be a usual day at work for the Blues' defenders.
Prediction
This is an important fixture for both the sides as a win would help them in retaining their momentum and continue their winning streak in the Premier League.
Liverpool are a better side in terms of recent form and quality of players. Also, the Reds are the only side who are being considered as the title challenger along with Manchester City this season.
Chelsea, on the other hand, have managed to win a couple of league games under their new manager, Frank Lampard. However, they still seem a bit far from their best and a challenge to Liverpool.
So, keeping all the points in mind, I believe that Liverpool will better of Chelsea at Stamford Bridge, tonight. Also, I'm expecting a goal from Mane as he is in the sensational form currently.
Score Prediction: Chelsea 0 – 2 Liverpool