Chelsea vs Tottenham Hotspur: Matchday 27's Big-Match Review
Matchday 27's big match up wasn't a 3rd vs 2nd clash between Leicester City and Manchester City as would be expected, as an even bigger match up of the two best London clubs in recent years stepped up to battle in a 4th vs 5th derby.
It was a pretty early sunny Sunday afternoon when Chelsea welcomed the visit of their North London rivals and neighbours, Tottenham Hotspur. The battle at Stamford Bridge saw a former Chelsea title-winning general go up against a Chelsea hero. 
This was certainly a matchup between two undeniable Chelsea legends. Much was said in the build up to the match of the managerial personels in charge. It was even tagged a "Student vs Teacher" clash by the media. 
And that tag was perfect; Jose Mourinho was up against a former-player-now-manager in Frank Lampard who he coached to 2 EPL titles. 
Many wondered in whose favour the match will poise. The Blues went into the match looking for their first win in 5 EPL matches. Spurs on the other hand had not suffered defeat in 4 EPL matches, winning their last 3. 
Spurs had beaten Chelsea only once in 33 away matches in all competitions and were looking to ensure Chelsea did not get a third consecutive EPL win against them. Momentum was still on Spurs' side even after their Champions league loss in midweek and they were looking to return to winning ways.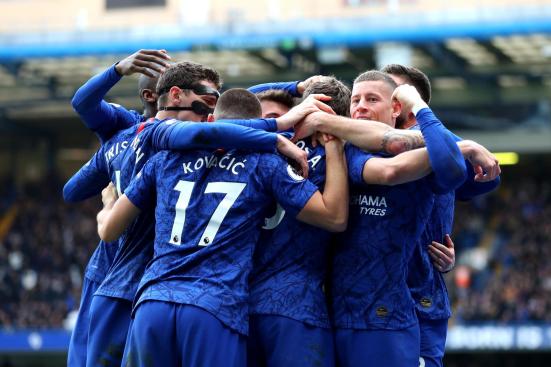 With Son Heung-Min out with an injury, Jose Mourinho changed to a 5-4-1 formation, replacing Serge Aurier with Japheth Tanganga and relegating Dele Alli to the bench.
Lampard had his own injury concerns too with Tammy Abraham only just recovering from an injury of his own. He decided to give Olivier Giroud only his third EPL start this season. 
Lampard also brought in Ross Barkley and Marcos Alonso back into the starting lineup in a 3-4-2-1 formation. That switch of formation paid dividends for Lampard as all 3 players were involved in Chelsea's goals.
Chelsea started the brighter of the two sides, attacking-wise, and were so for most of the match. Hugo Lloris repelled Chelsea's early efforts. 
He was finally beaten when Giroud lashed a half-volley strike past him after Ross Barkley's shot from his saved shot had come off the post. Tottenham pushed for an equaliser before the break but were unable to get past Willy Caballero in the Chelsea goal.
Barely had the 2nd half begun than Alonso got Chelsea's second. Alonso got on the end of a sweeping Chelsea move and drilled home a shot which Lloris had no chance saving. Chelsea were in control for most of the rest of the match, but couldn't extend their lead.
Late in the game however, Antonio Rudiger unfortunately diverted Erik Lamela's pass past Caballero to set up a tense finish to the game.
Chelsea held on to hand a first defeat in 5 EPL matches to Tottenham, who for the 2nd time this season, couldn't get any of their players' names on the scoresheet against a Lampard-coached Chelsea.
The player who Mourinho famously labelled the "best player in the world" in 2005 is now the only manager to ever beat Mourinho in his first two league matches and the only manager to get a league double over a Mourinho team.
Featured Image Courtesy: premierleague.com