Chelsea vs Real Madrid: Champions League Second Leg Player Ratings
Chelsea vs Real Madrid: 2nd Leg Player Ratings
Thomas Tuchel's Chelsea seemed comfortable in the UCL semi-finals as they won the tie 3-1 on aggregate against Real Madrid. 
The Los Blancos could do little to nothing about the Chelsea defense or attack, they seemed like they came in without a plan.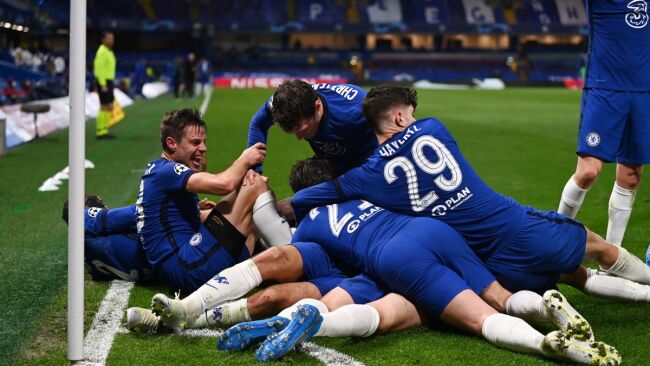 Without further ado, let's get straight to the player ratings for the second leg between Chelsea and Real Madrid.
CHELSEA PLAYER RATINGS
Edouard Mendy: 8.5/10
Mendy has saved games for Chelsea more than a few times this season, and it could be said that today was one of those games for him. Saved a stunning shot from Benzema which was heading towards the bottom right corner of the goalpost with speed. 
Also tipped Benzema's well-placed header over the bar. Hence, Edouard Mendy deserves well-deserved 8.5/10 player ratings for the second leg tie between Chelsea and Real Madrid.
Andreas Christensen: 7.5/10
Gave a solid performance the whole game, managed to keep Hazard quiet the whole fixture. Also made important tackles, clearances, and interceptions. Made sure that he stuck to his man the entire game, leaving no room for the attacker to breathe. 
The Dane has improved defensively since Tuchel's arrival at Chelsea and for his performance against Real Madrid deserves a player ratings of 7.5/10.
Thiago Silva: 7/10
Displayed his experience on the field with good clearances and man-marking, was dribbled past once but did not end in any danger being created. Attempted a few headers but came up short each time. 
Antonio Rudiger: 7.5/10
Almost scored a screamer for the opening goal only to be brilliantly denied by the Real Madrid goalkeeper, Courtois. Was well versed with his all-around defense, showed no fear before lunging into a tackle, and was successful for most of it. Hence, Sportco's player ratings for the lanky German defender is a well-deserved 7.5/10 for the second leg tie between Chelsea and Real Madrid.
Cesar Azpilicueta: 7/10
Displayed good leadership and captaincy on the night, played with passion and fierceness. The Chelsea captain gave a commendable defensive and offensive performance, lead with example. Gave a beautiful cross which was headed by Havertz onto the crossbar. 
N'Golo Kante: 8.5/10 (Man of the Match)
Played key passes in both the goals scored by Chelsea, was a machine for the entire 90 minutes of the game. Kept running at the opposition with and without the ball. Had an opportunity to give Chelsea a two goal cushion, but was denied by a block from Valverde. 
Hence, Kante is our man of the match for not just this game but for both the ties. Our player ratings for N'Golo Kante for the second leg tie between Chelsea and Real Madrid is 8.5/10.  
Jorginho: 6.5/10
Was not really amongst the key players for the Blues, but did his job well. Controlled the pace in midfield, marked his man well and kept the ball rotating from defense to offense.
Ben Chilwell: 6.5/10
Solid in the first half but wasn't involved much in the second, for defensive reasons we believe. Could not be seen in any important plays during the second half, still got the job done. 
Kai Havertz: 7/10
Was a threat all night but missed all of it. His chip which came off the crossbar ended in Werner's goal. Kept attacking the defense with utmost confidence but failed to get any result. Could've had a hattrick if he was a little clinical in the opponent's penalty box. 
Timo Werner: 8.5/10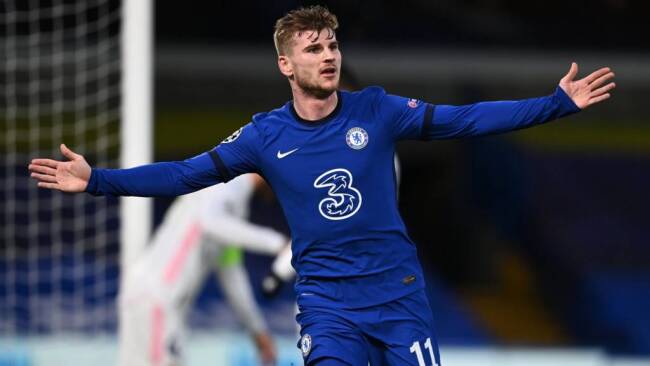 Got his chance, took it well and secured the opening lead for Chelsea with an easy header. Scuffed the ball in the attack a few times but still opened up his team for 2 big chances which were unfortunately missed. 
A solid performance overall by the German, was a threat for the Real Madrid defense each time he ran the attack for Chelsea. Hence, our player ratings for Werner would be a well earned 8.5/10 for the second leg between Chelsea and Real Madrid.
Mason Mount: 7.5/10
Missed a big chance early on in the second, but made up for it with a calm finish. Was not much involved in the opening minutes as he was defended well by Militao but never gave up and sealed the deal for the West London-based club. He was average apart from the goal but gets a high rating as it was much needed with the clock running out. 
Subs – Christian Pulisic: 7.5, Reece James: 5, Hakim Ziyech: 5, Olivier Giroud: N/A, Kurt Zouma: N/A
REAL MADRID PLAYER RATINGS
Thibaut Courtois: 8/10
Cannot be blamed much, had it not been for his saves, Real Madrid might've faced a humiliating defeat. Could not do much for the 2 goals that were conceded. Hence, Sportco's player ratings for tall Belgian is an 8/10 for the second leg between Chelsea and Real Madrid.
Eder Militao: 6/10
Looked as if he was the only one who was assigned with defensive duties as the others looked confused with the continuous counterattacks by Chelsea. Did well but was not enough.
Sergio Ramos: 3.5/10
Felt like he was zoned out at times, with the number of times Werner ran past him. Lost a lot of aerial duels which is unusual for him. Sportco's player ratings for Ramos' performance on the night against Chelsea is a 3.5/10.
Nacho Fernandez: 4/10
Seemed distressed and without any plan for stopping the attacks. Made harsh challenges and lost temper most of the time, poor decision making and was lucky to not have faced red.
Vinicius Jr: 5/10
Kept trying with no result. Never seemed like a threat for the Chelsea defense, nor did much in the midfield. Wasn't the best night for Real Madrid prodigy on the right wing. Hence, Sportco's player ratings for Vinicius Jr. for the Chelsea vs Real Madrid second leg is a 5/10. 
Casemiro: 6.5/10
The Brazilian approached his tasks well. Stopped multiple attacks which were from his position and kept chasing after the ball. His positioning was good throughout the game. 
Luka Modric: 6/10
Modric was playing well in the first half, creating a big chance that was saved by Mendy. Looked fluid with his passing and dribbling as usual but could not do much to break through the Chelsea defense. 
Also, the Croatian did poorly defensively with his box-to-box role, was not spotted during any of the major attacks. Our player ratings for Luka Modric for Chelsea vs Real Madrid second leg is 6/10. 
Toni Kroos: 6/10
Tried a few long balls into the attack but none of them made it past the opposing defenders. The German's ball rotations in the midfield were fine but nothing great apart from it.  
Ferland Mendy: 4/10
Not seen in the attack, not effective in the defense. His presence seemed non-existent in key moments, could've tried a little more.
Karim Benzema: 6/10
Took his chances well but failed to make it into the back of the net courtesy of Edouard Mendy brilliant display in goal for Chelsea. Good movement and agility with the ball but nothing extraordinary from the Frenchman this time out for Real Madrid. Our player ratings for Benzema is 6/10 on the night. 
Eden Hazard: 4/10 (Flop of the Match)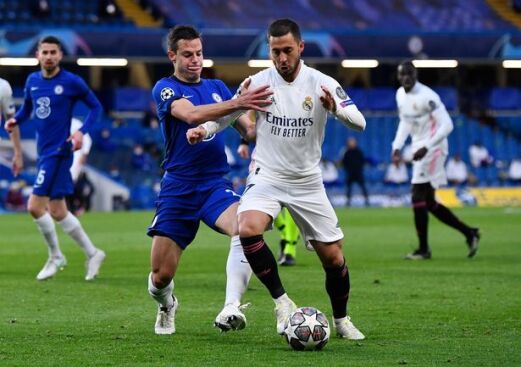 Seemed as if Hazard was already exhausted at the start of the second half. Could not keep up with the pace with the defenders, kept the ball at his feet uselessly for too long as he failed to make anything happen for Real Madrid on the night. 
Looked unfit and rusty in his performance tonight. The Belgian's performance for Real Madrid on the night against Chelsea deserves player ratings of just 4/10.
Subs- Marco Asensio: 6, Federico Valverde: 4, Rodrygo: 5, Mariano Diaz: N/A
Featured Image Credits: youtube.com