Cincinnati Open 2021 Final: Alexander Zverev vs Andrey Rublev: Preview and Prediction
The Next-Generation has arrived on the big stage of the ATP Tour. 3rd seed Alexander Zverev (24) locks horns against the 4th-seeded Andrey Rublev (23) in the finals of the Cincinnati Open 2021. 
The German has the upper hand with a dominant H2H record of 4-0 against the Russian. It is also their first meeting this season.
Interesting Insights:
Sascha Zverev is looking to win his second Masters 1000 title of 2021 after the Madrid Open victory in May.
Both Zverev and Rublev are right-handers with two-handed backhands.
Rublev has never won a set against Zverev in 4 matches in 4 different locations.
Alexander Zverev is targeting his 17th career singles title and 4th trophy of 2021. He is also on a 10-match winning streak.
Andrey Rublev will aim to win his 2nd silverware this season and 9th title overall in his 2nd ATP Masters final after Monte Carlo in April 2021.
How did Alexander Zverev defeat code-violator Stefanos Tsitsipas?
Sascha Zverev edged the 2nd seed Tsitsipas in 3 sets in the semis. The German's serve was on song in the opening set against an error-strewn Greek. Alexander Zverev grabbed a 6-4 lead. 
Tensions soared up as Sascha complained to the chair umpire that Tsitsipas had gone to the locker room for a long time and was using his smartphone to communicate with his father. Shockingly, the Greek star's dad Apostolos Tsitsipas was indeed talking on his phone while sitting in the stands.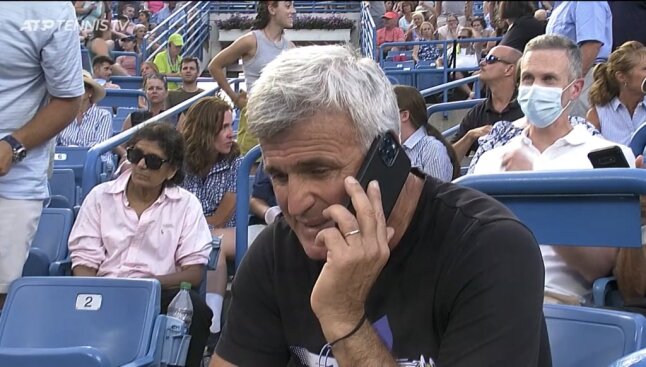 Moreover, Zverev added that Stefanos Tsitsipas was cheating by taking a lengthy bathroom break (8 minutes) and also did the same thing at the French Open 2021. Currently, the ATP Tour does not allow players to use on-court coaching. 
However, Tsitsipas, his dad, and acclaimed coach Patrick Mouratoglou want on-court coaching as it would draw more fans and help players to use the right strategies under pressure. 
However, Stefanos made a strong comeback clinching the second set 6-3. 3rd seed Zverev's cross-court forehand misfired and his poor second serves haunted him. Tsitsipas unsettled him with his lightning-fast court coverage.
The Greek star took a comfortable 4-1 in the decider with his first-strike tennis. However, the 23-year-old did not cross the finishing line. Alexander Zverev hit deep returns, reduced his unforced errors, and won the 3rd set by a close scoreline of 7-6(4). Both Tsitsipas and Zverev won 105 points each after 161 minutes of entertainment.   
"It was a little bit of the mentality that I had against Novak Djokovic at the Olympics", revealed Zverev after a nail-biting victory against Stefanos Tsitsipas. It was his 3rd victory against the Greek out of 9 matches and 2nd win in a row in 2021.
How Andrey Rublev buried his demons against Daniil Medvedev?
World number 2 Medvedev had bossed his compatriot Rublev with a 4-0 H2H record. The 25-year-old was leading 6-2. Andrey was struggling in the heat and his unforced errors (18) were piling up due to his over-aggression.
However, the 23-year sensation fired on all cylinders and took the second set 6-3. The Russian won 3 games in a row after a 3-3 scoreline. He also claimed his first-ever set against Daniil Medvedev after losing 11 sets in a row since 2019.
The second set witnessed more drama too as the 2nd seed kicked a camera when it obstructed his movement while returning a serve of Andrey Rublev. 
Surely, the ATP Tour can ask camera persons to not be on the court for shooting the match videos near the players. On the same note, Medvedev must control his emotions as his vent of frustration can result in a code violation or a point penalty for damaging property.
Once again, it was all-equal (3-3) in the decider and the match was poised for a tight finish. A combination of heat and the lack of fighting spirit affected Medvedev. 
Rublev once again bagged 3 games consecutively to win the 3rd set 6-3 A clench of his fists and a broad smile marked Andrey Rublev's resurgence after his path-breaking victory against his countryman.
"It gives me more confidence that I can compete against him, there are still so many things to improve, but it's like you pass university and they give you a diploma," disclosed Rublev after his wonderful win against Medvedev.
Wrapping Up
Alexander Zverev put up a pulsating performance versus Tsitsipas with 15 aces and a win percentage of 75 on his first serve. However, the German will be concerned with his second serve win% of 33 (8/24) though his backhand passing shots are rock-solid. 
On the other hand, Rublev scripted a terrific turnaround against Medvedev after losing the first set. The Russian has a poor H2H record versus Sascha but every match is different and this is his best chance.
 Zverev had never won a main-draw match in Cincinnati in the last 6 editions and is just one win away from another Masters 1000 title.
Fatigue and stomach upset issues may affect the German as he has to play back-to-back matches within 16 hours. Expect Alexander Zverev to lose his first set against Rublev but end up on the winning side in a tight thriller.
Prediction - Alexander Zverev to win in three sets against Andrey Rublev and clinch the Cincinnati Open 2021.
Featured Image Credits -  Tennis TV