Barcelona midfielder wanted to use Arsenal as a stepping stone for Barcelona
Dutch midfield sensation Frenkie De Jong has revealed that he had a plan to join Arsenal as a stepping stone before making his dream move to the Nou Camp. 
The 22-year-old was signed by the Blaugrana from Dutch giants Ajax in the summer for a fee believed to be around £65 million. 
The Dutch midfielder was a major force behind his side winning the Eredivisie in his final season at the Johan Cruyff Arena. Ajax also had a sensational run in the Champions League as they reached the semifinals by defeating some big names in club football.
The 22-year-old is regarded as one of the best young players in the world and that is why a team like Barcelona splashed £65 million for his services. Ajax fans also showed a lot of gratitude when bidding him a good bye as they gathered to chant his name together. 
Although the youngster has publicly admitted on a number of occasions that Barcelona was always his dream club, they had to fend off a lot of competition to sign the talented young midfielder . 
The age-old association between the two clubs meant that the deal was bound to happen no matter how many clubs were looking for the midfield dynamo. 
Ajax continue to struggle to keep hold of their top talents as they simply cannot compete with the wealth of the clubs in Spain, England or Italy. Eridivisie continues to be considered a much inferior league and there is naturally lesser money involved.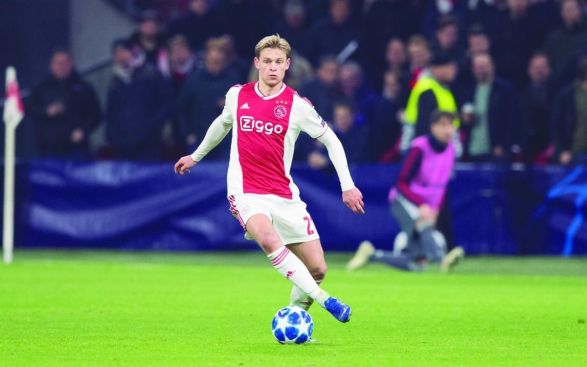 However, the talent Eredivisie has produced over the years is unparalleled by most leagues in Europe. Ajax is the factory of talent in the Netherlands but they are not the only one. PSV Eindhoven, Feyenoord and other Dutch sides have all produced world-beaters. 
De Jong's teammate at Ajax and the club's young skipper Matthijs de Ligt also left the Dutch giants in the summer. The promising centre-back was close to joining Barcelona as well but Juventus won the race for his signature in the end. 
It has been revealed off late that De Jong initially wanted to move to Arsenal and prepare himself to make a move to Barcelona in the future. He wanted to use Arsenal as a stepping stone for Barcelona but when Barcelona themselves wanted him, he changed his plans. 
It is believed that De Jong's plan was inspired from Dutch legend Marc Overmars, who is right now the sporting director of Ajax. The 46-year-old played for the Dutch side before earning moves to Arsenal and then Barcelona and De Jong wanted to to follow the same path as that of Overmars. 
He told Voetbal International: "In my mind, I have had the following list for a long time: Ajax-Arsenal-Barcelona, ​​call it the Marc Overmars route. 
"But then again, if you can go directly to Barcelona, ​​then you are right where you want to be. Faster than you ever dared to dream."
Featured image credit- Forbes