Denver Nuggets end a 11-game Winning Streak of Utah Jazz
Utah Jazz saw their 11-game winning streak ended by the Denver Nuggets, their Northwest Division rivals who managed a late comeback to secure a 128-117 victory.
Nikola Jokic was the hero of the game with winning 47 points that is his career-best. It incorporated 22 in the first quarter and 33 in the first half, both being his highest in the respective parts too.
The anticipated MVP also fired 12 rebounds, five assists, two steals, and a block in the well-rebounded effort. Utah Jazz center Rudy Gobert accepted post-game that Jokic 'got going early.'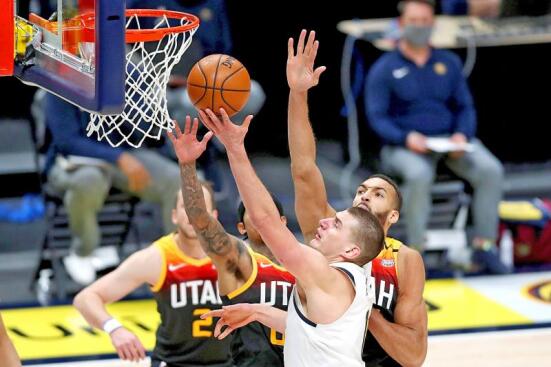 Gobert, who is a two-time Defensive Player of the Year, managed only 12 points, eight boards, and one block. Utah Jazz commenced their winning run on January 8th, the side boasting the league's premium offense and second-best defense for a net rating of 15.2 points per 100 possessions.
Another factor that played a vital role in Utah Jazz to go on this amazing streak was outside shooting. The Jazz had a combined shot percentage of 41.9 from beyond the 3-point arc on 44.3 long-range attempts per game. 
Donovan Mitchell who is a 35.5% 3-point shooter in his first three seasons, shot almost 47% on long balls since the run began. However, Mitchell's movement was cut short brilliantly by the Nuggets as the fourth-year guard checked out with only 13 points on 3-of-12 shooting, including a 3-of-8 on threes.
He assisted thrice. Jokic was 17 for 26 from the field, had perfect 3-point attempts, made nine of ten free throws, with 12 rebounds and five assists. Will Barton added 18 points to it, with Jamal Murray managing 16 to help the Nuggets emerge victoriously for the sixth time in seven games.
The Nuggets had a half-time lead of 79-54, that changed increased to 86-58 with 8:11 left in the third quarter. However, the game was not over yet as the Jazz made a phenomenal recovery, cutting the lead to 99-91.
However, the Nuggets then picked themselves up and won comfortably with 128-117 against Utah Jazz.
Featured Image Credits - Youtube/NBA Show