Novak Djokovic vs Dominic Thiem - ATP Finals - Preview and Prediction
London continues to throw up marvellous match-ups as World number two, Novak Djokovic takes on World number five, Dominic Thiem tonight.
Key Insights
Both Djokovic and Thiem won their first round-robin matches in straight sets
Djokovic finished as the runner-up in the ATP Finals last year
Thiem crashed out in the group stage of the tournament last year
Djokovic has never lost to Thiem on hard-courts
Thiem has never crossed the group stage of the ATP Finals in his career
The winner of this match will make it to the semifinals
Djokovic has won three hard-court titles this season
Thiem has won two hard-court titles in 2019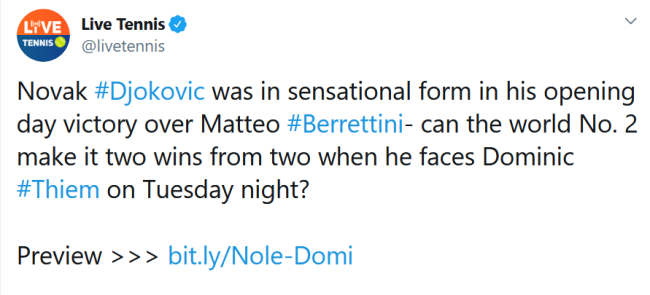 Strengths of Djokovic
The transition from defence to offence, supreme fitness and ability to beat any player, even when he is not in his best form are the weapons of Djokovic
Strengths of Thiem
Consistent hitting and brilliant court coverage are the plus points for Thiem.
The 16-time grand slam champion was ruthless in his dismissal of World number eight, Matteo Berrettini. The Serb proved why he is one of the best returners of the game by retrieving almost every ball. 'Nole' changed his game-plan systematically. The Serb also had a high breakpoint conversion rate of 71%.
On the other hand, Thiem was unstoppable in his straight-sets win over Roger Federer. His backhand was on fire as the Austrian played aggressively. A high second-serve percentage of 70% also benefited him to a large extent.
"I think he is the best right now, he proved that also in Bercy where he did not somehow play his best tennis, but still won the title pretty easy, so that is how good his level is. Probably, right now, it is the biggest challenge you can face, is to play Novak", said Thiem ahead of the blockbuster encounter
The crowd will be divided between Djokovic who loves playing on hard-courts and Thiem who has found a new liking for hard-courts.
Prediction - Novak Djokovic to win in three sets
Cover Image Credits - Tennis.com