ESports: The Dota 2 International 10 Battlepass is here
25% of all Battlepass sales goes directly into the prize pool of The International 10. It accumulated $8 million in just under 24 hours of its release.
When DOTA2's Twitter put out a 10-second video on 25th and a caption that said 'tomorrow', fans knew something special was in the works. Steam did not fail to deliver. 24 hours later, the famous Battle Pass was introduce for The International 10, DOTA2's annual pro tournament. Due to travel restrictions created as a result of the pandemic, The International 10 has been postponed indefinitely.  
Three things about the new Battle Pass that really impressed me are:
The concept of Guilds
The in-game Bounty Killing
The new skins and arcana
The Guild System
The Guild system is one of the most exciting features of this battle pass. This enables you to gang up on the enemy team with a bunch of pals who have been selected by you. Any player can join a guild but only a battle pass owner can create one. If you've played the game, you know there is nothing more satisfying than smashing the enemy's ancient with a bunch of pals after a hard-fought game. 
Now the Guild system enables you to hand-craft a team that molds over time to adapt to each others' play style to ensure victory. It includes a daily contract system where you're rewarded for completing a certain contract. In addition, there is also a new chat through steam for only your guild. 
You will be able to level up your guild as a team and also get some goodies.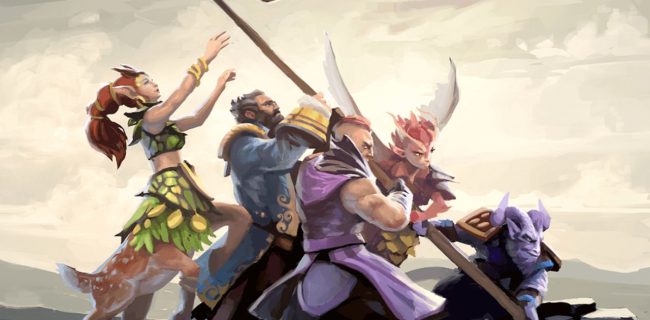 The in-game bounty killing
This is probably one of the best things that have been included in this battle pass, although it has been underplayed heavily in the release. A weekly bounty token system has been put in place, which can be used in-game. 
Your teammates will see a bounty token and a timer, once you place a bounty on an enemy hero. If someone kills the hero, they earn 200 battle points. If you set the bounty, you cannot complete it, only one of your teammates. Every time your battle level increases, so do the number of tokens you get every week. 
New skins and arcana
So, this battle pass is probably the best one yet. Not only in terms of updates and features, but also in terms of skins and arcana. 
I have my list of the top five, and why i decided QoP was the best arcana i have seen. There has been a lot of thought put into each and every set for the heroes. The most impressive out of them is the QoP Arcana, which looks increasingly deadly and the Wraith King's One True King. Wraith King gets a special mention because of the immense insight that has gone into making the effects that come along with the set. 
Featured Image: Forbes