Erling Haaland to Miss the Crucial Clash against Liverpool
According to various reports, young Norwegian star Erling Haaland who picked up a groin injury during the International break will not feature in the ever-enthralling City-Liverpool conflict this Saturday.
Erling Haaland, one of the most promising young footballers in the world, was forced to miss a crucial game against Liverpool in the Premier League due to injury. This news came as a blow to his team, Manchester City as Haaland has been a key player in their success this season.
Various reports are suggesting Erling is under Police investigation as he accidentally broke the traffic rules by talking on his cell phone while driving. 
The impeccable presence of Haaland is crucial as City inch closer to Arsenal in the title race.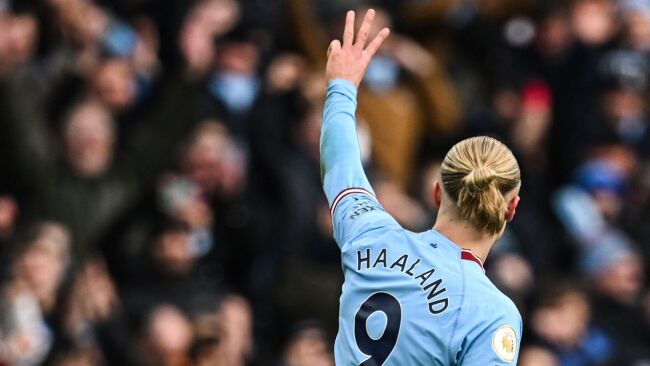 Haaland - A Goal-Scoring Players 
Many people doubted the goal-scoring ability of Haaland.  Many players fail to make that transition from one league to another. Bundesliga players have a history of not so performing well in the Premier League in recent times including Ziyech, Havertz, and Haaland's former teammate English young star Jadon Sancho.
Haaland who's a fox in the box plays as a typical number nine for Manchester City. He seems like the piece that was missing from the beautiful footballing jigsaw of Pep Guardiola. 
Haaland didn't take much time to prove his haters and doubters wrong as he already has scored 42 goals this season in all competitions. 
In the Premier League itself, he has 39 goals, and in total, he has scored six hat tricks this season. 
He literally has more hattricks than every other Premier League combined this season. 
He also has scored more number of goals than the Chelsea football club this season. 
He also has broken several records this season of completing hattricks faster than most of the footballing legends.
He already has more career hattricks than footballing stalwarts like Samuel Eto'o, Alan Shrear, Thierry Henry, Robert Pires, and Dennis Bergkamp. 
He is also the first player to score three consecutive hattricks in home games for Manchester City as well.
Manchester City is currently placed second in the English Premier League table. City who usually are familiar with lifting the trophies of the Premier League is being resisted by the rejuvenated irresistible club of North London 'Arsenal'
Arsenal is coached by former Manchester City assistant manager Mikel Arteta who has taken a season by storm. Arsenal is on the verge of clinching a trophy after so many years.
Manchester City got to win this ever-enthralling crucial clash against Liverpool. Winning against Liverpool will keep the spark of the title race alive for Manchester City and Citizens. Although Liverpool is not in their form of life, yet they can be threatening and dangerous. Liverpool, a football club that is in absolute shambles managed to grab a 7-0 victory against in-form Northwestern rivals Manchester United.
So Manchester City has to be aware of Liverpool they can't be taking them for granted. Missing Erling Haaland will be a major boost for Liverpool as it will be a step easier to get past them in the game.