This is why Manchester United are interested in this €65m rated Portuguese Play maker!
Manchester United continue to be linked with a move for Bruno Fernandes. Fernandes, who is also the captain of his club Sporting Lisbon, was linked with a move to United earlier in the summer transfer window last season with many Portuguese media outlets reporting that the player was close to a move to the English club. United sources, however, denied these claims. 
With the winter transfer window now open and United in desperate need for midfielders, reports linking the Red Devils with a move for the Portuguese international have once again started.
Fernandes spent the early part of his professional career in Italy, where he amassed a total of 15 goals in 119 games playing for Novara, Udinese, and Sampdoria before earning a move to Sporting CP for a reported fee of €8.5m. He finished his first season with the club scoring 16 goals in all competitions.
It was in his second season, however, that he really showcased his ability by scoring 32 times and registering 18 assists in 53 appearances for the club across all competitions. This form inevitably resulted in him being linked with big-money moves to both Manchester United and Tottenham Hotspur, though the player himself later admitted that Spurs were the only club he held concrete talks with.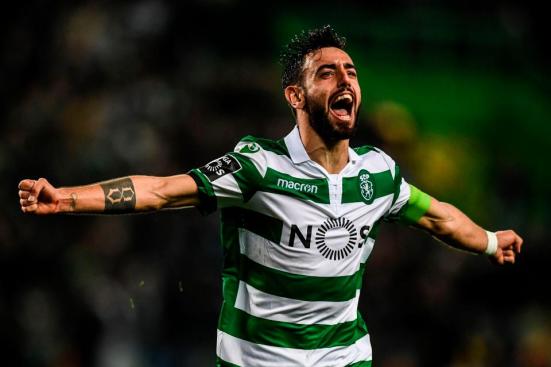 The deal eventually fell through as Spurs weren't ready to pay Sporting's asking price of €100m and the player was forced to stay at the club. But he began the new season the same way he ended the previous one and has scored 15 times and assisted 13 times in just 25 games this season, proving that he's not just a one-season wonder.
Fernandes has typically played in an attacking midfield role for Sporting CP, although he has also been used in central midfield and wide areas through the course of the season.
He is a player who takes a lot of shots from different areas of the pitch and generally finds the target, hence his high goal-scoring rate from midfield. He also has a high work rate as he puts in a shift to try and win the ball back when the team loses possession of it.
With United currently in the middle of a crisis in midfield with Pogba and McTominay out injured and not many quality options available, the fans view Fernandes as an upgrade over their available options and as someone who can add an extra dimension to their attack. 
United fans will be hoping that the club can get this deal done, especially now as Sporting have reduced their asking price to €65m and no other club seems to be interested in the player. If United do sign Fernandes, they might just be able to save a season that has so far seen them take a step forward in the right direction, only to take two back immediately with a demoralising result.
Featured image credits: talkSPORT