FIFA World Cup 2022 - The Draws are out for the European Qualifiers!
The draws for FIFA World Cup 2022 European qualification have been declared and we have a lot to discuss as we move further
The World Cup is going to be held in Qatar and France will hopefully be defending their title, side by side trying to break the group stage curse and advancing into the next rounds.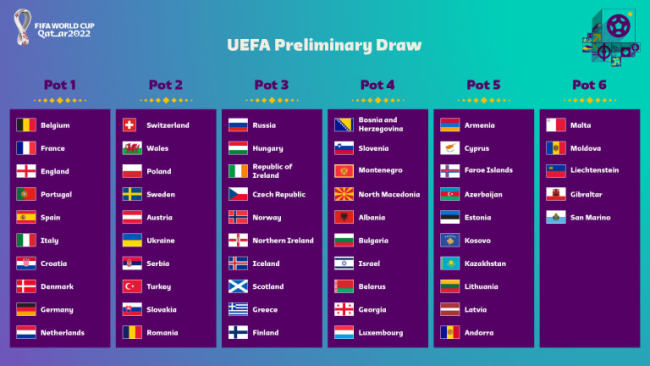 Moving alphabetically from A to J, ten groups have been formed with five countries placed in each group.
Group A comprises of a Cristiano Ronaldo led Portugal, with the skipper sadly playing his last World Cup. Serbia, the Republic of Ireland, Azerbaijan, and Luxembourg are the teams that also belong to group A.
Moving to Group B, it has the 2010 World Cup winners Spain, Sweden, Georgia, Greece, and Kosovo.
In Group C, we have Italy who missed out on the 2018 World Cup. They will be returning with a side with quality in abundance and an above par squad depth. With the Italians, there will be Switzerland, Northern Ireland, Lithuania, and also Bulgaria to fight for glory.
The fourth group, that is Group D has the likes of the defending World Champions France, Bosnia and Herzegovina, Ukraine, Finland, and Kazakhstan too.
Group E has some tricky competitors with Belgium, Wales, Czech Republic. Belarus, and even Estonia. Belgium was one of the top contenders in the previous World Cup and it seems, they will have yet another go at the title.
Group F is expected to produce an underdog, who may qualify and go on to produce one or many upsets as noticed in the past. It has Denmark, Scotland, Austria, Israel, Faroe Islands, and Moldova.
Group G consists of the Netherlands, Turkey, Norway, Latvia, Montenegro, and Gibraltar. 
Well, Group H will have some cold war going on with the last World Cup's quarter-finalists Croatia and Russia in the same group. Slovakia, Slovenia, Cyprus, and Malta will be the other nations competing. 
Group I will have Harry Kane led England, Poland, Hungary, Albania, Andorra, and San Marino.
Group J, which is the last group will have Germany, Romania, Iceland, North Macedonia, Armenia, and Liechtenstein.
The upcoming FIFA World Cup is expected to be yet another thriller, quite certain considering how dynamic and exciting the qualifying draws have been.
Key dates:
Matchday 1: 24–25 March 2021
Matchday 2: 27–28 March 2021
Matchday 3: 30–31 March 2021
Matchday 4: 1–2 September 2021
Matchday 5: 4–5 September 2021
Matchday 6: 7–8 September 2021
Matchday 7: 8–9 October 2021
Matchday 8: 11–12 October 2021
Matchday 9: 11–13 November 2021
Matchday 10: 14–16 November 2021
Play-offs: 24, 25, 28, 29 March 2022
World Cup: 21 November–18 December 2022
Featured image credits- bbc.co.uk