How an Effective Financial Push Can Help Athletes Achieve their Zenith
All athletes dream of bringing glory to the nation by representing the country and winning laurels at the international level. However, more often than not, these dreams are crushed by the weight of financial burdens, which the athletes are unable to shoulder. 
Lack of funds, training facilities, and equipment are some of the most common reasons why the dreams of most athletes are cut short midway. 
Despite these hurdles, there are few sportsperson, who have received financial aid at the grassroots and have had flourishing careers.
For many talented athletes, pursuing their sport as a career is a rather expensive and risky proposition, leaving them in precarious financial conditions. 
This not only deprives the athletes of deserving opportunities to grow as a sportsperson but also deters their aspirations significantly. 
Appropriate monetary support can pacify the financial burden off their shoulders and also help them concentrate entirely on chasing their dreams.
The Need to Support Athletes in their Fight Against Financial Constraints
A majority of athletes, although talented and passionate, have failed to make it big due to the lack of access to basic needs like jersey, shoes and other resources.
While national and international players are encouraged with better facilities and sponsorships, young, struggling talents from small towns receive far lesser opportunities. 
Financial assistance can play a vital role in improving the conditions of struggling sportspersons and provide them better opportunities to showcase their skills at higher levels.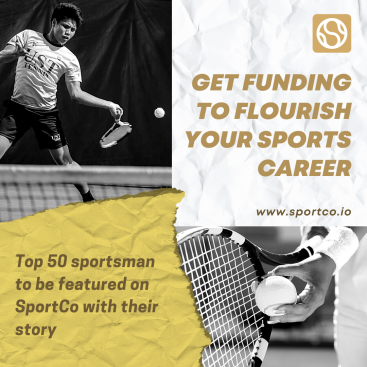 As a result, many accomplished athletes and sports enthusiasts are stepping up to alleviate the financial constraints of upcoming talents and support them with better facilities. 
Similarly, various platforms have also emerged that raise funds to ensure optimal financial health and stability of athletes. 
Quelling the Financial Strain on Athletes Ensuring Successful Sports Careers
Although the lack of financial assistance has ended many sporting careers, there have also been budding athletes who were fortunate enough to receive support at the right time. 
Various foundations have spotted exceptional talents at the grassroots and encouraged them to keep on chasing their sporting dreams. 
By providing support, not just financially but also in terms of fitness, coaching, and nutrition, these foundations have enhanced their abilities and provided them opportunities to compete at major sporting events. 
Here are a few examples that show how with the right financial support, athletes can perform exceptionally well at the highest levels.
Since its inception in 2013, the Virat Kohli Foundation has been at the forefront of identifying and helping talented youngsters bloom into fine athletes. 
Swastika Ghosh, who was a part of the side that won the South Asian Table tennis championship in 2017, was one of the first beneficiaries of this scholarship. 
Similarly, noted players like Sumit Nagal, Aadil Bedi, Arjun Bhati, and many others have also managed to realize their dreams with the support of the Virat Kohli Foundation. 
SportCo  TTL is a global platform that is changing the dynamics of sports funding and enhancing the career prospects of talented athletes across the world.
Through our efforts, we aspire to uplift the budding talents in the sports ecosystem and help them live their dream of playing at the highest levels. 
What can you do?
If you find any young, talented, and passionate athlete in your connect ask them to fill-up the form below. Help them to pursue their passion/sport as a career