Five instances when VAR changed the result of a football match
The Video Assistant Referee, popularly known as the 'VAR', is something that has revolutionised the game of football ever since its inception. Not entirely away from controversy, the technology-based tool has quite often changed the outcome of the match.
We look at five such key instances.
5. Brighton and Hove Albion 1-1 West Ham United 
Brighton summer signing Leandro Trossard scored and saw a goal ruled out by the Video Assistant Referee as they were held to a draw by West Ham.
The Belgian playmaker, signed from Genk in June this year, thought he had opened the scoring midway through the first half only for his effort to be ruled out for offside on a VAR review.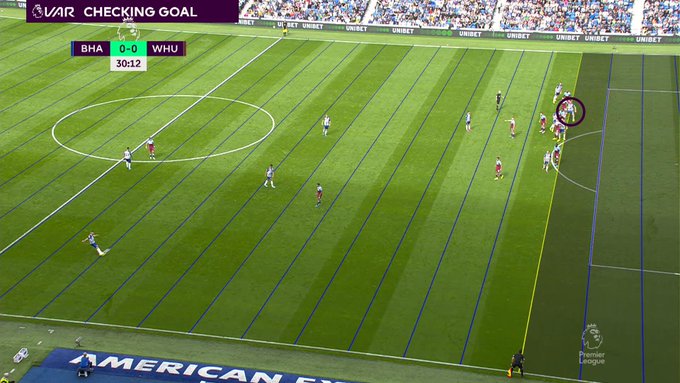 After consulting VAR, replays found that Dan Burn, who provided the cross for Trossard's effort, was offside from the initial ball into the box.
Interestingly, Burn had another goal ruled out by VAR against Southampton. If only VAR would leave him alone!
Trossard, to his credit, scored the goal that got Brighton a draw, but had it not been for VAR, West Ham would have ended up losing and the Belgian would have ended up with a brace.
4. Manchester City 2-2 Tottenham Hotspur
After conceding an eight-point lead to Liverpool this early in the season, Pep Guardiola would secretly be wishing VAR did not exist. 
Such has been their unluck with technology that things would well have been different, had it not been for that eventful Premier League game against Tottenham Hotspur.
As the game was heading to a 2-2 draw, in stoppage time, Gabriel Jesus thought he scored a late winner for the Citizens from a corner. 
However, the VAR saw that the ball had deflected to the forward off the arm of team-mate Aymeric Laporte and hence, under IFAB's new Laws of the Game, ruling that 'any goal scored or assisted via handball will be disallowed', the goal was overturned.
3. Paris Saint-Germain 1-3 Manchester United
PSG held a 2-0 advantage after their victory at Old Trafford in the first leg of the UEFA Champions League Round of 16. 
But, as an incredible second leg unfolded, a Romelu Lukaku double put an injury-ravished United side 2-1 ahead on the night before Marcus Rashford fired home a dramatic last-gasp penalty, awarded with the aid of VAR, to send the Reds through to the quarter-finals on away goals. 
The French side were leading 3-2 on aggregate and seemingly en route to the next round. Confusion reigned in the final minute when Diogo Dalot took aim from 20 yards and his effort was deflected away for a corner off Presnel Kimpembe. 
The Slovenian referee signalled for VAR and after deliberating for a couple of minutes, he shocked everyone in the stadium by pointing to the penalty spot.
Rashford was the man for the job and he duly stepped up to thump home the spot-kick and prompt wild celebrations on the pitch. 
2. Manchester City 4-3 Tottenham Hotspur 
In an all-time Champions League classic, Fernando Llorente's 73rd-minute strike ensured Spurs advanced on away goals after referee Cuneyt Cakir checked VAR for a suspected handball and allowed the goal to stand. 
Replays showed the ball may have brushed Llorente's elbow before hitting his hip. Referee Cuneyt Cakir went to his pitch-side monitor to review the situation, but the angle he saw triggered no reason for him to change his original decision. Another angle suggested it may have in fact hit his elbow.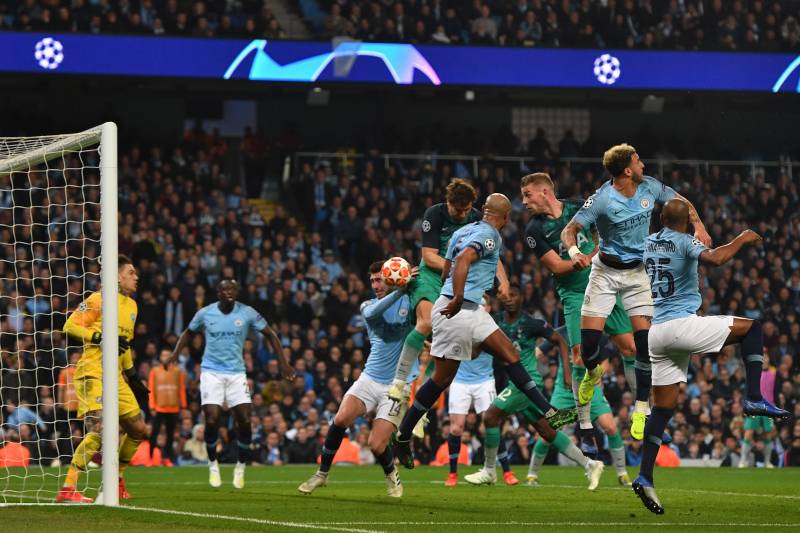 City had thought they'd netted a late winner but after jubilant celebrations in the home end the replays picked up that Sergio Aguero was offside just before teeing Sterling up. City's joy turned to despair and vice versa for Spurs.
Tottenham advanced to the semifinals on away goals.
1. France 4-2 Croatia
VAR has generally been hailed as a success, but it would not be an understatement to say that it tarnished the 2018 World Cup final. 
Croatia, quite rightly, were left wondering how a system brought in to eliminate obvious errors could make two decisive mistakes within 18 first-half minutes. 
The first allowed a French goal to stand that probably should have been ruled out for offside, and the second gifted them an extremely dubious penalty.
France had done nothing from an attacking point of view when they took a 17th-minute lead, with the first controversial goal.
Paul Pogba was offside as Antoine Griezmann delivered a perfectly flighted free-kick. Although he did not touch the ball, he did touch Mario Mandzukic, who would not have needed to go for the ball had the French playmaker not been there.
As it was, Mandzukic, stretching, ended up flicking the ball into the top corner. It was obvious that Pogba was interfering, but VAR was not consulted and the goal stood.
The game seemed finely poised until, 13 minutes before the break, a near-post corner flicked off Blaise Matuidi and struck the arm of Ivan Perisic. He was not more than two feet behind the midfielder, probably unsighted and his arm was down by his side, and in no realistic sense, in an unnatural position.
But the decision was reviewed and the referee gave a penalty that Griezmann gleefully converted. 
The rest, as they say, is history!