Chile vs Guinea: team news, predicted Lineups, player to watch out for
Chile are all set to play their second friendly game of the current international break against struggling, Guinea at Estadio Rico Perez, tomorrow. Reinaldo Rueda will be wishing his side to score some goals against the African outfit after they drew an away fixture against Colombia on Saturday.
Also, the South American nation haven't won any of their last three friendlies since the conclusion of Copa America. Moreover, Chile could manage to score only once in their last three fixtures. Hence, this fixture comes at the right moment for the Red One as they have a chance to improve their current form. 
Guinea are going through a rough patch as well and are going to play their first friendly after the African Cup of Nations. Also, their schedule fixture against Comoros is shifted to a latter date for Guinea's involvement in the two legged African Nations championship against Senegal. 
So, this fixture against Chile becomes a preparatory test for them ahead of the second leg of that encounter. However, they had poor outing in the Cup of nations as they could only manage a win over Burundi and got demolished in the round of 16 against Algeria.
Team Updates-
Chile: Rueda went for an unexpected 3-4-1-2 in the 0-0 draw against the nation he belongs to but it is expected to change on Tuesday. Chile's talisman, Alexis Sanchez will be missing this fixture after picking up a serious ankle injury in the previous match. 
The manager has to rely on Fabio Orellana as his main striker, whom the other players will have to feed the ball to. The Red One hope are also going to depend on Arturo Vidal as the veteran midfielder is hoping to continue his recent impressive display in nation's jersey.
Guinea: The African side are already in a row over their sacked coach Paul Put, but Didier Six is at helm now. The manager will be backing his boys to give out a strong performance. His hopes are from Auxerrie striker, Mohammed Yattara as the club captain and Liverpool midfielder Nabi Keita is sidelined due to injury.
Possible Lineups:
Chile (3-4-2): Bravo (Gk), Maripan, Medel, Diaz, Parot, Pulgar, Vidal, Isla, Rubio, Orellana
Guinea (4-2-3-1): Kone (Gk), Sylla, Falette, Seka, Dyrestam, Diawara, Cisse, Yattara, Camara, Traore,
Player To Watch Out For-
Arturo Vidal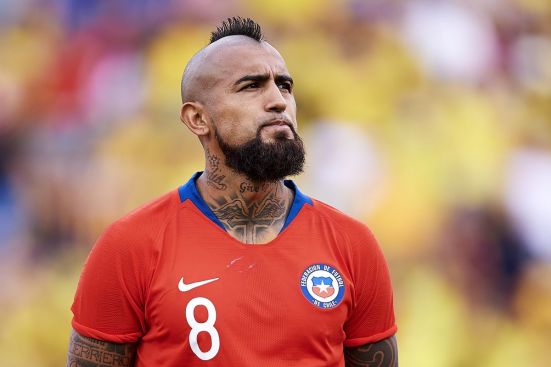 Vidal has performed quite brilliantly in the recent fixtures of Barcelona and will be willing to continue similar form for the former Copa America holders. He would be eyeing to leave his mark and take the team to great heights again. The midfielder will try to help in rebuilding the side ahead of next year's Copa America. 
Vidal is 32-year-old now, with few more years left in his footballing career. He would surely love to get his hands on as many titles as possible at both the club and country level.
Cover image credits: en24