Five worst Manchester United signings of the 2010s
Manchester United is one of the global powerhouses in club football. It has been incredibly successful over the years and boasts of a rich footballing history. Many a champion has donned the red and white colours of the Red Devils and made history at Old Trafford. However, there have been a few flop signings as well, and we take a look at five such instances in the 2010s.
5. Angel Di Maria
When Dutch manager Louis Van Gaal smashed the British record transfer fee to bring Argentine superstar Angel Di Maria to Manchester United from Real Madrid for an estimated EUR 75m, expectations were huge. Although Di Maria showed glimpses of his talent in patches, he did not quite manage to reach his true potential under Van Gaal's conservative tactics, which proved to be too structured for his liking. Coupled with off-field issues which hampered his settlement process, Di Maria warmed the bench for a long time, after which he decided enough was enough and did not turn up for the Red Devils' summer tour. In two weeks, he left for Paris Saint-Germain on a much lower fee.
4. Memphis Depay
Comparisons with club legend Cristiano Ronaldo were made when youth sensation Memphis Depay arrived from PSV Eindhoven for EUR 35m. All that turned out to be ludicrous word-play, as the Dutchman was a pale shadow of his former self on his Eredivisie days. To be fair, his talent was quite evident although he failed to replicate it owing to his lack of application and poor attitude. As controversies off-the-field continued to affect his performance on the field, Depay struggled to make any sort of impact, and that would be an understatement. United were quick to pack his bags and send him off to Olympique Lyon, where he has fared far better.
3. Radamel Falcao
It was on deadline day that Manchester United prised out Colombian ace Radamel Falcao on a loan deal from AS Monaco, with an option to sign him in the future. At his best, he is lethally good with his poacher-style finishing, although that was not to be the case during his brief stint with the Red Devils. Falcao spent a miserable season at United, with an atrocious tally of just four goals from 33 appearances. Van Gaal failed to get the best out of the Colombian who arrived on the English shores with a reputation of being one of the most deadliest strikers in world football. He had another ineffective stint with Chelsea, where he managed to notch only a solitary goal, after which he left for Monaco. He has been brilliant for the principality side ever since.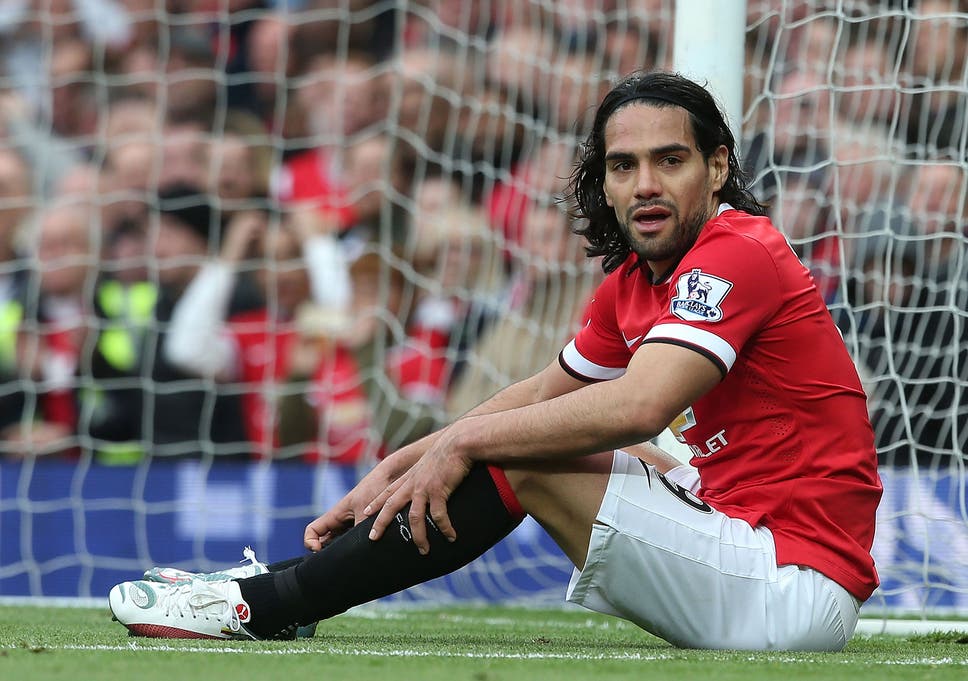 2. Victor Valdes
Many touted the signing of star goalkeeper Victor Valdes from Barcelona to be a success, but as it became a calamitous ordeal for all parties involved in a disastrous turn of events, the writing was on the wall. After suffering a horrible knee ligament injury towards the end of his Barca career, Valdes was offered a chance to recuperate at United and was subsequently offered a free transfer in 2015. Following a few U-21 appearances, Valdes started in place of the injured David de Gea twice towards the end of the season. The Spaniard refused to play for the U-21s and Van Gaal announced that he would never play again whilst he was manager. He was sent on loan to Standard Liege before Middlesbrough signed him in the next summer.
1. Bebe
From playing in the Homeless World Cup and making a mark for himself there, to being signed by Sir Alex Ferguson for arguably the biggest club in the world then, Bebe had a career that topped even his own wildest dreams. The Portuguese player joined United from Vitoria Guimaraes for EUR 9m, and was expected to shock the footballing world with his raw talent. Everyone was shocked alright; but due to the unmitigated tragedy that unfolded whenever he made an appearance for the Red Devils. So obvious was his lack of quality that he was forced to be sent on various loans over three seasons. United eventually offloaded him in 2014 to Benfica.