Five best tennis greats to not have won a Grand Slam Singles title
Tennis is arguably the most followed racquet sport in the world. We are now witnessing an era of greatness that has been enriched by the presence of true global sporting icons of the sport. As the first Grand Slam of the year, the Australian Open is getting to the business end, we take a look at five tennis greats who have not won a Grand Slam singles title.
5. Todd Martin
The American tennis great Todd Martin would have won a Grand Slam somehow, had he not been unfortunate to have compatriots like Andre Agassi and Pete Sampras, that too at the peak of his powers. In 1994, he reached his debut Grand Slam final at the Australian Open, where he lost in straight sets to Sampras. He went on to lose in the semi-finals of Wimbledon and US Open to Sampras and Agassi respectively. Post his heroics in USA's win in the 1995 Davis Cup, Martin reached a career-best ranking of 4 after reaching the 1999 US Open final, where he surrendered a 2-1 lead to be beaten by Agassi 6-4, 6-7 (5), 6-7 (2), 6-3, 6-2.
4. Dinara Safina
Marat Safin's younger sister, Russian talent Dinara Safina has the dubious distinction of being a former World No.1 to have never won a Grand Slam. Her ability was apparent when she won against Justine Henin, Maria Sharapova and Jelena Jankovic to become the first ever player in Tour history to defeat 3 different reigning No.1s in the same season.  Safina reacher her first Grand Slam final at the French Open, but fell to Serbian Ana Ivanovic. Serena Williams denied her victory at the 2009 Australian Open, but her best chance was at the Roland Garros that very year, where she arrived on the back of three successive victories at Stuttgart, Rome and Madrid. But it was not to be for the Russian, as she lost to Svetlana Kuzentsova.
3. Tim Henman
Tim Henman was Britain's most successful tennis player till Andy Murray burst onto the scenes. 'Tiger Tim', having come agonizingly close to a Wimbledon final, in fact, was the World No.4, and has reached six Grand Slam semifinals and was a class act in the late nineties and early 2000s. Having reached the last-four at the 2004 French Open and the US Open, Henman had his best displays reserved for the Wimbledon crowd, where he enjoyed great success. With four semifinals and four quarter finals under his belt, Tim Henman was within two points of a Wimbledon final in 2001, when he beat Roger Federer (who had knocked out Sampras), but lost out on a rain-affected five-setter to wildcard Goran Ivanisevic who eventually made history against Pat Rafter in the final.
2. Jelena Jankovic
The Serbian sensation Jelena Jankovic, despite having a junior Grand Slam title and a Doubles title to her name, was not able to win a Grand Slam singles title. She too, like Dinara Safina, is a former World No.1 to not have won a Grand Slam singles major. At the 2007 Wimbledon, she partnered Jamie Murray on her way to becoming the mixed doubles champions, by beating Jonas Bjorkman and Alicia Molik in the final. In 2008, she became numero uno for the first time, and she reached the US Open final, where Serena Williams beat her in straight sets. Also a semifinalist in Melbourne and Paris, Jankovic was a consistent performer on the women's tour.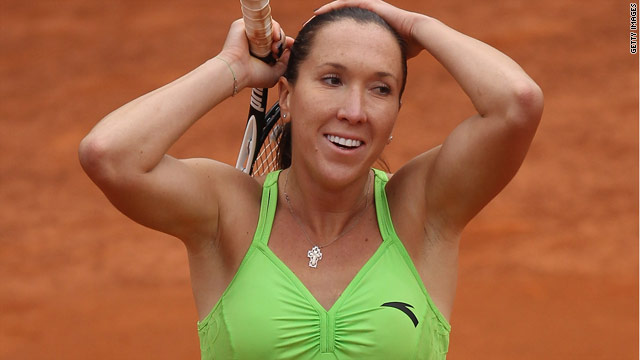 1. Nikolay Davydenko
A versatile player on clay and hard courts, Davydenko might probably be the best player to not have won a Grand Slam. Since 2005, he was a constant presence in the top 10, and after winning the ATP Tour Finals at London in 2009, the former No.3 has an enviable tally of 20 career titles. The Russian is one of the very few players who could boast of a positive head-to-head record with Rafael Nadal. He reached his first semifinal at the 2005 French Open, and in spite of having got to three more last-four appearances, Davydenko has never even progressed to the final.