Vienna ATP Cup Open 2021 Final: Frances Tiafoe Vs Alexander Zverev
Vienna ATP Cup Open 2021 Final: Frances Tiafoe vs Alexander Zverev
Here we are, for the finals of the Vienna ATP Cup Open 2021. The stage is set, the players are ready for the finals.
Frances Tiafoe Vs Alexander Zverev: Preview
All comes down to this match, the decider, who takes the trophy back with them. It's the final of the Vienna ATP Cup Open 2021 between Frances Tiafoe and Alexander Zverev.
Frances Tiafoe is an American tennis player aged 23. Tiafoe is currently ranked number forty-ninth and has been ranked twenty-ninth highest as per ATP ranking in his career.
Tiafoe defeated Dusan Lajoovic, Stefanos Tsitsipas, Diego Schwartzman and Jannick Sinner on his road to the finals. He will play Alexander Zverev in the finals.
Alexander Zverev is a German tennis player who is currently the number four ATP ranked player, his highest ATP rank has been three. Zverev is the most recent gold medalist of the Olympic singles category that took place in Tokyo in 2021.
The German holds five ATP Masters 1000 titles. He was the runner up at the US Open last year. On the road to the final Zverev defeated Carlos Alczraz Garfia, Felix Auger-Aliassime, Alex de Minaur and Filip Krajinovic.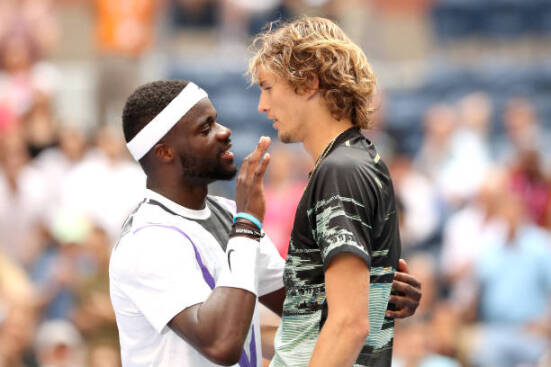 Frances Tiafoe vs Alexander Zverev Head to Head
Frances Tiafoe 1
Alexander Zverev 5
Tiafoe has played Zverev six times and has been victorious once and lost to him five times. Most of the matches they have played Zverev has dominated them as per sets and lost once against him.
Frances Tiafoe Vs Alexander Zverev Form Guide
Frances Tiafoe W W W W W W
Alexander Zverev W W W W L W
Frances Tiafoe Vs Alexander Zverev Head to Head Predictions
In the head to head, Zverev has an upper hand on Tiafoe but has lost to him once in one of the six times they have played with each other.
As per the play and attributes and head to head Zverev will add up to his tally in the finals and take a six-match head to head lead on Tiafoe.
Frances Tiafoe Vs Alexander Zverev Winner Predictions
Alexander Zverev to win the Vienna Open in a thrilling three-setter match.
Featured Image Credits: tennisworldusa.org