What does the future hold for Jurgen Klopp's first ever signing at Liverpool?
Jurgen Klopp is among the best managers in the world, if not the best. The German has always excelled in several aspects of being a manager and one of them has been his excellent ability to find the perfect signings. Klopp is not particularly someone who wants megastars or big-money signings. Rather he is someone who can find the hidden gems and transform them into world-class players. 
Klopp made a certain Blackburn Rovers reject one of the most feared strikers in Europe. Yes, Robert Lewandowski was once not deemed good enough by Blackburn Rovers. The Pole ultimately moved to Borussia Dortmund where his ascent to superstardom began.
Shinji Kagawa is another excellent example. The Japanese superstar moved to Dortmund from his homeland as a player Europe knew very little about. He, however, turned out to become a key player for Klopp's Dortmund as they won back to back Bundesliga titles. 
Klopp's legacy of making excellent signings has continued at Liverpool. The likes of Mohamed Salah, Sadio Mane and many more were all brought for a humble amount but are now elite players with their values soaring five times or even more. Andrew Robertson, a left back from relegated Hull City was signed for just £8m and has now become the best left-back in the Premier League and probably in Europe as well. 
However, not all of Klopp's signings have been huge hit. In fact, his first ever signing at Liverpool, Marko Grujic, is yet to make an impression in a Liverpool shirt. However, it would be really unfair to deem the young Serbian midfielder as a rare flop signing of Klopp's managerial career. Grujic, on loan at Hertha Berlin for the second season in a row, is making a strong case for himself for a place in the Liverpool side next season.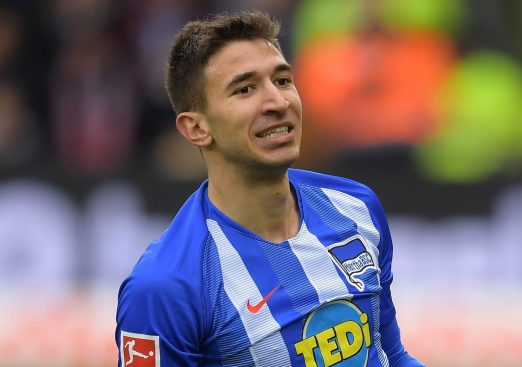 Grujic has established himself as a pivotal player at Hertha and is, unarguably, their best midfielder. The purpose of loaning him out was to help the player grow and he is certainly growing by leaps and bounds. Still just 23, the midfielder is about to enter his best years and Klopp should consider keeping him in the first-team next season. 
Grujic has been an irreplaceable player for Hertha so far and has racked up 35 appearances for them which could have been more if not for his injury struggles last season. The dynamic midfielder looks equally capable of playing either as a defensive midfielder or as a typical number eight. He really looks like a complete package and has the qualities to become an all-action midfielder. 
Thanks to his huge frame of 1.90 m, Grujic offers a lot of physical presence which Liverpool lack right now. Despite his tall stature, he is technically very sound and boasts decent pace as well. Also, his passing range is quite good and he is more of a controller of the game rather than a destroyer. But, the 23-year-old can do the dirty things if he needs to. 
There are very few players in the world who are equally good as a number six and as a number eight and Grujic is one of them and can prove to be a useful player for the Reds next season. The Reds could see him as a more natural cover to Fabinho in defensive midfield, compared to the likes of skipper Jordan Henderson who looks rejuvenated as a number eight and Adam Lallana who could be playing his last season for the Reds. 
Klopp rotates his midfield a lot more compared to the defence and attack as his midfielders are generally the hardest workers in the game. And, Grujic, therefore, could feel like a new signing if he is retained next summer. The young Serbian has a lot to offer and Klopp is too good a manager not to see that.
Featured image credit - Liverpool FC Twitter handle