Sportco FIFA World Cup Flashback: Germany vs England | Lineup | Disallowed goal | Stats
Germany vs England: 2010 World Cup
We bring you another World Cup memories, this time Germany defeating England 4-1 at the 2010 FIFA World Cup. A game which probably sowed the seeds for the introduction of VAR technology in Football.
The game is about to start, and the excitement is palpable; the stadium is reverberating from every nook and cranny, and the supporters are ready to see the biggest match of the FIFA World Cup.
The players are in the tunnel, and both teams have announced their starting lineups for the match.
Germany vs England: 2010 World Cup Starting XI
Germany: 1-Manuel Neuer; 16-Philipp Lahm, 3-Arne Friedrich, 17-Per Mertesacker, 20-Jerome Boateng, 13-Thomas Mueller, 6-Sami Khedira, 7-Bastian Schweinsteiger, 10-Lukas Podolski, 8-Mesut Ozil, 11-Miroslav Klose.
England: 1-David James; 2-Glen Johnson, 15-Matthew Upson, 6-John Terry, 3-Ashley Cole; 16-James Milner, 4-Steven Gerrard, 8-Frank Lampard, 14-Gareth Barry; 19-Jermain Defoe, 10-Wayne Rooney.
Both the nations are coming out of the tunnel and face the stands as their national anthem beings. 
The sides have been chosen, and fans and both teams are waiting for the referee to blow the whistle. 
FIRST-HALF:
10 mins: Ozil tried to play a through ball between, but John Terry was alert and anticipated on time.
15 mins: Nothing happened as of now; both teams are not ready to take any decision going forward. However, they have been some exchanges of passes. 
20 min:  The Germans make the breakthrough! Manuel Neuer's pass goes over John Terry's head, and Miroslav Klose shows his experience and outmuscles Matthew Upson before poking past David James. Germany 1-0 England.
30 mins: Germany are now getting into their rhythm, as they cause trouble in attack, making David James' life Hard.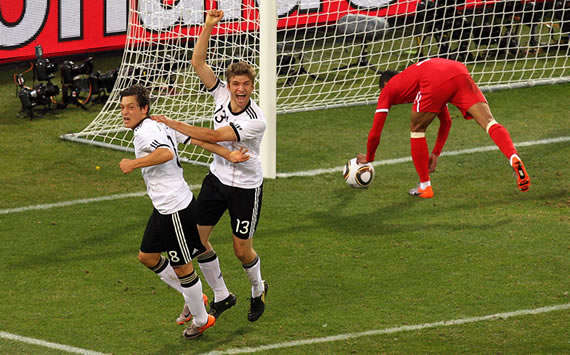 32 min: GOALl!! Another shambolic display from England's defense. Klose tees up Muller, who whips a pass to Podolski, who is in the tight angle six-yard from the post and smashes the ball below David James. Germany 2-0 England!
37 mins: GOAL!! England pull one back! A little relief from England, Gerrard with a low cross and Manuel Neuer caught off-guard, Matthew Upson heads the ball home. Germany 2-1 England.
39 mins: GOAL disallowed for England! Lampard hammers a long shot towards goal, looping over Neuer's head and bouncing off the underside of the crossbar and into the net, before spinning out. It's miles over the line - but the goal's not given! Lampard can't believe it.
45 mins: The Uruguayan referee blows the half-time whistle with Germany 2-1 ahead of England. 
54 mins: Germany are a threat going forward, and England will need to be aware during their counter-attacks. 
67 mins: German counter strike! The Three Lion's defense is being exposed left and right. Lampard's free-kick hit the ball, and Gareth Barry failed to control it, resulting in a quick counter-attack from Germany. Bastian Schweinsteiger feeds Muller, who in the right place slots the ball off the body of David James and into the net. Germany 3-1 England!
70 mins:  It's 4 for Germany!! The Germans have certainly put this game to bed. This time Ozil gets his name on the scoresheet, beats Gareth Barry one-on-one, and then taps a cross towards Muller, who heads home. Germany 4-1 England.
80 mins: Shambolic defending!! England's defense has been embarrassing today. Terry and Matthew Upson have allowed the opposition to run over them. Mario Gomez once again makes a mockery of England's defense as he lashes a shot that goes over the bar.
90 mins:  We are heading into the climax, and five minutes have been added. 
95 mins: Full-time: Germany progress to the quarter-finals stage whereas England bow out of the tournament with yet another disappointing World Cup campaign. 
FINAL SCORE: GERMANY 4-1 ENGLAND (2010 World Cup)
The match will always be remembered for the infamous decision where Lampard's shot in the first half which clearly crossed the goal-line was not given. Who knows, if the goal was given, we would have had a different scenario and result to the game.