Lionel Messi vs Cristiano Ronaldo: FIFA World Cup stats
Lionel Messi and Cristiano Ronaldo have won almost every honor and trophy in club football that a footballer can dream of. However, the Jules Rimet trophy has eluded both superstars so far.
Messi vs Ronaldo: World Cup Journey so far!
When Ronaldo made his debut for Portugal in the 2006 FIFA World Cup, his performance in the stadium gave fans goosebumps; at such a young age, he had his opponents into splits. And that signaled that we would be witnessing this sort of performance for few decades.
Portugal reached the semi-final in the 2006 FIFA World Cup, which was the furthest they have gone in the competition. 
Despite featuring in two World Cups, Lionel Messi encapsulated what he is capable of at the world stage. The 2014 FIFA World Cup should have belonged to Lionel Messi, who dropped a masterclass of a performance in the competition. 
He led Argentina in every game, and there was rising anticipation that Messi's desire would be fulfilled, and supporters were rooting for him, but it was unclear whether it was written in his fate.
Argentina did make it to the final, but they had to overcome Germany to win the ultimate cup of their aspirations.
Argentina lacked cutting edge despite creating multiple chances whereas Germany had one chance and took it, shattering the hearts of many Argentina and Messi supporters.
On the other hand, Messi had a World Cup to remember, as he finished the campaign with four goals. But winning a World Cup might have given Messi immortality.
How did both the players and their respective nations perform in World Cups? 
Messi vs Ronaldo: 2006 World Cup 
Both the maestros made their FIFA World Cup debuts in 2006, which was a watershed moment for the pair. However, the 37-year-old enjoyed a somewhat better World Cup than Messi, as his team reached the semi-finals.
Messi appeared in three matches, scoring once, while Ronaldo competed in six and scored once.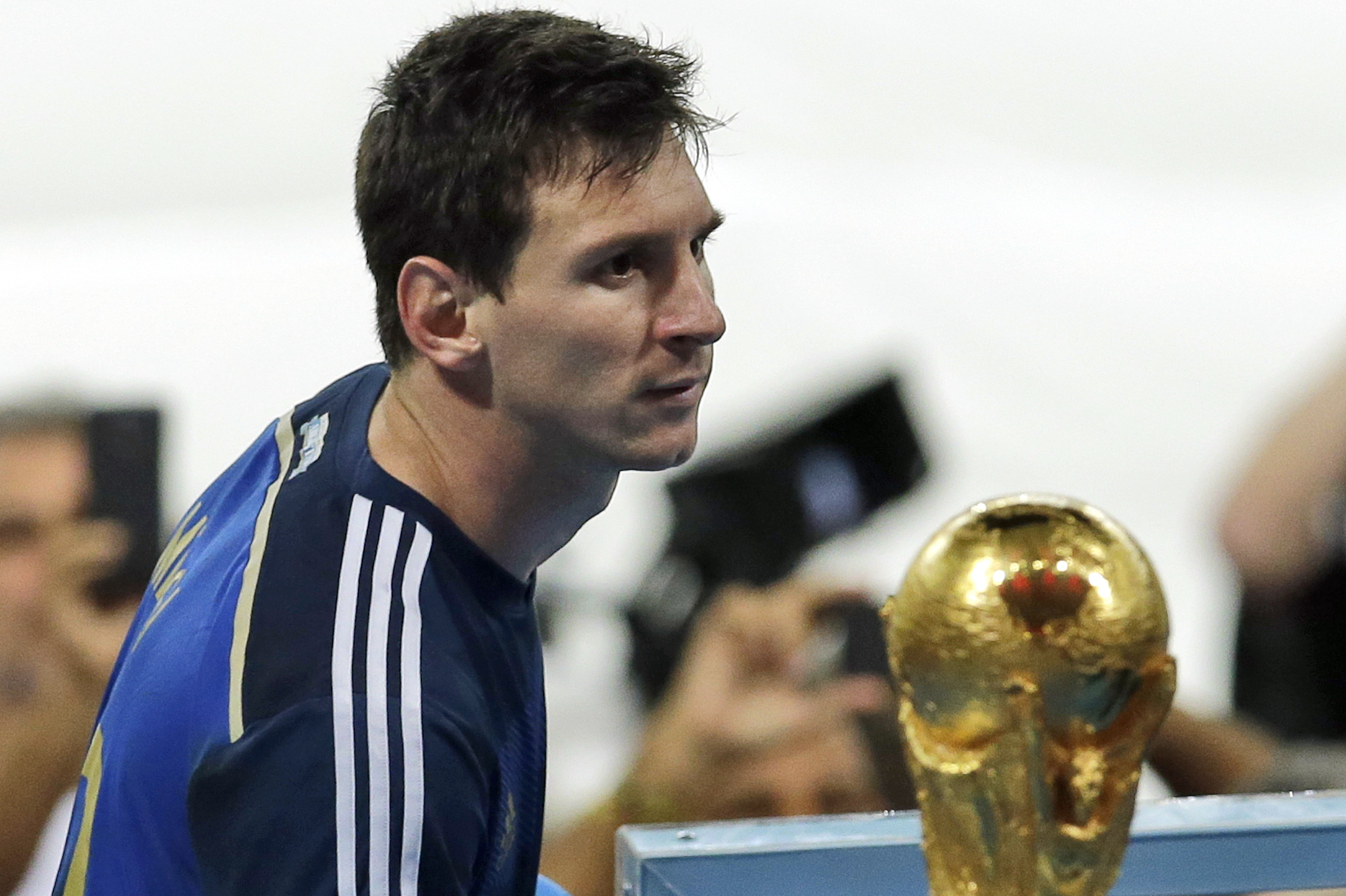 Messi vs Ronaldo: 2010 World Cup
The 2010 World Cup was a flop for both players, with Portugal exiting in the round of 16 and Argentina eliminating in the quarterfinals. However, the former Real Madrid player found solace in scoring a goal.
Messi vs Ronaldo: 2014 World Cup
The 2014 World Cup was Messi's chance to become a national icon. With Ronaldo already out of the picture after his country's inability to go past the group stage, Messi sensed a chance and seized it by the horns.
He scored four goals and assisted one in seven appearances, but his side fell short against Germany in the final, losing 1-0.
Messi vs Ronaldo: 2018 World Cup
2018 World Cup had a different sub-plot as both players' respective teams were eliminated in the round of 16, but Ronaldo outperformed Messi scoring four goals and a famous hat trick against Spain.
Lionel Messi vs Cristiano Ronaldo: World Cup Stats
| | | |
| --- | --- | --- |
| Record  | Lionel Messi  | Cristiano Ronaldo |
| Appearances  | 19 | 17 |
| Goals  | 6 | 7 |
| Goals per game | 0.3 | 0.4 |
| Trophy  | 0 | 0 |
Argentina vs Portugal: FIFA World Cup Run since 2006
| Argentina | Year | Portugal |
| --- | --- | --- |
| Quarter-Finals | 2006 | Semi-Finals |
| Quarter-Finals | 2010 | Round of 16 |
| Runner-up | 2014 | Group Stage |
| Round of 16 | 2018 | Round of 16 |
2022 FIFA World Cup, last chance to achieve the greatness!
The two world-class players have reached the twilight of their careers, and the 2022 World Cup will be their final appearance for their country.
And this may be their final chance to grab the trophy they so much desire; November and December will be when the entire football world will come together.