Five times when the master lost to his apprentice
A manager coming up against a coach they used to play under is a special occasion in itself, but that becomes even more memorable if the apprentice can win and get one over on their former mentor. Here are some high profile examples of when the student became the master.
1. Bryan Robson (Sir Alex Ferguson)
After hanging up his boots and leaving Manchester United, Bryan Robson faced former manager Sir Alex Ferguson 16 times during his own tenure as a manager. 
However, he was victorious in only one. That came during Robson's time at Middlesbrough and he saw a famous 3-2 defeat of his former club at Old Trafford in December 1998.
2. Gareth Southgate (Sven Goran Eriksson)
Gareth Southgate earned 16 of his 57 England caps under the management of Sven Goran Eriksson and was the man, who inflicted an 8-1 annihilation of the Swede in what would prove to be his last ever game as a Premier League manager in May 2008.
Middlesbrough and Manchester City were the clubs involved when Southgate led the former and Eriksson, the latter. It was 2-0 in Middlesbrough's favor at half-time, with City falling apart in the second half as they conceded six further goals.
3. Steven Gerrard (Brendan Rodgers)
In December 2018, Steven Gerrard guided Rangers to a first Old Firm victory over Celtic since 2012, beating his former Liverpool manager Brendan Rodgers in the process.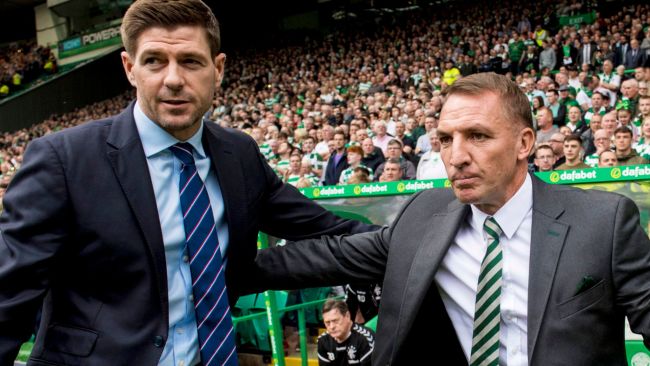 As a player, Gerrard never came closer to winning the Premier League title with Liverpool than under Rodgers and the two worked together for three seasons in total at Anfield. 
4. Zinedine Zidane (Carlo Ancelotti)
Zinedine Zidane was coached by Carlo Ancelotti for only a span of 18 months at Juventus from 1999 to 2001. Afterwards, both the men left Turin within a few weeks of each other. 12 years later they worked together again when Ancelotti arrived at Real Madrid and Zidane joined his staff.
Zidane went on to beat Ancelotti, when he took over as the Los Blancos coach en-route to winning a second consecutive Champions League title in 2016/17, with Ancelotti being the Bayern Munich boss at that time. The quarter-final tie saw Madrid winning by an aggregate score of 6-3. 
5. Frank Lampard (Jose Mourinho)
Frank Lampard, also known as "Super Franky" emerged as a world-class player in the mid-2000s under the management of Jose Mourinho. However, as Lampard entered into management himself in the last couple of years, the former Chelsea legend has beaten his old boss every time they have met.
A  Carabao Cup clash against Manchester United was one of Lampard's first big tests as manager of Derby County in 2018/19, with the Rams winning the tie on penalties at Old Trafford. Since taking over Chelsea, things haven't been smooth for Lampard yet Lampard has won both the times against his old mentor's new club Tottenham. 
featured image credits- foxsportsasia.com