Granada 3-5 Barcelona Copa Del Rey Quarter-Finals
Barcelona needed an impeccable comeback and extra-time to kill Granada hopes by beating them 5-3 and advancing to the Copa del Rey semi-finals on Wednesday night.
Barca had a rough half-time trailing 2-0 in the first 40 minutes, with Samuel Umtiti giveaway in the Barca's box, which led to a cross and easy tap-in finish from Kenedy, giving Granada a 1-0 lead. 
Within few minutes of the second-half, Granada doubled the lead following a fantastic pass from Angel Montoro to Roberto Soldado who, took an excellent sprint and slotted the ball past Marc-André Ter Stegen confidently. 
Barcelona made some crucial changes, and most of their shots hit the post. Ronald Koeman made few substitutes bringing Dest, Dembele, and Braithwaite on in the hopes of turning the game. 
Two minutes before full-time, Barcelona finally found the net after a flick overpass from Messi to Griezmann who, swiftly touch the ball, which hit the post, then goalkeeper before crossing the line.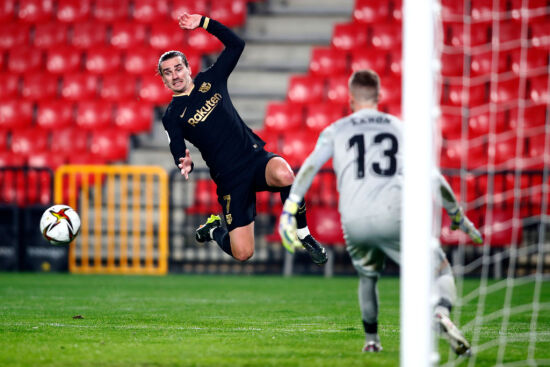 Messi was unlucky in the game after his several shots hit the post. However, before the final whistle, Catalans scored an equalizer with Jordi Alba headed home from Griezmann's inch-perfect assist and Messi's another brilliant gameplay to set up the goal. 
The game progressed into half-time where Catalans took the lead, when Griezmann nodded home, though Granada replied within minutes through penalty, following Dest's rough tackle bringing down Carlos Neva inside the box.
However, Barcelona came back in front with de Jong's immaculate tap-in after Granada's goalkeeper diverted a right-footed shot from Messi towards his path. 
The Blaugrana closed the scoring with Jordi Alba smashing the ball past Aaron Escandell in 113th following a beautiful pass from Griezmann. 
The win came on after the leak of Messi's multimillion-dollar contract on Sunday; the officials are ascertaining who leaked such confidential info. The mounting pressure on the club which is already in a mess with huge debt and political turmoil since last season. 
Featured Image Credits - Youtube/Premierteam