5 Greatest Champions League Finals in Recent Memory
Arguably one of the greatest club competition in football, the UEFA Champions League has a different glow than other competitions; the tremendous pressure during the finals and the millions of fans' expectations gives the UCL a different aura altogether. 
Jose Mourinho recently quoted "Finals are not meant to be played, they are meant to be won"
However, there are a few edge-of-the-seat Champions League Finals that are embedded in our football memories.
On that note, let's reminisce the five Greatest Champions League finals of recent times.
5. Bayern Munich 1-1 Chelsea (3-4 on penalties | 2012)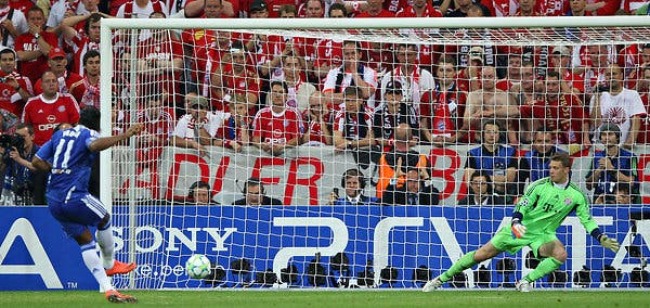 We start our list of greatest champions league finals with a date between Bayern and Chelsea in the 2012 final. Bayern Munich went into this final as favorites considering that they were playing the final on their home ground, Allianz Arena. The Bavarians looked in complete control of the game. 
Bayern managed to broke the deadlock when Thomas Muller headed the ball home sending Bayern fans into bonkers; though their ecstasy was short-lived when Didier Drogba equalised with a thumping header which went past Manuel Neuer. 
The game proceeded into extra time, which saw former Chelsea star, Arjen Robben, failing to convert from the spot. The game advanced to a penalty shootout, where Chelsea prevailed victorious courtesy of Peter Cech's excellent goalkeeping display and a match-deciding penalty by Drogba in the end. 
4. Atletico Madrid 1-1 Real Madrid (4-5 penalties | 2016)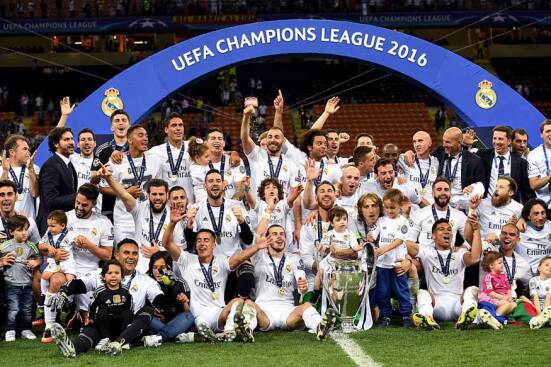 It was a Madrid derby in Milan and a Déjà vu for Atletico Madrid; Real Madrid once again managed to eke out a win when the game progressed to a penalty shootout. 
Sergio Ramos, the protagonist at Lisbon two years ago, opened the score-sheet with a clinical tap-in from a well-placed free-kick by Toni Kross right under Jan Oblak in the first quarter of the game. 
With 11 minutes left in the game, Yannick Carrasco restored the hopes of many Atletico fans with a decisive finish to an imperious Juanfran cross. 
The game progressed into extra-time, albeit the score-line remained the same, leaving the game into the penalty shootout. Real Madrid converted all four penalties, however, Atletico Madrid's  Juanfran bungled his penalty, giving Ronaldo to score the winning penalty of the final.     
A nail-biting game between the behemoths of Spain ended in another nightmare for Atletico Madrid. Hence, this game comes on number four spot on our list of Greatest Champions League Finals.     
3. Barcelona 3-1 Manchester United - 2011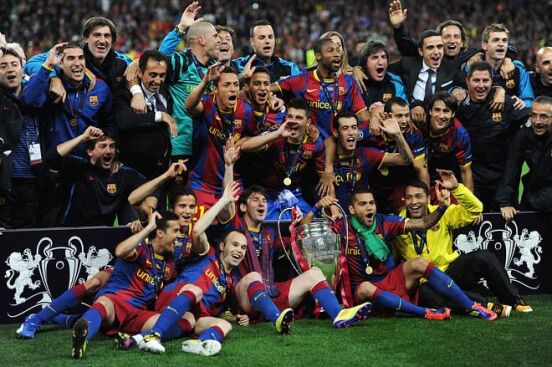 On third spot of our list of Greatest Champions League Finals is a clash between two legendary managers from different eras. Manchester United were looking to avenge their defeat to Pep Guardiola's Barcelona from the 2009 Champions League final in Rome.
However, Pedro opened the scoring for Barcelona with a cool finish past Edwin van der Sar. Wayne Rooney, who was in top form that season, equalized minutes before half-time. 
Two sublime finishes from outside the box by Lionel Messi and David Villa in the second half made it impossible for Man United to come back into the game as they hardly created any clear cup chances in the second half.
And the England giants fell short to Barcelona's high pressing and incisive passing, which was too much to be reciprocated for the United. 
In the Post-match interview, Sir Alex Ferguson said, "In my time as manager, it's the best team I've faced."
2. Manchester United 2-1 Bayern Munich - 1999 
One of the Greatest Champions League Finals you would witness in any era. The Man United will keep reminding you of this moment for many more years to come. 
Mario Basler gave the Bayer Munich early lead with a brilliant free-kick. The match was almost heading into added time, with Bayern Munich players in the dugout already waiting to celebrate. 
However, until Teddy Sheringham equalized with a scrappy finish from a corner, rose hopes of many United fans, as full-time was approaching, Manchester United struck the killer second goal, and it was current Man United manager, Ole Gunnar Solskjaer who sent the entire stadium into raptures. 
Bayern players looked completely shocked and in disbelief after the game, as they could not believe what they just witnessed. Manchester United won their first-ever treble that season. 
1.  Liverpool 3-3 AC Milan (3-2 penalties | 2005)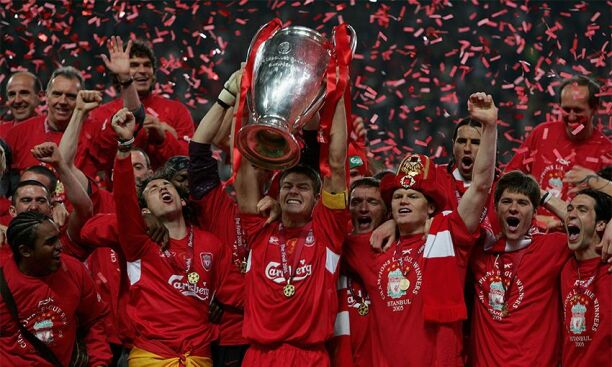 The mother of all Champions League finals. It had everything, atmosphere, legends, goals, drama, comebacks.
In Istanbul, we saw witnessed one of the greatest Champions League Finals in UCL history. AC Milan boasted of a legendary team that included the likes of Paolo Maldini, Cafu, Jaap Stam, Alessandro Nesta, Clarence Seedorf, Andrea Pirlo, Kaka, Andrey Shevchenko and Hernan Crespo. 
The game started with AC Milan taking an early lead through their captain, Paolo Maldini. Hernan Crespo was in fine form in front of goal as he scored a couple in the first half with two sublime finishes.  
After the interval, what we witnessed was unimaginable, Liverpool got one back from a Steven Gerrard header, while Vladimir Smicer's strike gave Liverpool real hope.
Gerrard was fouled in the penalty box, and it was Xabi Alonso who stepped up to take the penalty, an abundance of amount pressure mounting on him; however, it was saved by Dida, but Alonso was quick to react on the rebound, finishing a remarkable comeback. 
Liverpool completed a breathtaking comeback in the Champions League history with a 3-2 win in the shootouts.   
Definitely one of the greatest Champions League Finals ever in our opinion. Very few finals will come close to this one in terms of shock value, drama, and comeback. 
So that was our list of the 5 greatest Champions League Finals in recent memory. Do let us know below if you agree with our list or if we missed out on any of your favorite finals in the Champions League.