Iga Swiatek: Tennis Profile | Playing Style | Career Stats | Ranking
Iga Swiatek: Tennis Profile
Player Profile
Iga Swiatek
Date of Birth
31 May 2001
Birthplace
Warsaw, Poland
Height
5 ft 9 inches
Current Ranking
1
Singles Titles (Career )
6
Prize Money (Career)
$8,423,963
Win/Loss Record (Singles Career)
172/49
Plays
Right-handed forehand and 
double handed backhand
Breaking Records at a young age
At just 20, young Polish tennis star Iga Swiatek was crowned the new World No.1 by the Women's Tennis Association (WTA) and is the youngest player in the top ten rankings. Swiatek became the first Pole to win a Grand Slam in 2020 when she lifted the French Open title. 
With that title, she also became the youngest singles champion at the French Open since Rafael Nadal, who won the title in 2005 when he was just 19 years old. 
Recently she won the Double Sunshine title. It is a title given to players who win both the Indian Wells and Miami Open in the same season.
We will be overviewing Iga Swiatek's game and the upcoming years that have made her who she is today.
All-Round Game
Swiatek is an aggressive baseline player with an equally amazing net game, thanks to her experience in doubles. Her forehand was recorded with an average speed of 118 km/hr which makes her an opponent who isn't easy to overcome. 
But what really makes her dominate over her opponents is her amazing "top-spin". Top spin in layman's terms is – what makes the ball jump higher after a bounce than it normally would after the player hits it. 
An effective top spin would make the opponent work harder in order to return the ball. This skill of hers is what her opponents dread the most while playing against her. 
Her ability to choose any angle of the court and hit the desired shot are well known throughout the tennis world. 
Much like her idol, Rafael Nadal, she focuses on her fitness as much as he does. Her entire game depends on her agility and stamina. Swiatek from a young age has had a knack as to know when to come ahead, go back, defend and attack. 
She had competed in the doubles event during her time in the junior circuit. She had won the 2018 French Open Girls Doubles title alongside Caty McNally as well as the 2018 Wimbledon Girls Championship. Her doubles experience has helped her during her singles matches constantly.
Iga Swiatek: Playing Stats (All-time)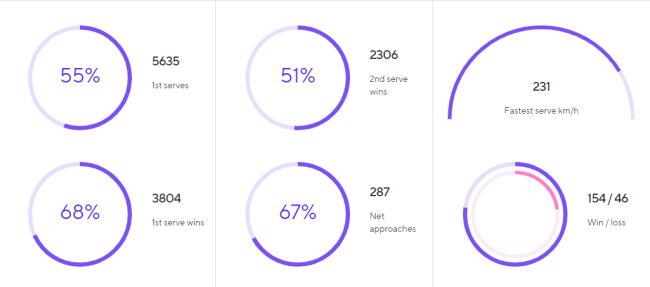 Iga Swiatek: Win/Loss Record
Year
 
Total
Hard
I Hard
Clay
I Clay
Grass
Carpet
2019
Tour Main Draw
14-11
6-5
1-1
7-3
0-0
0-2
0-0
Other Events
19-4
11-3
2-0
3-0
0-0
3-1
0-0
2018
Tour Main Draw
0-0
0-0
0-0
0-0
0-0
0-0
0-0
Other Events
52-7
8-1
0-0
38-6
0-0
6-0
0-0
2017
Tour Main Draw
0-0
0-0
0-0
0-0
0-0
0-0
0-0
Other Events
7-2
0-0
0-0
0-1
7-1
0-0
0-0
2016
Tour Main Draw
0-0
0-0
0-0
0-0
0-0
0-0
0-0
Other Events
10-3
0-0
10-1
0-1
0-0
0-0
0-1