Why India picked Krunal Pandya and Washington Sundar ahead of Kuldeep Yadav and Yuzvendra Chahal?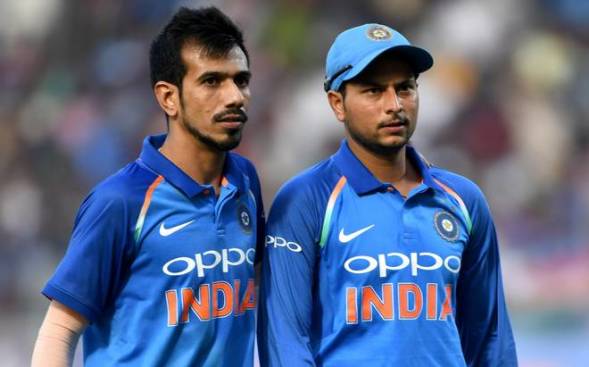 After a successful tour to the West Indies, the Indian team is ready for the big home season. South Africa were the first team to visit India and the three match T20I series ended in a draw after both the teams won one game each. 
The three-match T20 International series was seen as a build-up to next year's T20 World Cup.
India's T20 record in the recent past hasn't been that great and part of the reason is that India has treated T20 Internationals as shorter versions of ODI cricket. They need to be more aggressive and less orthodox when it comes to the shortest format.
In a recent interview, coach Ravi Shastri mentioned that only four to five players from the ODI setup will fit in the Indian T20 team. As a result, India tried fairly inexperienced players in the series against South Africa. 
Instead of picking the tried and tested duo of Kuldeep Yadav and Yuzvendra Chahal, the selectors went with the likes of Krunal Pandya, Washington Sundar and Rahul Chahar.
When Virat Kohli was asked about the absence of Kuldeep and Chahal, he mentioned that he wants his team to bat until number 9 or 10. 
That's exactly what Krunal and Sundar offer, compared to Kuldeep and Chahal. Even though Krunal and Sundar are finger-spinners, their batting abilities can be helpful in case of a collapse. 
The wrist-spinners, Kuldeep and Chahal, did pick up wickets at regular intervals, but they weren't able to contribute much with the bat.
Comparing the two left-arm spinners, Kuldeep Yadav's and Krunal Pandya's recent record, the numbers are clearly in favour of the latter. Kuldeep had one of his worst seasons in the IPL, as he managed to pick up only four wickets in nine games, that too at an economy rate of 8.66. 
On the other hand, Krunal Pandya picked up 12 wickets in 16 games at a much better economy rate. Kuldeep failed to make a big impact as he picked up only six wickets in seven games. 
In his brief T20I career, Krunal Pandya has shown that he is capable of being India's No.7 and can consistently bowl four overs. On current form, Krunal definitely offers more value to the team.
Coming to Rahul Chahar, he had a brilliant IPL for the Mumbai Indians last year. To be honest, his skill set is similar to Yuzvendra Chahal, but he can bat better than him.
Being fairly young, he might not have the experience of bowling at the international level, but he has bowled in high-pressure situations in the IPL. 
He picked up 13 wickets in 13 games at an economy rate of 6.55 in the IPL. As a bowler, if you are keeping your economy rate under 7, then you are doing a very good job because dot balls and quiet overs will always create pressure, especially in the shorter format.
Yuzvendra Chahal might get wickets in heaps, but at the same time, he tends to leak a lot of runs on flatter decks. On the hard and bouncy wickets of Australia, Rahul Chahar can bring control in the middle overs because of his flatter trajectory and quick arm action. 
In the shortest format, variety and surprise factors are necessary, and hence India needs to try new leg-spinners before the T20 World Cup in Australia.
Virat Kohli had mentioned that these youngsters would be given five to six games to prove themselves and for their future to be decided. Krunal, Sundar and Chahar, therefore, have a great opportunity to perform and seal their spots for the T20 World Cup in Australia in October next year. 
​