Inter Milan Treble Winning Squad of 2009-10 Squad: Where are they Now?
In the below article, we take a look at the 2009-2010 treble-winning squad assembled by Jose Mourinho at Inter Milan.
It was the days when the Milan clubs ruled the Seria A and the Champions League Seasons in the past decade. 
Inter Milan was at the peak of their performances back then in 2009-10 under the leadership of a classic Mourinho. 
The Nerazzurri had won the famous Treble - Seria A, Champions League, and Coppa Italia in a much-dominated form.
Jose Mourinho took over the reins at Inter Milan in 2008 where he replaced Roberto Mancini and it was immediately seen that the expectation of winning trophies increased immediately as he has been a winner with FC Porto and Chelsea FC winning Champions League and Premier Leagues with the squads respectively.
A lot of players were involved in this Success, Let us know each of them and where are they now.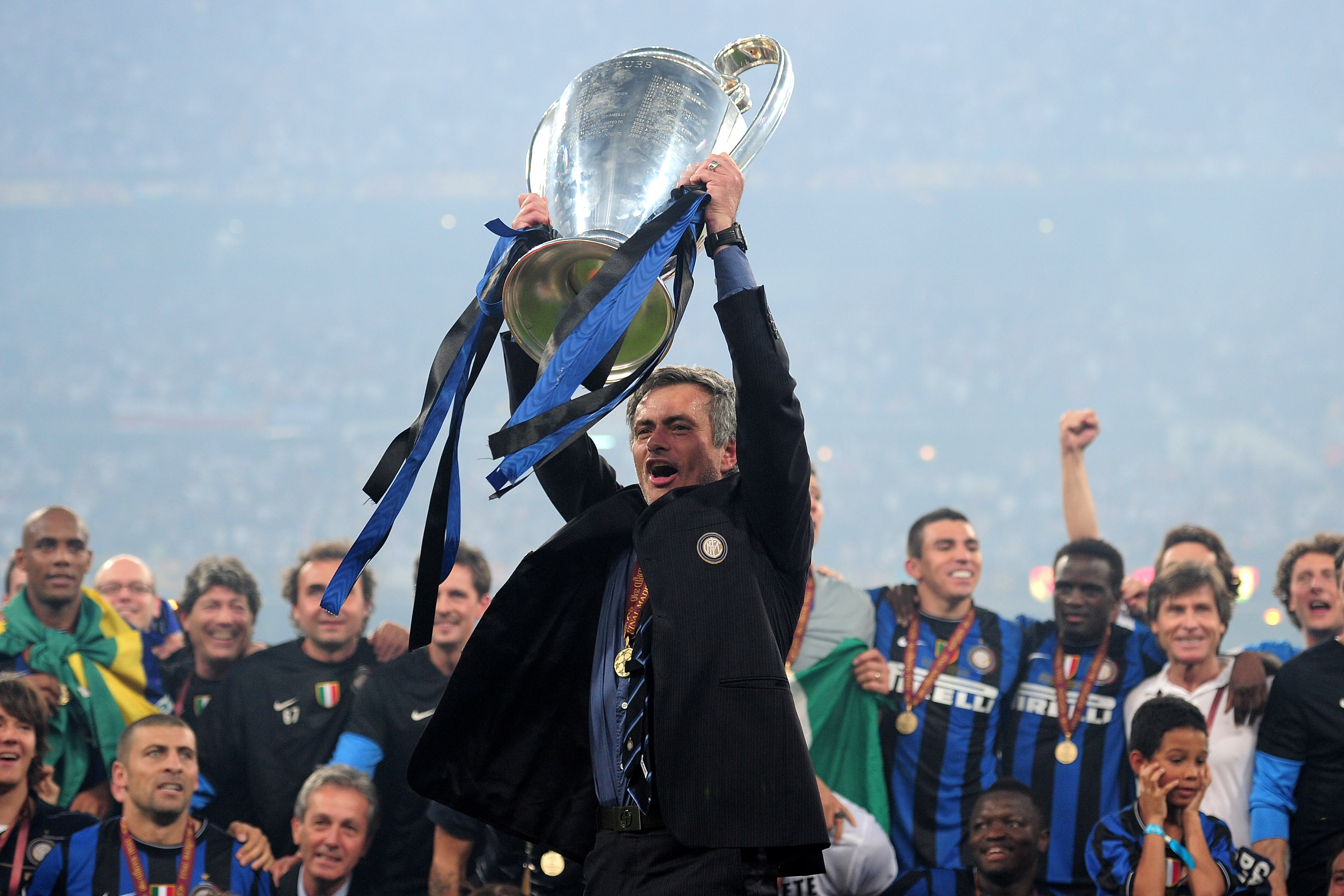 1. Jose Mourinho
Post the Portuguese's arrival, it was seen that Mourinho was not hired just to win Serie A or domestic cups, he was there to get the ultimate cup i.e UEFA Champions League. 
The world witnessed Mourinho as a tactical genius and not someone who parks the bus. With some of the smart transfers in the recent era, he let go Zlatan Ibrahimovic for Samuel Eto'o, signed Diego Milito - one of the goal scorers in the Champions League Finals and Thiago Motta from Genoa, Lucio from Bayern Munich, Goran Pandev from Lazio, and Wesley Sneijder from Real Madrid.
Jose Mourinho won 2x Serie A, 1x Copa Italia, 1x Supercopa Italiana, 1x Champions League.
Post his Inter Milan Stint, Mourinho moved to Real Madrid, Chelsea, Manchester United, Tottenham Hotspur and currently he signed with AS Roma and makes his move back to Italy.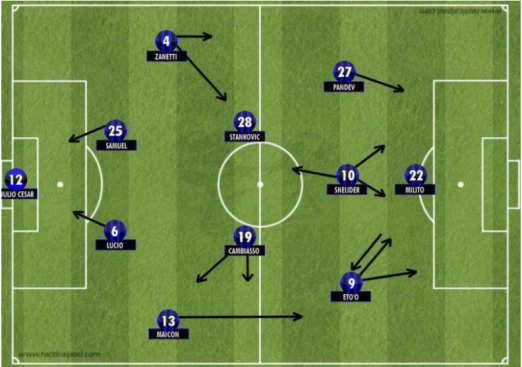 2. Francesco Toldo
Considered to be one of the greatest goalkeepers of his generation. Playing over more than 450 games in his entire career, he was awarded Serie A Goalkeeper of the year in 2000. 
Before Buffon made his mark on the field, he was Italy's 1st choice keeper. He was placed in Inter Milan's Hall of Fame in 2019.
3. Julio Cesar
Brazilian International, who gave nightmare to the strikers when he was in front of the goal was with Inter Milan for 7 years and his resume is filled with accolades. He is considered to be one of the main protagonists of the Treble Campaign. 
Julio Cesar finished 21st in Balon D'or rankings that season. For his performances in the Champions League, he won the UEFA Goalkeeper of the Year award and was considered to be the best Goalkeeper in the world.
He left Inter Milan in 2012 and then joined Queens Park Rangers, Toronto FC (Loan), Benfica & Flamengo before retiring in 2018.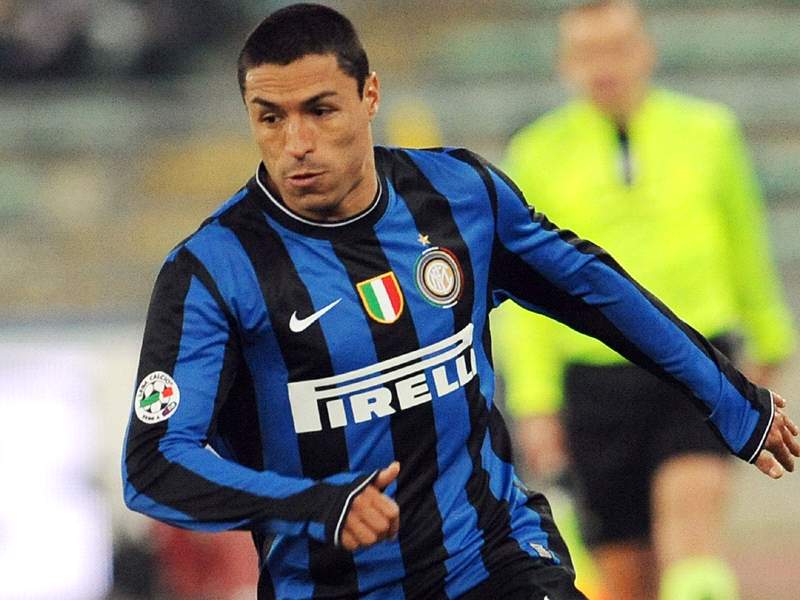 4. Ivan Cordoba
Ivan Cordoba was one of the utility defenders in the 2009-2010 Inter Milan squad and was one of the most athletic players in the team. His stint with Inter was plagued by injuries where he got an ACL tear in 2008. He was signed up in 2000 and stayed with Inter for 12 seasons before retiring in 2021
He won 5x Serie A, 4x Coppa Italia, 4x Supercoppa Italiana, 1x UEFA Champions League & 1x FIFA Club World Cup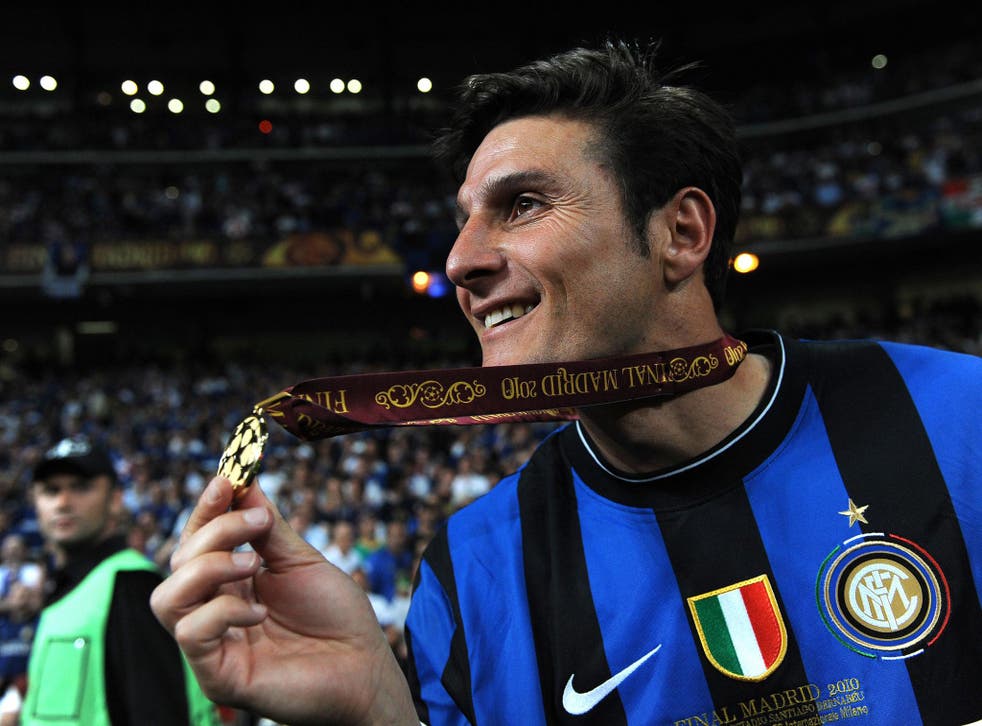 5. Javier Zanetti
The captain of the Inter Milan 2009-2010 squad, having played 615 games for Inter Milan, Zanetti has won all of the major trophies which the Club Football in Italy offers, and that also on multiple levels. 
The Inter legend currently holds the 4th most appearances in Seria A. Played as a Full Back for Mourinho and adapted to the demands of the manager, he even got himself managed to left and right-wing. 
With multiple titles, Zanetti's No.4 has been retired by Inter Milan as a recognition of his career to the club. Made his entry to the Italian Football Hall of Fame in 2018. He stayed with Inter Milan till 2014 and eventually retired as Club Legend.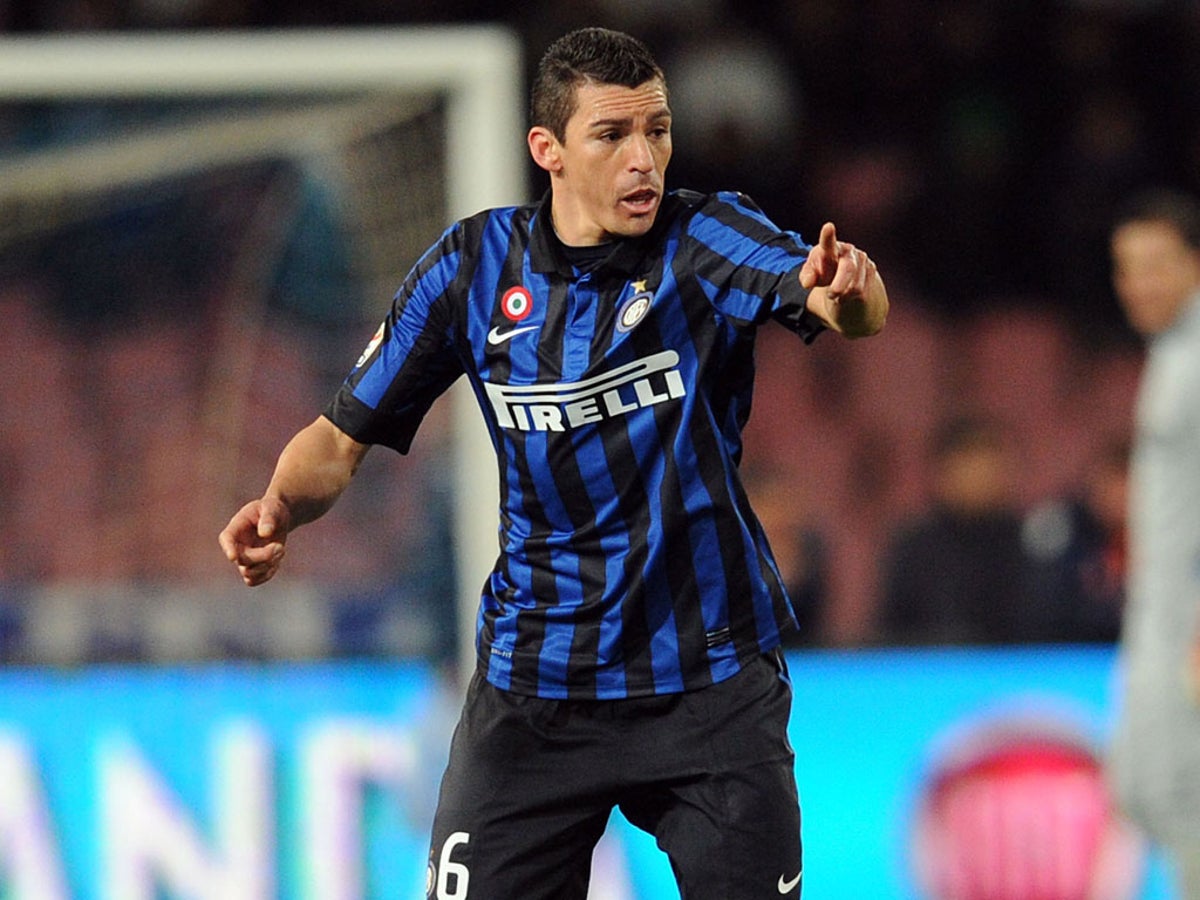 6. Lucio
Played as a centre back alongside Walter Samuel for the 2009-210 season for Inter Milan. 
At 6ft 2 inches tall, Lucio was a nightmare for most of the strikers. He was impressive in his areal game and he was Nicknamed O Cavelo 'The Horse' due to his long strides on the pitch. 
He played 3 seasons with Inter Milan and then moved to - Juventus, Sao Paulo, Palmeiras, FC Goa, Gama and finally retiring with Brasiliense in 2020
7. Maicon
Another Brazil International, Played as a right-back for Mourinho, Maicon was considered to be one of the best Right backs during his stint with Inter Milan and managed to win 4x Serie A Titles, 2x Coppa Italia, 3x Supercoppa Italiana, 1x UEFA Champions League, 1x FIFA Club World Cup.
He left Inter Milan in 2012 and had his stints with Manchester City, Roma, Avai, Criciúma, Villa Nova and currently plays for Sona in Serie D.
8. Walter Samuel
The former Argentina player is considered to be one of the best Centre-Backs of his generation. He played 9 seasons with Inter Milan where he played a total of 169 games and has managed to win 5x Serie A, 3x Coppa Italia, 4x Supercoppa Italiana & 1x UEFA Champions League. 
Samuel formed a solid centre-back partnership for the 2009-2010 season with his Brazilian teammate at Inter Milan, Lucio.
Post his Inter Milan Stint, he moved to Basel and then retired in 2016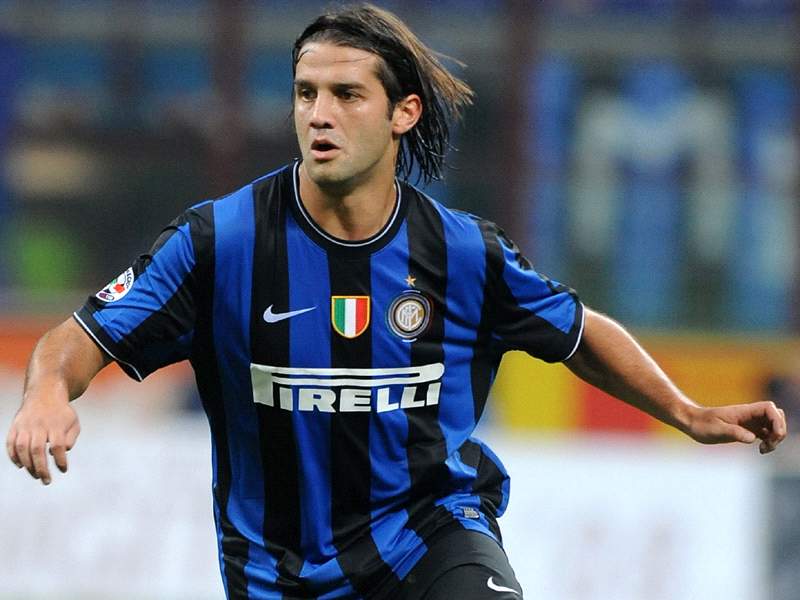 9. Christian Chivu
Played at Left-back for the 2009-2010 team, he came in the Inter Milan squad with a much-gained reputation with Ajax and AS Roma. A 6-foot defender towering over most of the defenders has always been a threat. 
He retired from football in 2014 after mutually terminating the contract in 2014.
10. Marco Materazzi
Yes, we will always remember Marco Materazzi for the one who was headbutted by Zidane in the World Cup Finals, but he had a resume that was worth looking on. 
Materazzi was known for his physical and aggressive style of play which got him into trouble as well. The Times placed Materazzi at number 45 in their list of the 50 hardest footballers in history.
He retired from professional football in 2011 but came back out of retirement to play in Indian Super League Chennaiyin FC.
11. Dejan Stankovic
Former captain of the Serbian National Team, Stankovic was one of the key midfielders for Jose Mourinho's Inter Milan in their treble-winning season of 2009-2010. He is known to represent 3 nations in the World Cup - Yugoslavia, Serbia and Montenegro, and Serbia.
Post his career with Inter Milan, he retired from professional football in 2013 and currently manages Red Star Belgrade in the Serbian Super Liga.
12. Thiago Motta
Spending his early seasons with Barcelona, Atletico Madrid, and Genoa he arrived at Inter Milan in the 2009-2010 season with an established resume on the cards. He was transferred along with his teammate Diego Milito. 
Thiago Motta is known to be a player who plays as a defensive midfielder or central midfielder. He was also known for his passing range and understanding for the game.
In 2012 he was transferred to Paris Saint Germain where he played for 6 more seasons and eventually retired in 2018. He has also managed PSG's U-19 squad and Genoa.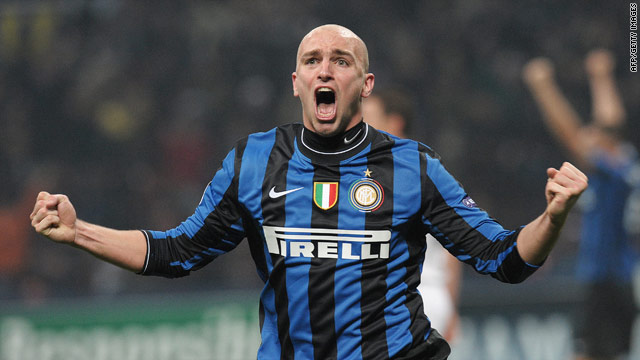 13. Esteban Cambiasso
Cambiasso played 10 seasons with Inter Milan and was an integral part of their 2009-2010 triumph. A versatile footballer who plays deep into the midfield and a few defensive positions 
Eurosport said about Cambiasso, when José Mourinho was still managing Inter, "There is nothing glamorous about the bald Argentine, but he is the heartbeat of the Inter side that have become the dominant force in Italian football.
Just the kind of determined, hard-running midfielder José Mourinho loves. Originally a destroyer, the 29-year-old has become increasingly adventurous from an offensive standpoint and weighs in with six to eight goals per season.
He then moved to Leicester City in 2014 and then played 2 seasons with Olympiacos and eventually retired in 2018
14. Wesley Sneijder
One of the best midfielders in the 2009-2010 era. A player who actually was an outcast at Real Madrid roped up his stocks in Inter Milan. In 2010 he was named as UEFA Midfielder of the season. He was known to be creative midfielders and a dead-ball specialist.
He played 3 seasons with Inter Milan and then moved to Galatasary, Nice, Al-Gharafa and eventually retired in 2019 and currently working with FC Utrecht
15. Sulley Muntari
Muntari was in that Portsmouth FC squad in Premier League that won the FA Cup in the 2007-08 season. He played Left Back and known to be a solid presser of the ball. 
The Ghanaian played 4 seasons with Inter Milan including the 2009-2010 treble winning season and then moved to AC Milan, Ittihad, Pescara, Deportivo, Albacete eventually retiring in 2019.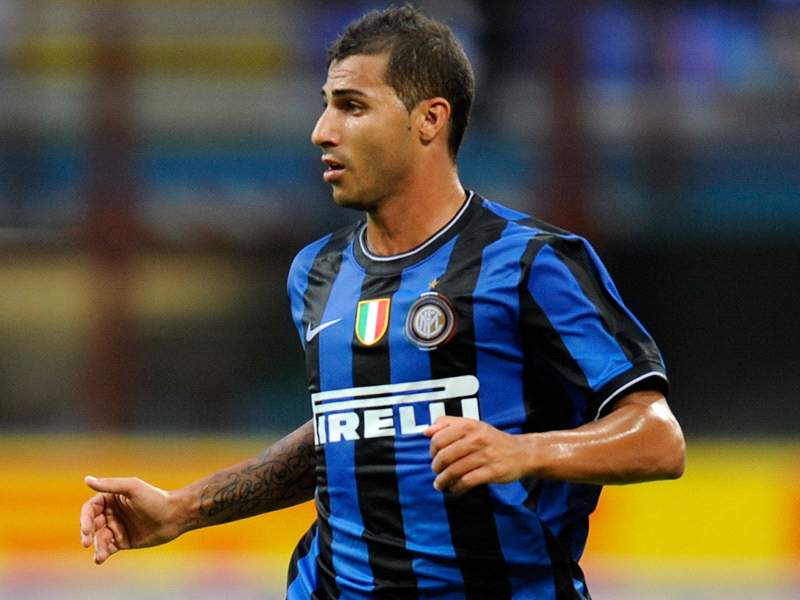 16. Ricardo Quaresma
One of the regular super-sub players for the squad provided the bench boost required and readily played as a winger. He joined Inter Milan in the 2008-2009 season and played 2 seasons with the squad and left in 2010.
Post Inter, he played with Besiktas, Al-Ahli, Porto, Besiktas, Kasimpasa and currently plays for Vitoria Guimaraes in Portugal.
17. Goran Pandev
Another off-the-bench winger who was a fine option for Mourinho in the absence of their prime strikers. He came back for a 2nd spell with the Inter Milan Squad in the 2009-2010 season after leaving them in 2004 with Lazio. 
Post his Inter Milan career, he moved to Napoli again, Galatasary, and currently plays with Genoa in Serie A
18. Mario Balotelli
Mario Balotelli's best years of his career was his tenure with Inter Milan, especially in the 2009-2010 season. Post his transfer to Manchester City, he was on a downfall due to his own antiques. 
He was probably the much followed and scouted footballer during that era and also broke into the Italian National Squad. He joined Inter Milan at the age of 17 and spent 3 seasons with Mourinho and played mainly as a striker.
Post his Inter Milan Career, he went on to play with Manchester City, AC Milan, Liverpool, Nice, Marseille, Brescia and currently plays with Monza in Serie B in Italy
19. Diego Milito
One of the smartest transfers under Jose Mourinho's era at Inter Milan in the 2009-2010 season. He was the man who scored a brace in the Champions League finals where they won 2-0 against Bayern Munich.
Milito played 6 seasons with Inter Milan and then moved to Racing Club where he retired in 2016. 
20. Samuel Eto'o
Another blockbuster transfer business by Inter Milan in the 2009-2010 season. 
Samuel Eto'o was swapped for Zlatan Ibrahimovic by Jose Mourinho. He was 3rd in the FIFA Player of the year award in 2005.
Cameroonian legend played 2 seasons with Inter Milan and then moved to Anzhi Makhachkala, Chelsea, Everton, Sampdoria, Antalyaspor, Konyaspor, Qatar Sc and finally retiring in 2019.