Jose Mourinho: A man with a lot of trophies and rivalries
Jose Mourinho has been one of the most decorated managers in the world and it has been quite a while since he's been in the business. 
The Special One not just moves from one team to another but also wins trophies in the process. However, Mourinho apart from his managing attributes is also known for the rivalries he's had irrespective of the league he's competing in.
He is now with Tottenham, a side that has been hungry for a trophy for many years. 
Let's see Mourinho's professional rivals and how fierce the rivalry was. We will also see some popular Mourinho quotes or subtle digs as we call it today.
1. Pep Guardiola
Quote: "When you enjoy what you do, you don't lose your hair and Guardiola is bald. He doesn't enjoy football."
Jose Mourinho and Pep Guardiola have gone head-to-head with several clubs and things have not been smooth always. However, the rivalry was at its peak when Mourinho's Inter Milan beat Barcelona to reach the 2010 UEFA Champions League final, which they won and Mourinho completed the treble with Inter.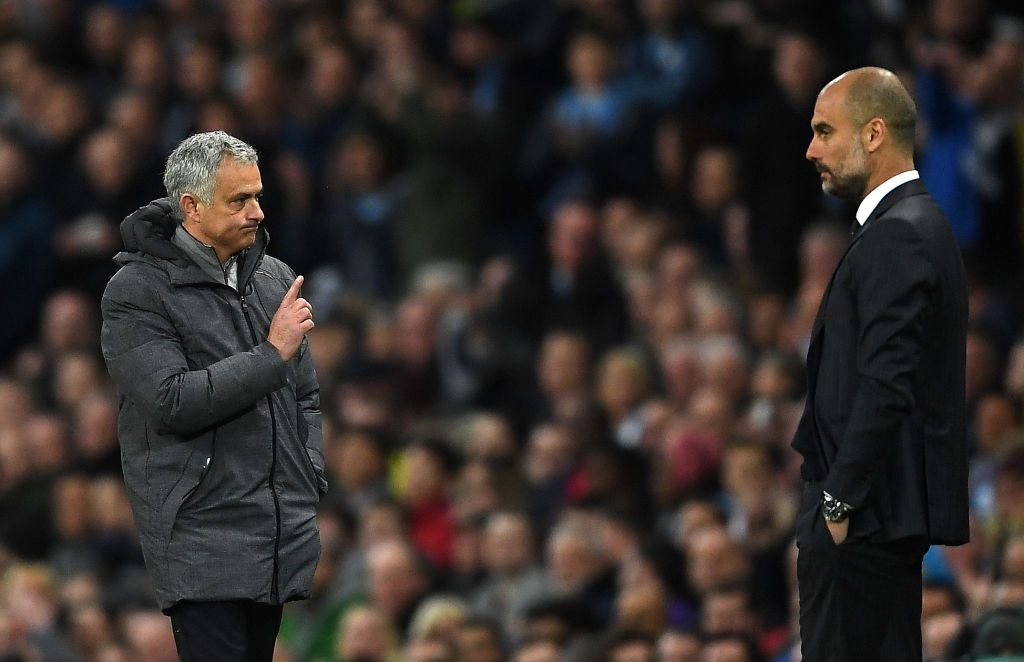 Since then, Pep and Mourinho have been very cordial with each other, especially when they battled it out in the Manchester Derby. 
Now that Guardiola has remained at City, while Jose is with Spurs there may be more to come as their last meeting was pretty interesting with Jose's side going through 2-0 in February.
2. Rafael Benitez
Quote: "How many championships have Benitez won since he joined Liverpool? None. And how many names were suggested by the press to replace him? None."
Despite things been calm when Mourinho was at Old Trafford while Benitez managed the Magpies, it was a completely different scenario when Mourinho and Benitez managed Chelsea and Liverpool respectively. 
The rivalry was bitter and sweet for both as Mourinho dominated the league while Benitez got the better of him in the Champions League meetings.
3. Arsene Wenger
Quote: "If he is right and I am afraid of failure it is because I didn't fail many times. Eight years without silverware, that's a failure."
The rivalry between the two was perhaps the most heated that the Premier League ever witnessed. It went from bad to worse in 2014 when the war of words almost turned into a physical one when Arsenal faced Chelsea at Stamford Bridge.
The fight was so intense that the fourth official had to interrupt to separate the pair as Mourinho's side won 2-0 although after that, both the managers stuck to words only. Despite the bitter exasperated moments, the two had a lot of respect for each other too. 
Mourinho greeted Wenger with a commemorative retirement gift prior to Manchester United's win against the Gunners in 2018 and both the managers sat side-by-side to provide analysis for beIN Sport's coverage of the 2019 UEFA Champions League final.
4. Antonio Conte
Quote: "What never happened to me and will never happen, is to be suspended for match-fixing and that will never happen."
Times changed when Mourinho and Conte locked horns but this time Mourinho was at Stamford Bridge on Manchester United's side. 
The former Chelsea boss Conte was accused of 'over-celebrating' and was called 'The clown on the touchline' by Jose when Chelsea thrashed United 4-0.
5. Ole Gunnar Solskjaer
Quote: "He would never accept to play with a 17-yard box, I think he would prefer a 22-yard box! For him, it should be better."
This being one of the most recent rivalries, it's still in demand as Spurs prepare a trip to Old Trafford this weekend. Ole Gunnar Solskjaer took over the Red Devils from Manchester United when the Portuguese was sacked by the team in 2018. 
Till today, Mourinho has lost one and drawn won against the Norwegian.
It started with Ole making a jibe at the Spurs boss after Tottenham's UEFA Europa League tie in North Macedonia to which Mourinho responded by the quote mentioned above, pointing out the fact that United were very fortunate to get the three points out of a game that was technically over.
Special Mention: Frank Lampard
It has not even been one full season for Jose Mourinho at Spurs and the Master vs Apprentice headlines have been dumped into the backyard. 
Looking at the relationship Jose and Lampard have had, it is quite rare to imagine one having a go at the other. However, things get interesting as, despite the times they have shared working for the same team, they are now in charge of two rival London clubs.
This in itself is a big thing as the rivalry speaks about itself. The most recent conversation between the two was surely not sweet as Mourinho was seen agitated by Lampard's continuous mumbling on the touchline. It further escalated to a point that Mourinho started suggesting his ex-player to sit with his staff in the dugout.
Responding to that Lampard also fired shots at his former boss as the two had contradicting thoughts on the foul on Chelsea defender Kurt Zouma. Fourth official Andre Marriner stood between the two and tried dissolving the banter. However, things seemed to get better when Lampard was seen smiling at Jose.
In the post-match conference, both the managers showed no signs of hesitation and were pretty vocal about the verbal fight they had. Lampard even called as 'having fun' as he argued with Jose on the touchline. 
On the other hand, Jose had only praise for Lampard despite the war of words the two had. Jose also said that he feels Frank Lampard knows everything football and he doesn't need any advice.
featured image credits- eurosport.com