Arsene Wenger's new proposal for kick-ins to go under trial
Kick-Ins to replace Throw-Ins going forward?
During annual general meeting in Doha on Monday, former Arsenal manager Arsene Wenger expressed his views on the new rules. The International Football Association Board of Directors suggested plenty of changes. The 90-minute playing period will be lowered to 60-minutes, and the clock will stop if the ball is not in play.
While Wenger, now FIFA's head of global development, proposed in October 2020 that kick-ins should replace throw-ins, his concept is currently being tested.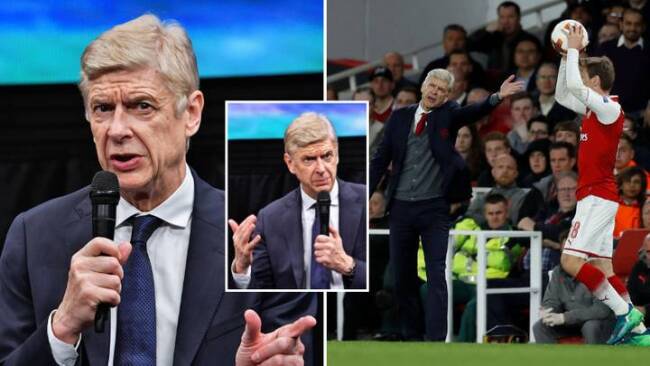 The Dutch Football Association conducted an unofficial review last year, and IFAB approved their experimental plan. Now FIFA will allow the trials in Europe to examine if the throw-ins are being replaced by kick-ins. 
During the meeting, Wenger said "There are two big time-wasters at the moment, that is throw-ins and free-kicks, and a little bit goal-kicks as well because when you play out now in the box. The target is to make the game more spectacular and quicker, and maybe with throw-ins you could play with your feet, but in a limit of five seconds for example, things like that."

"But it has to be tested and then has to be accepted by IFAB. So, we are looking at many things, but there is not a lot any more you can change."
It does, however, have its benefits and drawbacks. Arsene Wenger has come up with several notions since becoming FIFA's head of global development, including his biennial World Cup plan, which drew criticism, and now the Kick-ins concept.
According to Wenger, he wants the game to become exciting and quicker, "Five minutes before the end, a throw-in for you should be an advantage, but in these situations, you are facing ten outfield players in play, whilst you only have nine." 
What are Kick-Ins and will it facilitate less time wastage and more excitement?
On the other hand, fans are aggravated by players who waste time during throw-ins. However, we've been there before with kick-ins in the late 1970s and 1980s. 
Kick-ins were an issue in league games for a variety of reasons; they were confusing, and clubs that allowed kick-ins had to change their strategies.
Kick-ins are like indirect free kicks, where a player cannot be offside during a kick-in. It also benefited players in lumping the ball as far as they could while knowing it wouldn't be offside, which FIFA didn't want to see.
All of the new rules that FIFA is introducing are going to harm the game's identity. Kick-ins and 30 minutes each half, and stopping of time when the ball is not in play, will detract from the thrill, but on the other hand, football has been continually honed and compressed into a thick cube because we no longer have the attention span for it.
But what if these new regulations fail to convey a clear message, and the passion goes away as a result? This renders the game uninteresting, and people in charge of the sport has made football into a huge money machine.