LA Clippers vs LA Lakers Prediction | 22nd Dec | NBA 2020-21 Season
The wait is over for NBA fans as December 22nd, 2020 will mark the tip-off to another amazing season. And what better way to start the season with a mouth watering clash between city rivals LA Clippers and LA Lakers. 
The "Hallway Series" or "Battle of Los Angeles"  is regarded as one of the most awaited match ups in recent years due to the dominant presence of the big names in both teams. Let's take a look at how these 2 powerhouses stack against each other.
LA Clippers vs LA Lakers Preview:
The Clips Nation, despite their dismal run in the pre-season look pretty much in fray for a perfect start to their season with a strong line up. Serge Ibaka, Patrick Beverly and Ivika Zubac form a ferocious starting five along with Paul George and Kawhi Leonard. 
To add futher depth, Clippers can rely on the tested shoulders of their bench which has Lou Williams and Reggie Jackson who compliment each other with their handles and power forward Marcus Morris Sr. and small forward Nicholas Batum. 
The LA Lakers, in the defense of their title, have invested heavily in concretizing the already perfect roster. With the acquiring Marc Gasol in their ranks, they won't miss Dwight Howard and Rajon Rondo too much, as Gasol, fits best in a team that employs transition offense. 
Anthony Davis, Lebron James, Alex Caruso, Markieff Morris, Kenatavious Caldwell- Pope and Kyle Kuzma look their fittest in current scenarios. Meanwhile, Dennis Schroder, Wesley Matthews and JR Smith with former Clipper, Montrezl Harell will help ease pressure on the AD and LBJ. Another highlight will be Talen Horton-Tucker, the rookie who did not fail to impress in the pre-season.
Both LA Lakers and LA Clippers boast of impeccable strengths with the All Star studded players, but put this to paper, Lebron and company look sharper, fitter and bolder as seen in their pre- season dominance.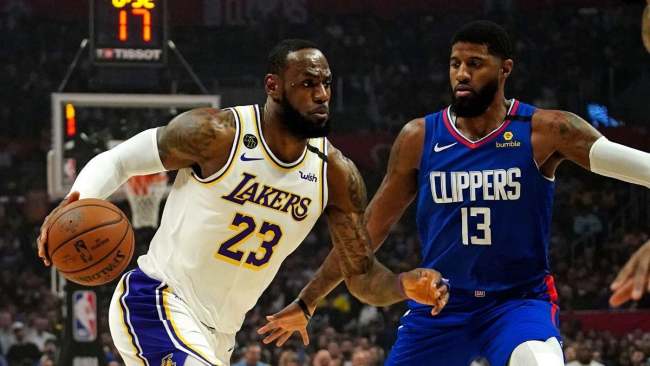 LA Lakers did not break a sweat in all the 4 games played without much assitance of their two A- graders. In contrast, the Clippers were below par, ending on the losing side in the three games played, 2 of which were played against the LA Lakers.
Not pondering much on the pre-season hits and misses, both teams don't really have to worry about the scoreboard ticking as both teams have players with shooting capabilities. The defensive performance of the teams will determine the outcome of this game. 
With a fully motivated LA Lakers team, we are assured of the "Lake show" we all would like to witness every game and see them finish atop in the first of the many rivalries between these two teams this season.